Honeyed Carrots
We may earn money or products from the companies mentioned in this post.
Honeyed Carrots
Want a fast, easy and delicious way to serve carrots? Give this recipe a try. Often times the simplest recipes produce the best results. Hence this recipe. Many years ago my new in-laws were coming for dinner. I was going to make an easy chicken n' rice dish and wanted a simple yet tasty way to serve carrots. I didn't have time to go to the grocery store so I made do with what I had on hand. The end result was this recipe for honeyed carrots.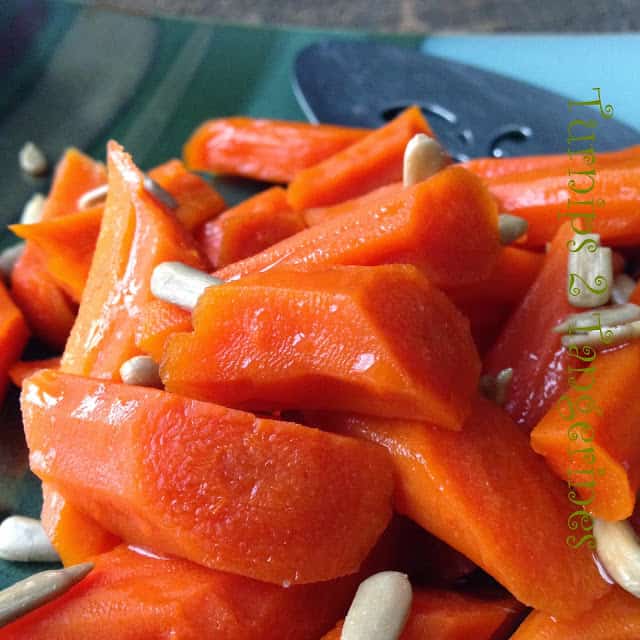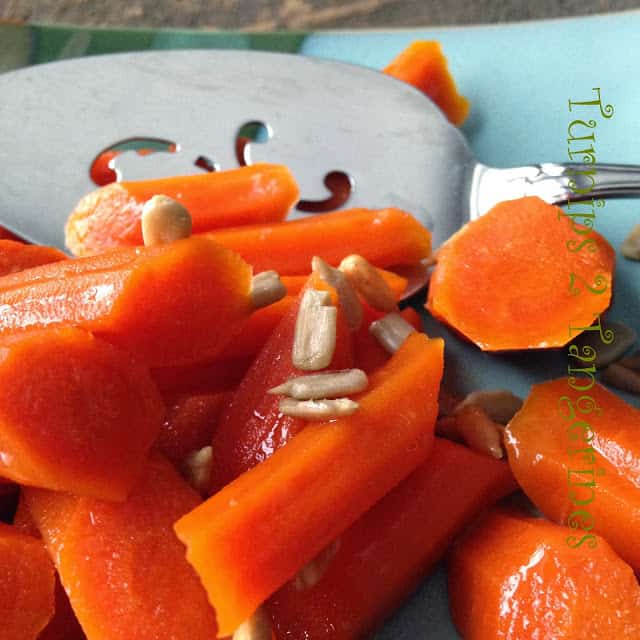 Perfect to Serve With
Carrots are often overlooked as a stand alone vegetable, usually served in addition to other vegetables. Carrots are super good for you. Back in the day, kids were told to eat their carrots because they're good for your eyes. A vegetable medley if you will or added to soups and stews along with other aromatic vegetables such as celery, onions, green peppers and potatoes. Carrots are always included in a mirepoix; mirepoix.
What is a Mirepoix?
Mirepoix [mihr-PWAH] A mixture of diced carrots, onions, celery and herbs sautéed in butter. Sometimes ham or bacon is added. Mirepoix is used to season sauces, soups, and stews, as well as for a bed to braise food, usually meats or fish. A white mirepoix omits the carrots and often incorporates mushrooms and/or parsnips.
What Exactly Are Carrots?
This member of the parsley family has lacy green foliage and long, slender, edible orange roots. Carrots have been renowned for over 2,000 years for their health-giving properties and high vitamin A content. Their year-round availability makes them an immensely popular vegetable. If buying carrots with their greenery, make sure the leaves are moist and bright green. The carrots should be firm and smooth. The best carrots are young and slender.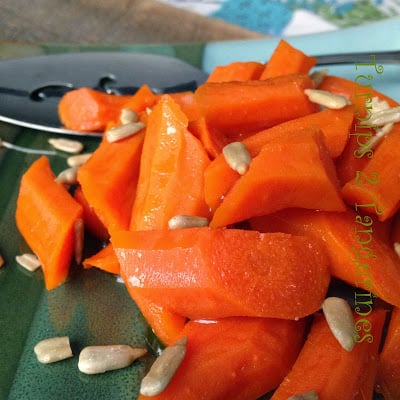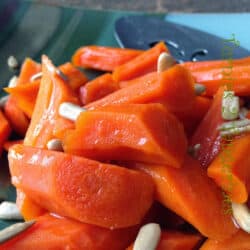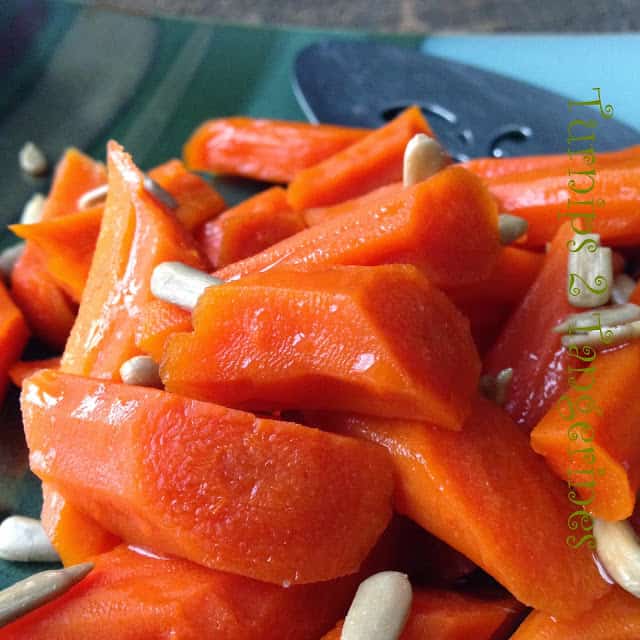 Honeyed Carrots
The perfect side dish to any meal.
Ingredients
2 1/2

tablespoons

honey or buckwheat honey

2

tablespoons

butter

1

pound

carrots, peeled and sliced diagonally

2

tablespoons

sunflower seeds
Instructions
Combine honey and butter in a 1 1/2 quart baking dish. Add carrots, stir well.

Cover with wax paper or plastic wrap. Microwave on high 6 to 8 minutes or until crisp tender. Let stand 2 minutes. Sprinkle with sunflower seeds. Serve.
Recipes On Tap
Copper Pennies , Gingered Carrots and Honey Ginger Carrots  are three fantastic recipes featuring carrots. For this recipe we used a special buckwheat honey from Georgian Bay Buckwheat Honey. Buckwheat Honey is as dark as molasses with an earthy, unmistakable flavor of buckwheat. A little goes a long way with this incredible honey. Its strong essence can overpower other flavors easily, which means it works well with this simple recipe. Its health and immune benefits makes it an ideal addition to any diet year round.