Honey Lime Simple Fruit Salad
We may earn money or products from the companies mentioned in this post.
Honey Lime Simple Fruit Salad
You don't need to wait for the summer grilling season to begin to enjoy a delicious fruit salad. Anytime is a good time to indulge in fruit. Maybe even more so now with all of us under "house arrest" and sitting around twiddling our fingers. Let's face it, we aren't burning many calories or getting in our "steps," at least I'm not. Honey Lime Fruit Salad is an easy fruit salad to toss together. The honey lime dressing adds a nice zip to this salad too.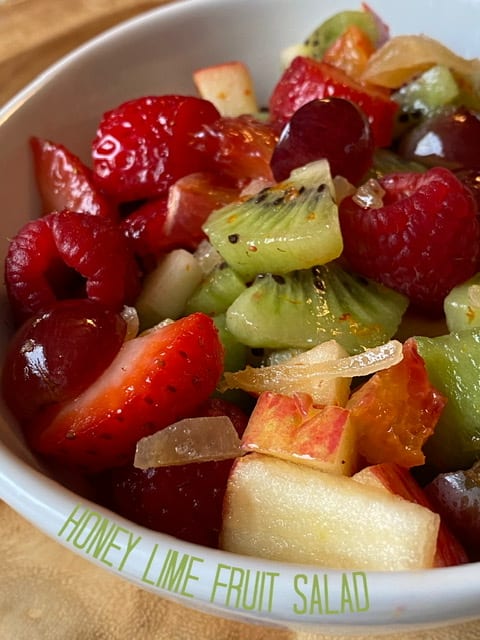 Any Fruit Will Do
Fruit salad can be made with just about any kind of fruits and in any combination. When fruit is sale, stock up and make a big bowl of fruit salad. After all, there is nothing more refreshing than a big bowl of fruit. In this recipe, toss in one sliced banana right before serving if you like. This is an optional step only because bananas tend to turn brown (and slimy) in fruit salads. Another option, add thinly sliced strips or chiffonade strips of fresh mint.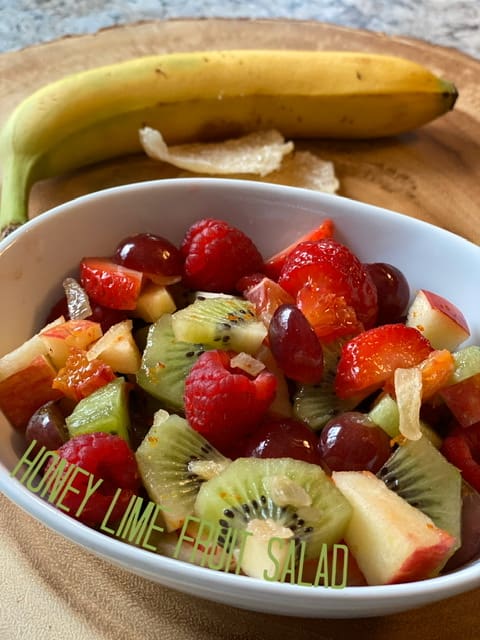 What Does Chiffonade Mean?
Literally translated, this French phrase means "made of rags." In culinary terms, it refers to thin strips or shreds of leafy vegetables or herbs. Chiffonade is basically a slicing technique in which leafy green vegetables such as spinach, sorrel, Swiss chard, or flat-leaved herbs like mint or basil are cut into long, thin strips. This is accomplished by stacking leaves, rolling them tightly, cigar-style and then slicing the leaves perpendicular to the roll thus cutting into ribbons.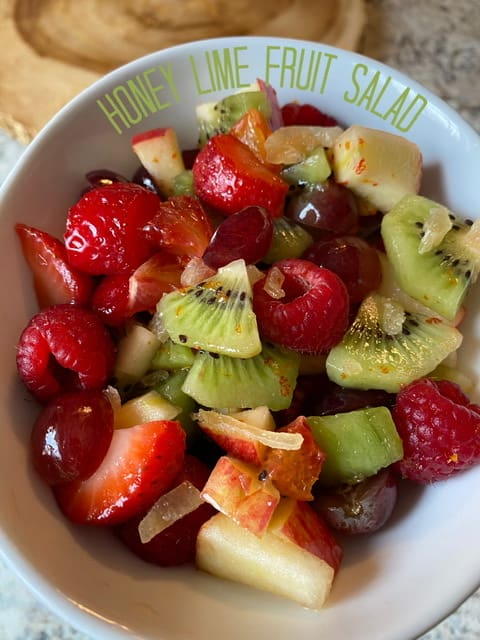 Sheer Boredom
I'm typically not the type of person who gets bored. In fact, I can sit all day. Whenever I say that, I think of something my grandma used to say to me about my Aunt Jo, my grandma's sister. She'd say to me, "Your Aunt Jo, she can sit in her chair all day long!" I have to admit, even I'm starting to get "buggy." I guess I didn't realize just how much running around I actually did. Nothing exciting mind you, but still, I've got treasures to find!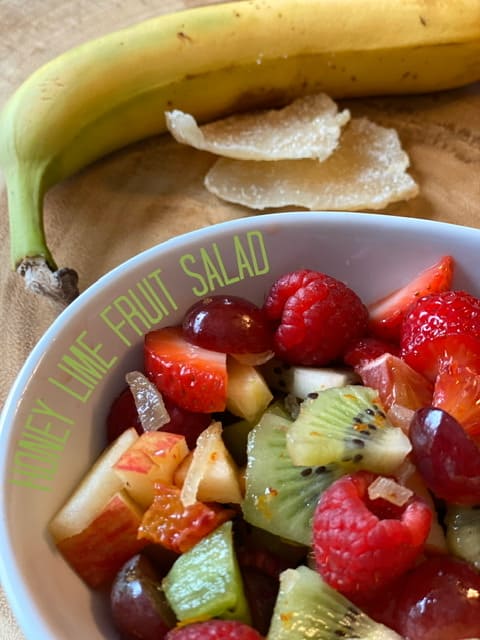 Retirement
Anyway, next month I will officially be "retired" My first social security check arrives in June. I'm not sure how I feel about it either, should I laugh or cry. I'm retiring "early" at 62. Not sure why that's considered early, I mean c'mon now, how long are we supposed to work:) My daughter asked me what I was going to buy with my first social security check and I told her that I might get a tattoo. Hey why not, you only live once!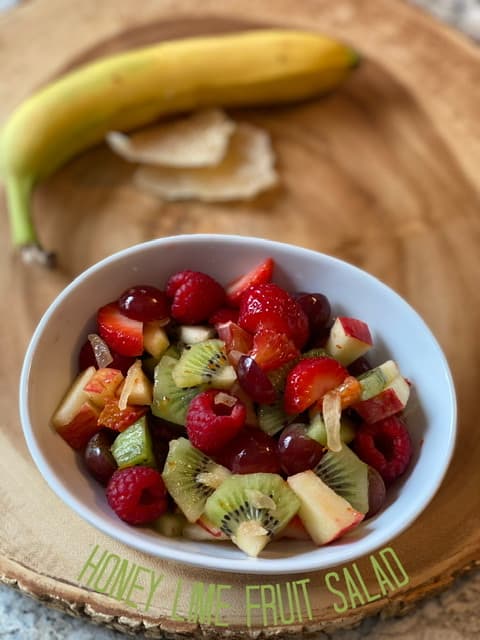 Up Next: Cantaloupe with Honey Balsamic Dressing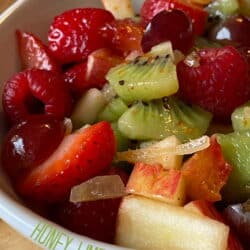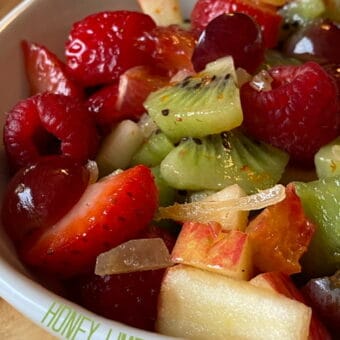 Honey Lime Simple Fruit Salad
Ingredients
2

cups

strawberries, washed, hulled and quartered

1

cup

fresh raspberries

1

cup

grapes, stems removed, washed, sliced in half

1

apple, chopped

3

kiwi, peeled. sliced, quartered

1

blood orange, sliced, sectioned

1/3

cup

crystallized ginger, diced

4

tablespoons

lime juice

1

teaspoon

lime zest

2

tablespoons

honey

1

banana, peeled and sliced, optional

fresh mint leaves, thinly sliced into ribbons, optional
Instructions
In a large bowl combine all fruits and ginger. In a small bowl whisk together lime juice, zest and honey. Drizzle over fruit. Serve
Honey Lime Simple Fruit Salad is made with Crystallized Ginger from Paradise Fruit Co.