Honey Berry Fruit Salad
We may earn money or products from the companies mentioned in this post.
Honey Berry Fruit Salad
Summer is the perfect time to take advantage of the wonderfully fresh berries. The week before the big storm hit our area, I purchased a flat of strawberries from Berryland. I had this recipe in mind and was waiting for the perfect opportunity to showcase summers fresh berries. Honey Berry Fruit Salad is refreshing and berry-licious!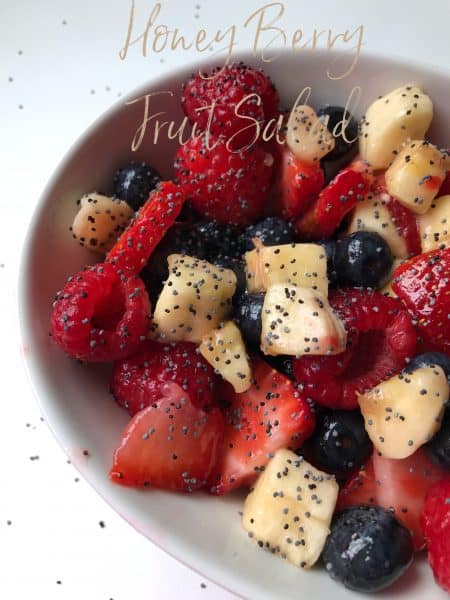 Honey, Honey
When making this salad or any recipe in general that calls for using honey, remember to purchase and to always use 'real' honey. Check the label. If it lists any ingredient besides honey, it's not honey. Honey should be the only ingredient listed. Honey doesn't contain sugar, corn syrup, salt and it's not 'flavored' with artificial flavorings. You might be surprised but most honey sold in grocery stores isn't real honey. And those cute little bears filled with honey? Sorry but most of those contain honey flavored syrup. We just wanted to pass this information on to you so that you are aware of what to look for the next time you need to purchase honey. By all means, use up the honey flavored syrup that you have at home. But when the time comes to purchase honey, buy the real deal.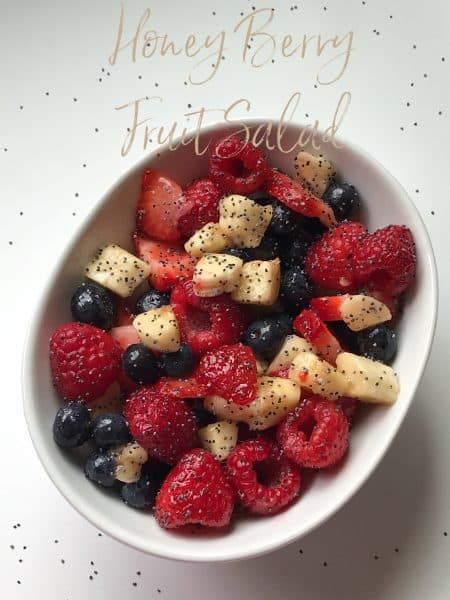 Andy's Honey
You'll be amazed at how delicious real honey is. The flavor is unmistakable. I could drink Andy's Honey right from the jar. Who's Andy? Andy is a guy who lives down the road from us and he's a self-sufficient  kinda guy. Andy makes jam, jellies, and sauces. He has eggs, maple syrup and honey. I wouldn't doubt it if he makes his own beer:) He hunts and goes fishing as well. He is our supplier of rabbit, beef and pork. His wife Becky just happens to be a dog groomer. Having 3 pugs, this is an added bonus for us. We're lucky to have an Andy to buy our honey from, that's true, but farmer's market, flea markets and fairs are great ways to find honey distributors in your area. Get on the web and start searching too.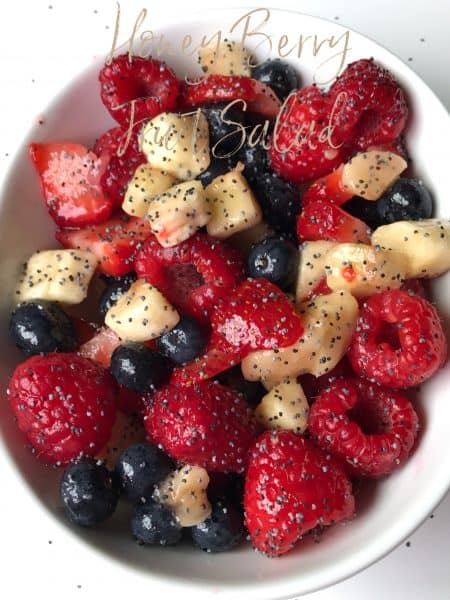 More Recipes With Honey
Honeyed Carrots , Broiled Cinnamon Honey Grapefruit  and Coconut Honey Bun Cake are just a few favorites made with honey or made with sweet honey in mind.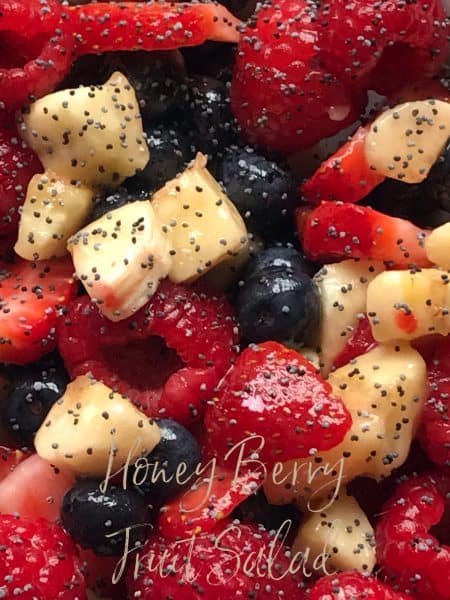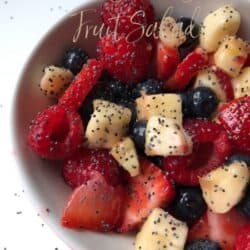 Honey Berry Fruit Salad
A delicious mixture of berries and a banana, gently tossed together with honey.
Ingredients
1

medium

banana, chopped

1

cup

fresh blueberries

1

cup

fresh raspberries

1

cup

sliced fresh strawberries

3

tablespoons

honey

1

teaspoon

freshly squeezed lemon juice

1/4

teaspoon

poppy seeds
Instructions
In a small bowl, combine banana and berries. In another small bowl, combine the honey, lemon juice and poppy seeds. Pour over fruit; toss to coat.
Nutrition
Serving:
1
Serving
,
Calories:
124
kcal
,
Carbohydrates:
32
g
,
Protein:
1
g
,
Fat:
1
g
,
Saturated Fat:
1
g
,
Sodium:
2
mg
,
Potassium:
234
mg
,
Fiber:
4
g
,
Sugar:
23
g
,
Vitamin A:
40
IU
,
Vitamin C:
35.8
mg
,
Calcium:
16
mg
,
Iron:
0.6
mg
If you're  in my neck of the woods, Northeastern Wisconsin and would like to purchase Andy's Honey shoot me an email and I'll send you his information:) Recent Recipe: Roasted Tomatoes with Soybean Spaghetti