Homemade Sausage Pizza
We may earn money or products from the companies mentioned in this post.
Homemade Sausage Pizza
There is nothing more satisfying than a slice of homemade pizza and what goes best with homemade sausage pizza? Beer and Football, of course! This recipe calls for using cheese and sausage but one great thing about making your own pizza is…you can put on anything your like…let your imagination run wild! Diced onions and green peppers are always a favorite. Sliced fresh mushrooms and sliced black olives are a favorite of mine.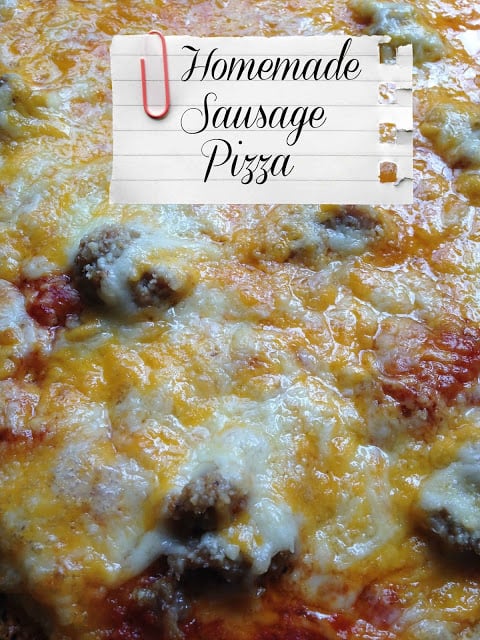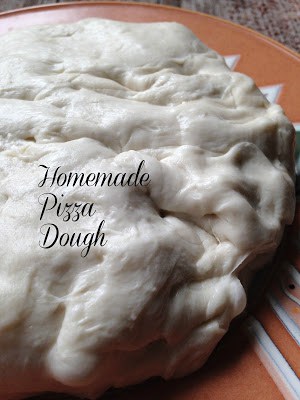 Did You Know?
Did you know that you can purchase fresh or frozen pizza dough in most large supermarkets? If you don't have time to prepare fresh pizza dough at home, you can buy it from your local supermarket. You can usually find fresh or frozen pizza dough in the deli department, bakery department or meat department. When we don't have time to make our own pizza dough we head to Trigs in Rhinelander WI and pick up a few packages of their pizza dough. The packages of dough are very inexpensive, usually under $1.50. Each package makes one pizza and you can freeze the packages of pizza dough too.
Make it Your Own
Trigs has a "make your own pizza" section located in the meat department in one of those end cooler bunkers. The bunker holds packages of Trigs homemade pizza dough, homemade pizza sauce and homemade Italian sausage. There are also packages of sliced pepperoni. Next to the cooler bunker is a rack of baskets full of; onions, green peppers, fresh mushrooms, Parmesan cheese, Italian bread and packages of shredded mozzarella cheese. I thought this was a fantastic idea…no need to walk up and down every aisle, looking of the ingredients you need to make a fantastic at home pizza.  I just wanted to pass this on to you, just in case you're ever in the area.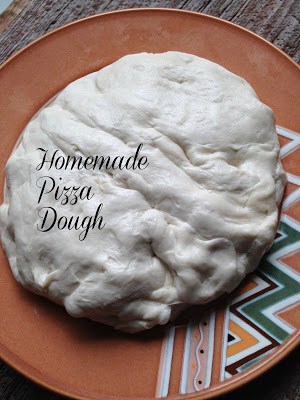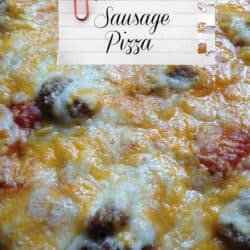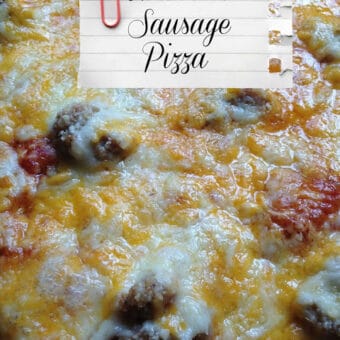 Homemade Pizza Dough
Make two batches of dough. Make a pizza now and freeze one batch of dough for later.
Ingredients
1

cup

100° to 110° warm water

1/8

teaspoon

sugar

1

1/4 oz envelope

active dry yeast

3 to 3 1/2

cups

all purpose flour

1 1/2

teaspoon

salt

1

tablespoon

extra virgin olive oil
Instructions
Stir together 1 cup warm water and sugar in a 2-cup measuring cup.

Sprinkle with yeast, and let stand 5 to 7 minutes or until mixture is bubbly.

Place 3 cups flour and salt in food processor bowl. With motor running, add yeast mixture and olive oil; process mixture until dough forms. (If dough is too sticky, add more flour, 2 tablespoons at a time) Place dough in a large bowl coated with cooking spray; lightly coat dough with cooking spray. Cover with a clean cloth, and let rise in a warm place fee from drafts, one hour or until doubled in bulk.

Punch dough down. Turn dough in bowl, and coat with cooking spray; cover with a cloth, and let rise in warm place, 30 minutes or until doubled in bulk. Shape dough into a ball, immediately wrap in wax paper and place in a zip-lock freezer bag and freeze for up to a month. Let thaw overnight in the refrigerator before using.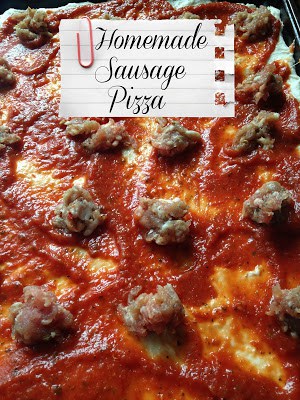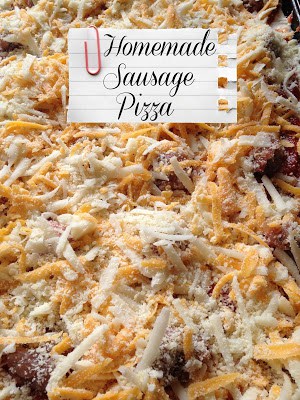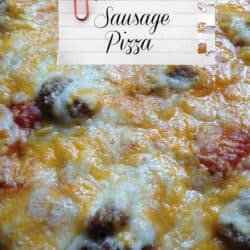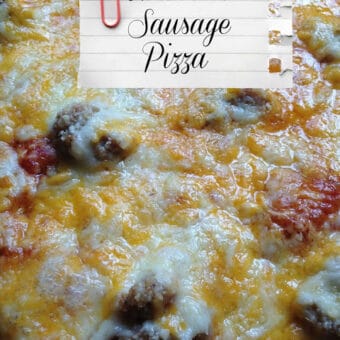 Homemade Cheese and Sausage Pizza
Ingredients
1

recipe pizza dough

1

tablespoon

olive oil

1

cup

pizza sauce, or to taste

,

(Classico Traditional Pizza Sauce)

1/4 to 1/2

pound

ground Italian sausage

2 to 3

cups

shredded mozzarella and cheddar cheese blend

1/4

cup

grated Parmesan cheese
Instructions
Shape pizza dough ball into a large circle on a lightly floured surface. (Dough doesn't have to be perfectly round. You can also shape dough and place in a rectangular baking sheet.)

Place dough on a piece of parchment paper. Fold up edges of dough, forming a 1-inch border. Brush olive oil evenly over dough.

Cover pizza dough, loosely with plastic wrap. Let rise in a warm place for 15 to 20 minutes.

Heat pizza stone or heavy baking sheet 10 to 12 minutes in oven. Remove and discard plastic wrap from dough. Spread jarred pizza sauce on pizza dough with the back of a large spoon. Place teaspoon size pieces of Italian sausage on top of sauce.

In a medium bowl, mix together shredded cheese and Parmesan cheese. Sprinkle cheese mixture evenly over pizza. Carefully transfer dough on parchment paper to pizza stone or baking sheet.

Bake at 450° for 10 to 12 minutes or until crust is golden brown and cheese is melted.
Recent Recipe on Tap: cranberry Cranberry Bratwurst Bites