Homemade Peanut Butter Doggie Treats
We may earn money or products from the companies mentioned in this post.
Homemade Peanut Butter Doggie Treats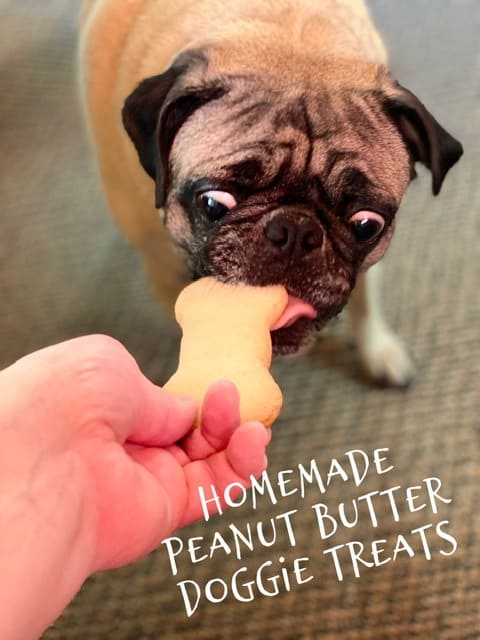 Homemade Peanut Butter Doggie Treats
I have wanted to make homemade doggie treats for quite some time. Our four legged furry friends love dog treats and many times I've run out. This last time I ran out of dog treats I decided to go ahead and make my own. I went in search of a dog treat recipe and lo and behold, I came across this recipe for Homemade Peanut Butter Doggie Treats on a fabulous food blog called Damn Delicious If you haven't had the time to stop by Damn Delicious, make a point to do so. I made her version of IKEA Swedish Meatballs a few years back and they are super delicious:)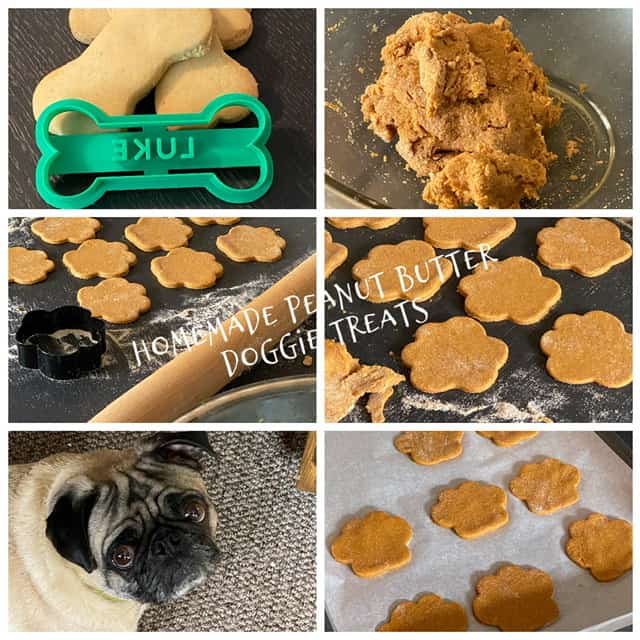 You'll Need Only Four Ingredients
To make homemade doggie treats you'll need only four very basic and simple ingredients. If I was a betting gal, I'd bet that you already had all of these ingredients in your pantry as we speak.
Peanut Butter
Canned Pumpkin Purée
Eggs
Whole Wheat Flour
Now I'm not sure about you but I always have these few simple ingredients in my house. The only thing that I might not have would be the canned pumpkin but that's rare. There was a time when this may not have been so. Years ago, canned pumpkin was considered a 'seasonal' item and could only be found in grocery stores for roughly 10 to 12 weeks out of the year. More specifically, the last two weeks of October and through the months of November and December. Thankfully canned pumpkin can now be found on grocery store shelves throughout the year.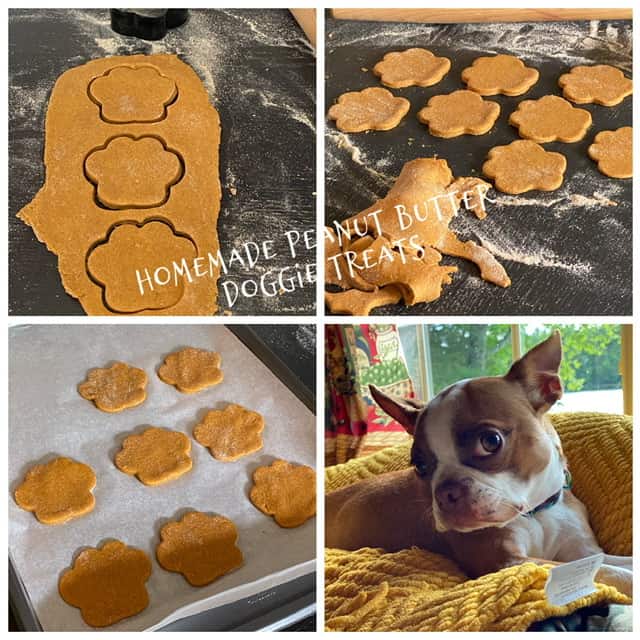 What's Needed to Make Doggie Treats
To make doggie treats you'll need a few 'special' items or equipment. Again, you most likely already have all of the equipment needed on hand.
rolling pin
parchment paper
baking sheet
dog bone shaped cookie cutters
I've made this recipe three times already, and all three times the doggie treats were a hit with my dogs. My pug Luke went crazy for them:) Leia, our Boston liked them too but not as much as Luke. My first attempt at making doggie treats was a huge success with Luke, except for the fact that the cookie cutter I used was suppose to look like a paw print but ended up looking like a flower.
After searching the web I ended up ordering a cookie cutter from Etsy, (all the way from Czech Republic) with Lukes name on it. It took a few weeks to get the cookie cutter so in the meantime I used a plain dog bone cutter. I have a confession to make, I tried one of the dog treats. Besides needing a little salt, the dog treats weren't that bad! If you'd like to watch more adventures of Luke and me, check out my YouTube channel: Turnips 2 Tangerines
UP NEXT: York Peppermint Patty Dessert Bites Food Find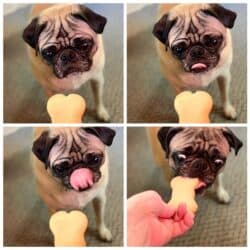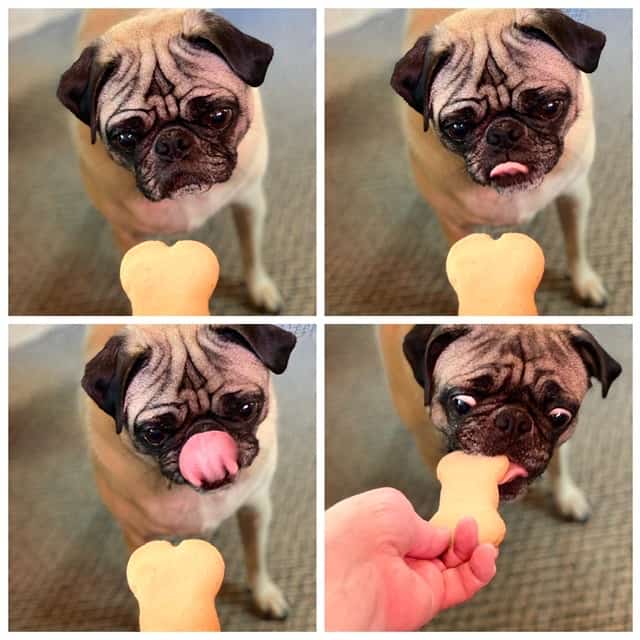 Homemade Peanut Butter Doggie Treats
Nice and Easy!!! Luke's favorite treats!
Ingredients
2/3

cup

canned pumpkin puree or pumpkin

1/4

cup

peanut butter

2

large

eggs

2 1/2 - 3

cups

whole wheat flour
Equipment
dog shaped cookie cutters
Instructions
Preheat oven to 350 degrees F. Line a baking sheet with parchment paper or a silicone baking mat; set aside.

In the bowl of an electric mixer fitted with the paddle attachment, beat pumpkin puree, peanut butter and eggs on medium-high until well combined, about 1-2 minutes. Gradually add 2 1/2 cups flour at low speed, beating just until incorporated. Add an additional 1/4 cup flour at a time just until the dough is no longer sticky.

Working on a lightly floured surface, knead the dough 3-4 times until it comes together. Using a rolling pin, roll the dough to 1/4-inch thickness. Using cookie cutters, cut out desired shapes and place onto the prepared baking sheet.

Place into oven and bake until the edges are golden brown, about 20-25 minutes.*

Let cool completely.