Home Style Chicken or Turkey Pot Pies
We may earn money or products from the companies mentioned in this post.
Home Style Chicken or Turkey Pot Pies
My husband made a request a few months back for home style chicken or turkey pot pies. That was actually back in October. I can't believe its taken this long to share the recipe. Better late than never, as they say. This recipe will make 3 to 4, 7-inch pot pies. I picked up the foil pot pie pans at the Dollar Tree. One pot pie will easily serve two people. Add a salad and a fruit cup for dessert and you have yourself a super dinner. A meal my hubby put his stamp of approval on.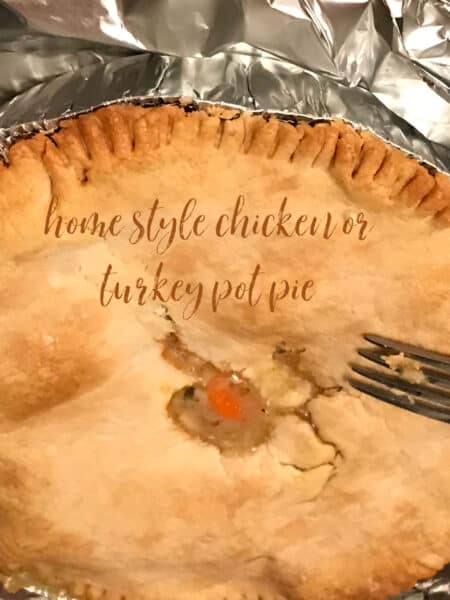 Round Foil Pans
Round foil pans can be purchased at the Dollar Tree. The 7-inch round foil pans come in 4-ct. packs. That means each foil pan is a awhopping .25¢. The flexible foil sides bend in to secure a paperboard lid, if you choose to use it. If making pot pies the paperboard lid isn't necessary. The pot pies will be wrapped in plastic wrap and placed in the freezer. The foil pans are great for freezer meals, fruit pies, storing leftovers, and much more.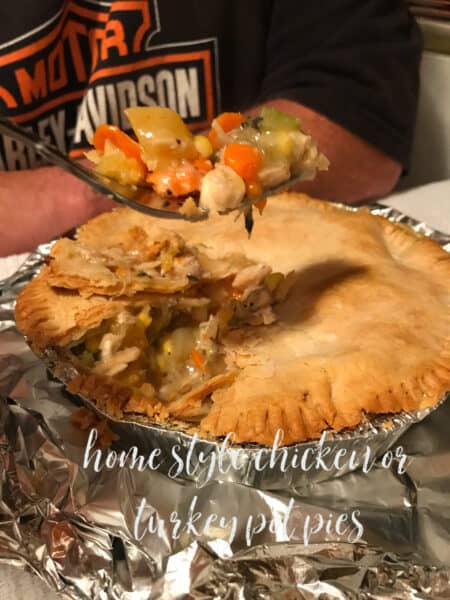 The Filling
The filling for the pot pies is made up of leftover chicken or turkey. Leftover holiday turkey works perfectly in this recipe as does leftover Sunday roasted chicken. Another option would be to purchase a rotisserie chicken that you can find at almost any super market. Even leftover fried chicken works in this recipe. Leftover fried chicken can also be picked up in most grocery store deli departments and usually for a great price. Any veggies can be added to pot pies too.
I prefer to make the pot pie filling in the morning and allowing the filling to cool before filling the pot pies. This step is necessary to avoid soggy crusts. This is especially important if you're going to freeze the pot pies. If your going to serve pot pies right away for dinner, you'll need to cool the filling, again to avoid a soggy crust. Once the filling has cooled to lukewarm, fill and bake. Home style chicken or turkey pot pies will warm you up on a cold, snowy evening.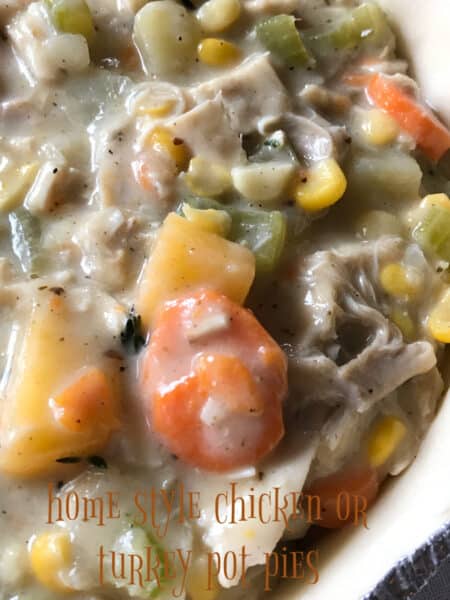 Make It A Pot Pie Day
This recipe makes 3 or 4, 7-inch pot pies. Set aside an afternoon and 'Make It A Pot Pie Day' at your house! Set up an assembly line of foil pans and get busy making pot pies. For convenience, use refrigerated pie crust or get out the big boys (flour and shortening) and make from scratch pie crusts. If making from scratch crusts, depending on how many pot pies you will be making, you might need to double the recipe.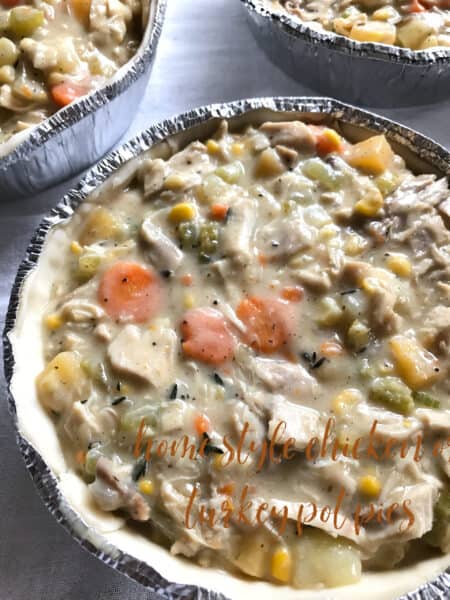 Very Versatile
If you want to take your pot pies to the next level, use homemade chicken stock. Homemade is much more tastier than carton stock but if you don't any homemade stock, carton or canned will do just fine. Once the filling has cooled, use a soup ladle to fill the pie tins. Put on the top crusts and vent the crust by cutting a small circle in the middle of the top crust. Crimp the edges of the pie with the tines of a fork. Bake at 350 for an hour and 20 minutes or until crust is browned and filling is bubbly.
Recipe Tip
When making the crust, roll it out and use the tin pie pan as your guide. Cut out top and bottom crusts as needed. Line pot pie pans with bottom crusts, pressing crust lightly into the bottom and up sides of pie pans. Use a kitchen scissors to trim any excess overhang crust, leaving a 1/2-inch edge. Do not prick the bottom crust. Add any veggies your family likes. My hubby doesn't like peas, so I added corn instead.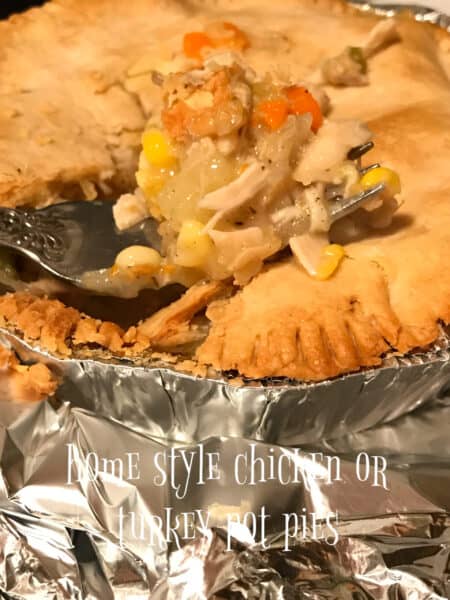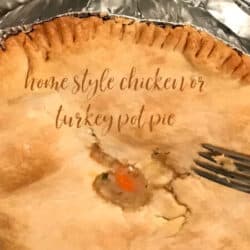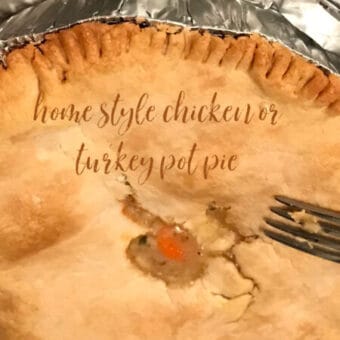 Home Style Chicken or Turkey Pot Pies
A classic pot pie recipe made with chicken or turkey and delicious root vegetables. Comfort food at its best.
Ingredients
8

tbsp

unsalted butter divided

1

cups

chopped yellow onion

1

cup

chopped carrot

1

cup

chopped celery

1

cup

chopped potato

1

cup

chopped rutabaga

5

sprigs

fresh thyme

2

sprigs

fresh rosemary

1/4

teaspoon

salt

1/8

teaspoon

pepper

3

cups

diced cooked chicken or turkey

1/2

cup

flour

3

cups

chicken stock

1/4

cup

heavy cream

1

cup

corn

2

packages

refrigerated prepared pie crust or

homemade double crust pie crust
Instructions
Melt two tablespoons of butter over medium heat in a large pot.

Add the onion, carrot, celery, potato, rutabaga, thyme, rosemary, 1/4 tsp salt, and 1/8 tsp black pepper.

Saute the vegetables, stirring every few minutes until soft, about 20 minutes.

Add the diced chicken or turkey to the pot.

Preheat the oven to 375 degrees

Add the remaining 6 tbsp of butter to the softened vegetables, and let it melt completely.

Add the flour and stir to incorporate the flour completely.

Add the chicken stock, bring the mixture to a boil, reduce the heat to a simmer.

Let mixture bubble for a minute or two until the mixture has thickened.

Remove the herb stems and discard.

Stir in the heavy cream, season with salt and pepper if desired.

Remove pan from the heat.

Cool the filling to lukewarm

Line bottom of pie plates with pie crust.

Spoon all of the chicken vegetable mixture into the crust.

Place the top pie crust on and crimp with your fingers or with the tines of a fork.

Cut slits into the top of the crust, so the steam can escape during baking.

Bake for one hour and 15 minutes or until the pie crust is golden brown.
Looking for new and different ways to prepare chicken or turkey? Here are a few ideas you might want to try. Turkey Lasagna Roll Ups, Hot Chicken Tortilla Soup, and Turkey Tetrazzini Leftover Style.