Home Run Snack Party Mix
We may earn money or products from the companies mentioned in this post.
Home Run Snack Party Mix
You'll be sure to hit a home run when you serve this tasty snack mix. Made with Corn, Rice and Wheat Chex Cereals, Honey-roasted Peanuts, Mini Pretzels, Cheese Crackers, Corn Chips and French Fried Onions. A mixture of butter, brown sugar, Worcestershire sauce, steak sauce, liquid smoke and spices are mixed together and tossed with the cereal mixture baked, allowed to cool and enjoyed!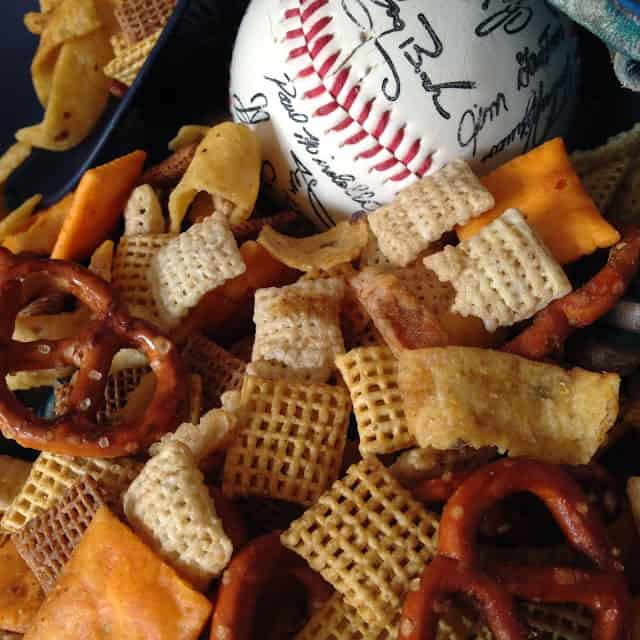 Salty and Smokey
Home Run Snack Party Mix has a salty and smokey flavor verses a sweet/salty taste. This recipe is a real fan favorite among the males in my family, probably due to the smokiness from the liquid smoke and steak sauce. Like all Chex Party Mixes, this one is also highly potent and addictive. It seems everyone has their favorite Chex party mix. There are so many pre-packaged party mixes on the market, its hard to choose just one.
Homemade vs Packaged
I don't think you can really fairly compared the two. Homemade Chex party mix is made with fresh, creamy butter, soy sauce, and any other ingredients you'd like to add. And packaged Chex party mix, is a little saltier than homemade but just think of all of the flavors you can choose from!! Now they even have low-salt versions also. It's like comparing homemade caramel corn with store bought, they're both delicious. but sometimes you want homemade and sometimes you don't.
Looking For More?
Looking for some more delicious recipes? Try Turkey Broccoli Shells and Hearty Bean Bake.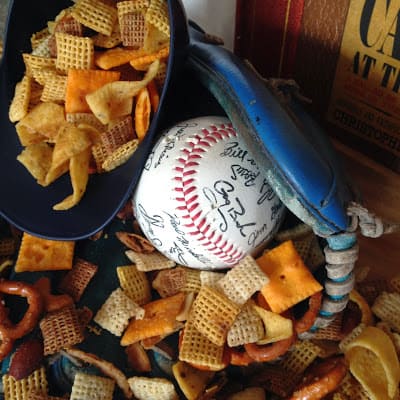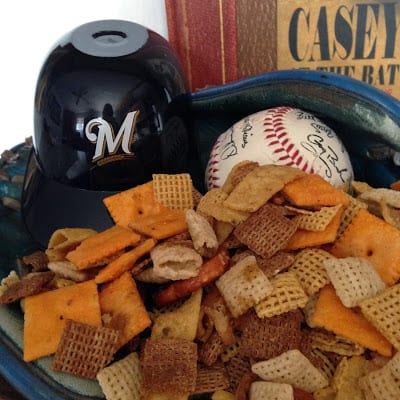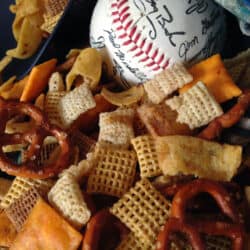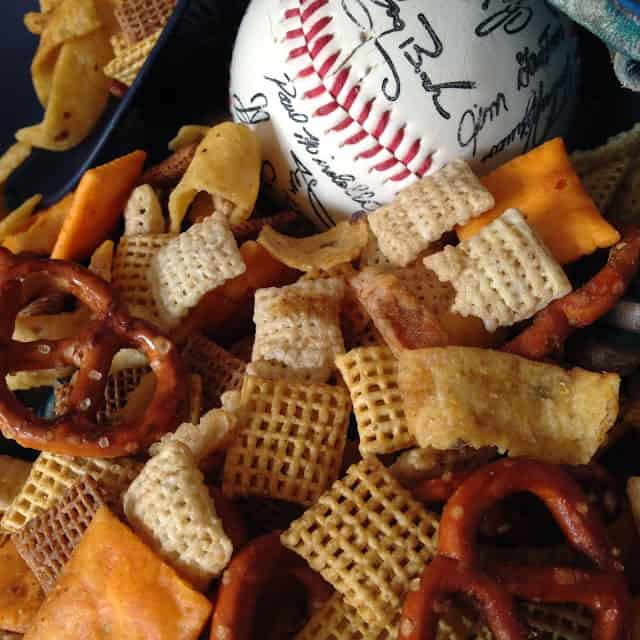 Home Run Snack Party Mix
Ingredients
6

cups

corn chex

6

cups

rice chex

6

cups

wheat chex

1

cup

honey roasted peanuts

3

cups

mini pretzel twists

3

cups

cheese crackers

3

cups

corn chips

1

cup

french fried onions

8

tablespoons

butter

2

tablespoons

brown sugar

3

tablespoons

Worcestershire sauce

2

tablespoons

steak sauce

15

drops Colgin liquid smoke, natural mesquite recipe

1 1/2

teaspoons

seasoned salt

3/4

teaspoon

garlic powder

1/2

teaspoon

onion powder
Instructions
Heat oven to 250º

In a large roaster pan, mix cereals, peanuts, pretzels, cheese crackers, corn chips and french fried onions.

In a small microwave proof bowl, melt butter until melted. Add remaining ingredients and microwave on high for 2 to 3 minutes. Pour mixture over cereal in roaster pan. Gently stir until coated. Pan will be full.

Bake for 1 hour, stirring every 15 minutes.

Spread on parchment paper to cool.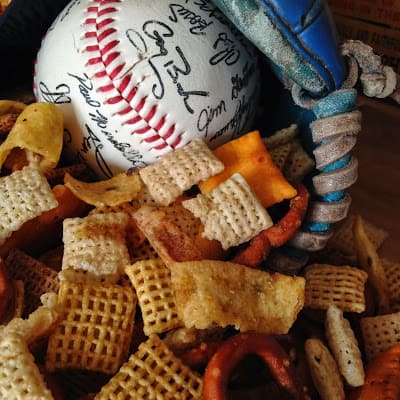 * Colgin
Kitchen Tip: Grease only the bottoms of loaf pans for quick breads. Un-greased sides allow the batter to cling while rising during baking, which helps form a gently rounded top. If sides are greased, the edges of the loaf may have ridges.