Hearty Bean Bake
We may earn money or products from the companies mentioned in this post.
Hearty Bean Bake
Hearty Bean Bake is the perfect hearty and delicious baked bean dish to bring to any picnic or potluck dinner. Another name that this rustic casserole/baked bean dish goes by is Calico Bean Bake. A baked bean dish enjoyed by settlers and cowboys on the Great Plains. At that time this rustic casserole was served as the main dish but now it's served as a side dish at most picnics and potlucks.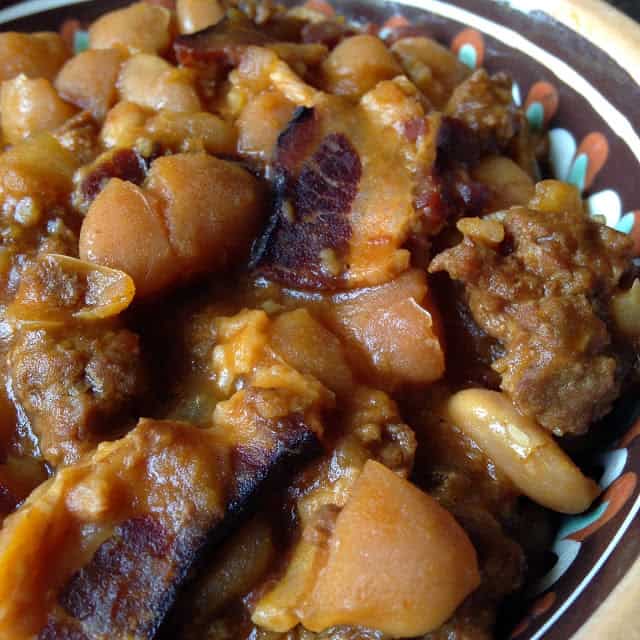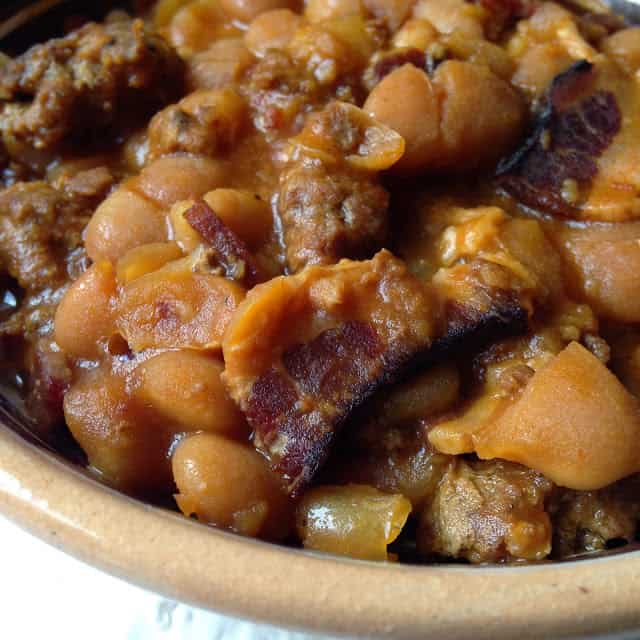 Bean Bakes
The traditional ingredients in bean bakes or bean casseroles are; dried bean or canned bean, bacon, salt pork or ground beef, onions and sometimes chilies. The sauce is a tomato based, sweet sauce made with ketchup, barbecue sauce or even tomato soup and the sweet is usually brown sugar, molasses and sometimes honey. Bean bake recipes vary greatly. There are as many bean bake recipes as there are cooks who make them.
Many Names
As I mentioned, this recipe goes by many different names. Calico Bean Bake, Wild West Beans, Bean Hash and the list goes on and on. Dried beans are rich in protein, calcium, phosphorus and iron. Their high protein content, along with the fact they are easily grown and stored, make them a staple throughout the many parts of the world. This is especially true in places where protein is scarce or expensive.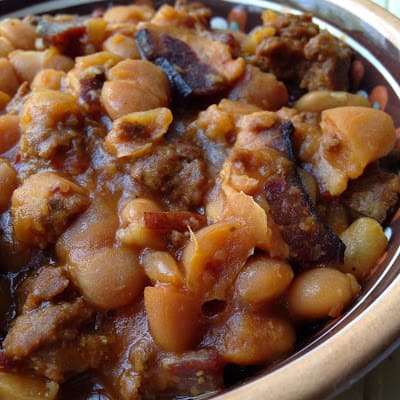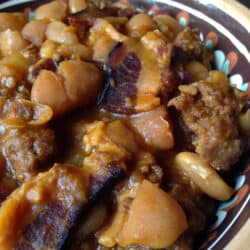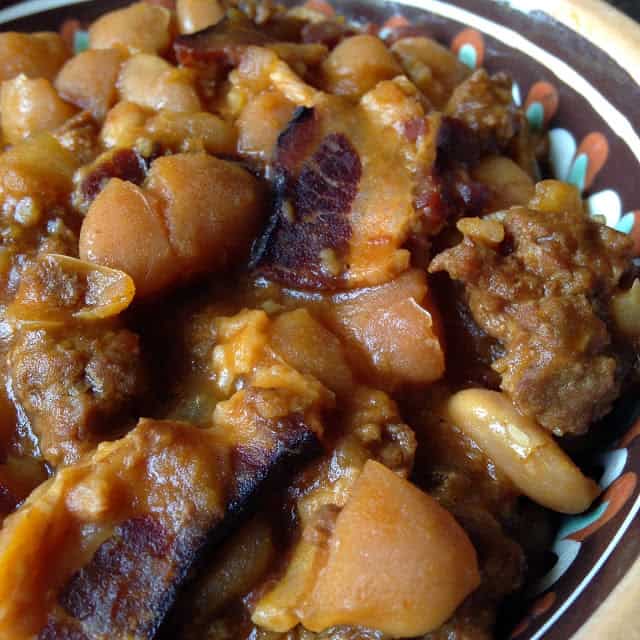 Hearty Baked Bean Dish
Hearty Baked Bean Dish is the perfect picnic and party dish.
Ingredients
1 1/2

pounds

great northern beans

1

pound

ground beef, browned and drained

1

onion, chopped

3/4

pound

sliced bacon, cut in half

1/2

cup

packed brown sugar

3

tablespoons

apple cider vinegar

1

tablespoon

liquid smoke

,

Colgin Natural Mesquite

1

teaspoon

salt

1/2

teaspoon

pepper

2

cups

honey barbecue sauce

1

cup

ketchup
Instructions
In a dutch oven place beans

Cover beans with cold water. Soak beans overnight.

In the morning, drain beans, cover beans with fresh cold water, add 1/2 teaspoon baking soda to the beans and water. Bring beans just to a boil. Turn heat off, par-boil beans for 2 to 3 minutes.

Drain beans, reserving liquid. In a large bean pot, layer beans, ground beef, onion and bacon.

In a medium bowl, mix together brown sugar, apple cider vinegar, liquid smoke, salt, pepper, honey barbecue sauce and ketchup. Pour over beans. Pour bean liquid over contents in bean pot to cover.

Cover bean pot with cover or foil. Bake at 325 degrees for 4 to 6 hours or until beans are tender.
Recipes On Tap
Calico Bean Bake, Barbecue Baked Beans  and Best Baked Bean Recipes. To give this Hearty Bean Bake that smoky flavor, we've added a drop or two of Colgin Liquid Smoke