Hawaiian Ham and Swiss Sliders
We may earn money or products from the companies mentioned in this post.
Hawaiian Ham and Swiss Sliders
This recipe for Hawaiian Ham and Swiss Sliders is the original recipe and the one that started it all. I'm pretty sure that everyone, young and old, has made some form or another of this recipe. Even if you have never made this easy and delicious recipe, you've more than likely indulged in a ham and swiss slider. Either at a super bowl party, baby shower or backyard picnic, I know I have! It goes without saying but more often than not, you just can't improve on the original recipe. I do believe that Christy Denney, the voice behind The Girl Who Ate Everything invented the original recipe. And what a super recipe to have invented indeed.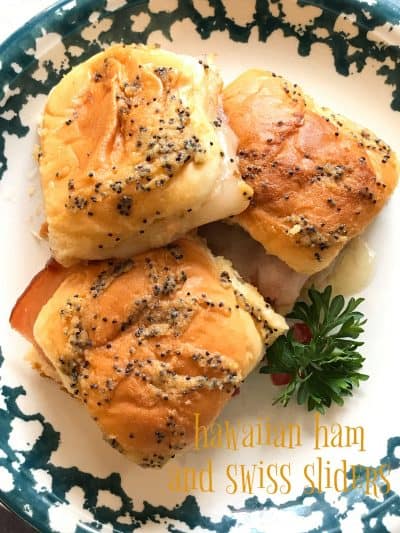 Hawaiian Sweet Rolls
Some recipes are worth making over and over again. This is definitely one of those recipes. Ham and Swiss Sliders are made with Hawaiian Sweet Rolls. You know the ones, the slightly sweet rolls from Hawaii that are absolutely delicious. I'm not a fan of packaged brown and serve rolls but I've always loved these babies. Now on the other hand, my family loves any kind of brown and serve rolls. They literally fight over the last one. Many a time I've heard the phrase, "Then take the damn thing" right before a roll whizzed past my head. Then you have my precious grand-daughter Willow, the original coleslaw girl, who at two years old would sit in her little chair, with her head in her hands and cry for a roll:)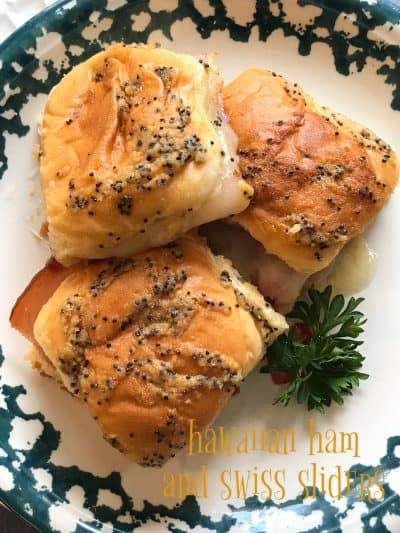 Made With
Hawaiian Ham and Swiss Sliders are made with King's Hawaiian Sweet Rolls. Looking for an unique appetizer recipe? Give this a try. Peanut Butter Bacon Tidbit Sandwich.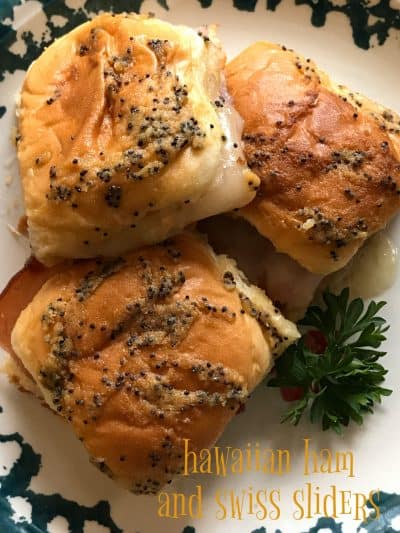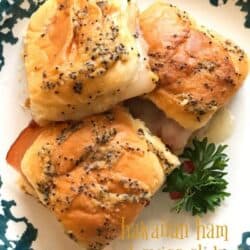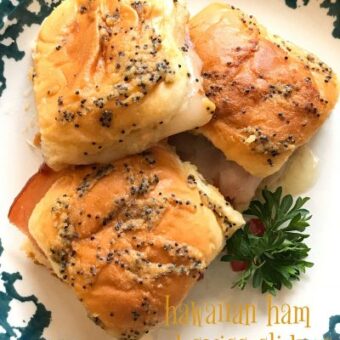 Hawaiian Ham and Swiss Sliders
The "original" slider recipe:)
Ingredients
24

slices

deli honey ham

6

Slices

of Swiss cheese, cut into fourths

1/3

cup

mayonnaise

1

tablespoon

poppy seeds

1 1/2

tablespoons

Dijon mustard

1/2

cup

butter melted

1

tablespoon

onion Powder

1/2

teaspoon

Worcestershire sauce

2

packages 12-count

KING'S HAWAIIAN Original Hawaiian Sweet Dinner Rolls
Instructions
Cut rolls in half and spread mayo onto 1 side of the rolls. Place a slice or two of ham and slice of Swiss cheese in roll.

Replace the top of the rolls and bunch them closely together into a baking dish.

In a medium bowl, whisk together poppy seeds, Dijon mustard, melted butter, onion powder and Worcestershire sauce.

Pour sauce over the rolls, just covering the tops. Cover with foil and let sit for 10 minutes.

Bake at 350 degrees for 10 minutes or until cheese is melted. Uncover and cook for additional 2 minutes until tops are slightly browned and crisp. Serve warm.
Notes
*Recipe Note: This is a personal preference, I like to bake the sliders about 10 minutes longer than the recipe suggests. 
Recent Recipes: Chocolate Dipped Peanut Butter Ritz, and Ham and Cheese Croquettes with Sausage Gravy