Hasselback Potatoes with Garlic and Thyme
We may earn money or products from the companies mentioned in this post.
Hasselback Potatoes with Garlic and Thyme
Hasselback Potatoes with Garlic and Thyme are seriously delicious. This is the first time that we've made hasselback potatoes here on Turnips 2 Tangerines, and it will not be the last! Since we knew nothing about hasselback potatoes, we were surprised to find out that they are of Swedish origin. When most people think of potatoes, they don't think Swedish. Honestly, we thought they were Irish or German in origin.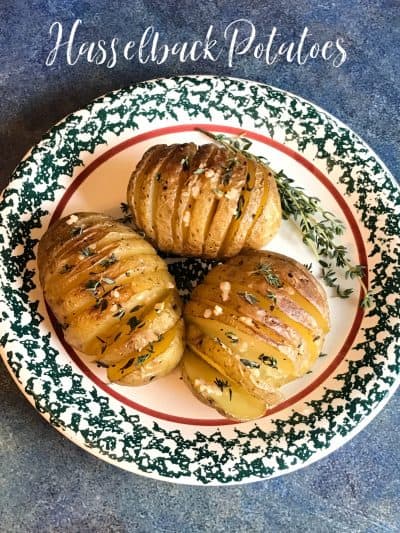 SwedishFood.com
Hasselback potatoes have been around for ages. I can't think of a better place to get the scoop on hasselback potatoes than on a website dedicated to Swedish Food. A hasselback potato is the Swedish version of a baked potato on steroids. These buttery potatoes are lightly seasoned with salt and pepper. Melted butter is drizzled over the potatoes and in the oven they go-a-roasting.
After 25 minutes, the potatoes are drizzled with more melted butter and topped with breadcrumbs. End result is a delicious buttery potato, crispy on the outside, tender on the inside with a crunchy top. The next time we make Hasselback potatoes, we're going to make them the Swedish way. Using large, peeled, waxy potato, lots of melted butter and breadcrumbs.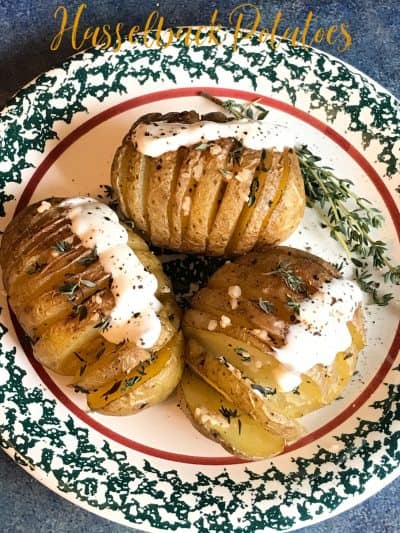 The Name
Hasselbackspotatis is the Swedish way of roasting potatoes. The name comes from the Hasselbacken Restaurant  located in central Stockholm, Sweden. The Hasselbacken was first established in the 1700's as a tavern, located in the middle of a thicket of hassel (hazel) on a steep backe (slope) which is how it got its name. Restaurant Hasselbacken opened in 1853 in a grand new building.
It developed a reputation for grandiose celebrations, which were enjoyed by Stockholm's rich upper-class. Hasselbackspotatis were first served in the 1940's or 1950's and quickly became an instant hit. Not only do hasselback taste delicious, they also look pretty impressive on a plate. Since they first appeared in Sweden, they have become popular all over the world. Hasselback potatoes are perfect served with roast meat or poultry.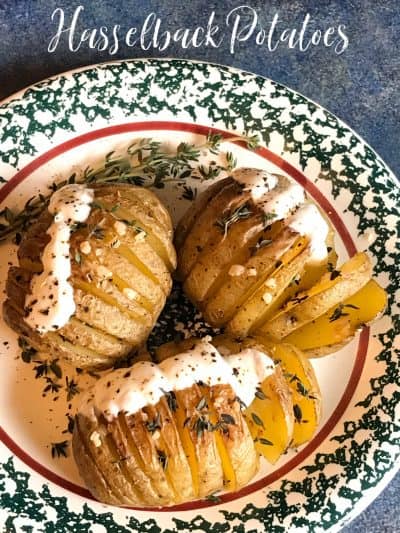 Helpful Hints
Here are a few helpful hints when making hasselback potatoes. Try using some grated hard cheese, such as Parmesan or Vasterbottensost, instead of some or all of the breadcrumbs. This is very popular in Sweden, but originally only the breadcrumbs were used. Main-crop potatoes are normally used to make hasselback potatoes. New potatoes can be used, in which case Charlotte potatoes are a good choice.
Hint #2
Large, waxy potatoes are best when making hasselback potatoes. SwedishFood.com advises to use Maris Piper or King Edward potatoes. Use good quality store bought white breadcrumbs or simply make your own. Here's how, remove the crusts from a couple of slices of stale white bread. Give them a few whizzes in a food processor.
Hint #3
Hasselback potatoes are easy to prepare and super delicious. Prep time is literally 5 minutes, with roasting time time around an hour. Hasselback potatoes can be served with any meal. Like baked potatoes, hasselback potatoes can be topped with sour cream, bacon and chives. We certainly can't mention Swedish food without mentioning Al Johnson's Swedish Restaurant, located in Sister Bay WI.
Al Johnson's Swedish Restaurant
As you top the hill and head down main street in Sister Bay, WI., you will spot the goats on the roof at Al Johnson's. Located right in the middle of town, this grassy roof and the goats grazing there have drawn tourists and locals alike. An icon for visitors for over 58 years, Al Johnson's Swedish Restaurant has a rich history in the city. Goats grazing on the roof plus the delicious Swedish food keeps people coming back for more.
Hard Work
Hard work is key to any successful business and that rings true for the Johnson Family. It has been and continues to be family run. The food served at Al Johnson's speaks for itself. Served on dishes from Porsgrund, Norway, the decorative rosemaled painting around the interior was done by the renowned Norwegian artist Sigmund Arseth. Much of the foods served are Swedish and Norwegian.
Lingonberries
Everything from Swedish pancakes to meatballs are served with Swedish lingonberries. A variety of Swedish crackers and limpa bread are found on the bread tray along with many specialty cheeses from Sweden. All are served with lingonberries. What are lingonberries? They are a small, red berry much like a currant in taste and served with every meal. There is much to delight the palate at Al Johnson's. *Goat image credit Al Johnson's
Something for Everyone
Breakfast is served all day and for those wanting a more American fare, the menu includes the famous Al's burger, local perch and whitefish plates. Ham, turkey or clubhouse sandwiches are served, along with a full array of salads and daily soups. Let's not forget about the desserts. Homemade pies, Almond cake, Strawberry shortcake and a Wisconsin favorite, Schaum Torte. There is literally something for everyone.
Make A Meal
There are many variations of hasselback potatoes. Turn hasselback potatoes into a light lunch by using a super large potato, adding grated smoked Gouda cheese along with the breadcrumbs. Top the potato with diced fried bacon or ham, some sour cream and chopped chives or parsley. Swedelicious! *Above image credit Swedish Food
Hasselback Potatoes
Ingredients
4

medium sized oval-shaped potatoes

1/4

cup 

melted butter

½

tsp

salt

freshly ground black pepper

,

to taste

2

tablespoons

minced garlic

2

sprigs fresh thyme

3

tablespoons

grated breadcrumbs

sour cream

,

crispy, crumbled bacon and chopped chives, optional
Instructions
Preheat the oven to 425°F

Peel the potatoes and place in a bowl of cold water to prevent browning.

Place a potato in a large wooden spoon. Using a sharp knife make slices widthways across the potato about 5 mm (¼") apart (some people making them even closer), making sure to cut down to the lip of the spoon but not all way through the potato. Return the potato to the bowl of water. Repeat with the remaining potatoes.

Brush the bottom of a shallow roasting tray with the melted butter.

Dry the potatoes and place them cut side up in a roasting tin. Drizzle with half of the butter then season with salt and pepper.

Bake for 25 minutes. Remove from the oven and drizzle with the remaining butter. Sprinkle with breadcrumbs and season with a little more salt. Return to the oven and bake for another 25 to 35 minutes, or until nicely browned. (They may need basting with the melted butter a couple more times.)

Serve with sour cream, crispy bacon, chopped chives
Recent Recipe: Chicken or Turkey Egg Rolls