Ham with Pineapple and Cherries
We may earn money or products from the companies mentioned in this post.
Ham with Pineapple and Cherries
Christmas Ham with Pineapple Rings and Maraschino Cherries is a classic way to prepare ham. A mixture of brown sugar, pineapple juice and cherry juice becomes an easy and simple glaze. We prefer two methods to preparing ham; on the rotisserie or in the crockpot. Ham with Pineapple and Cherries is made in the crockpot. Making it an easy and convenient way to make and serve ham.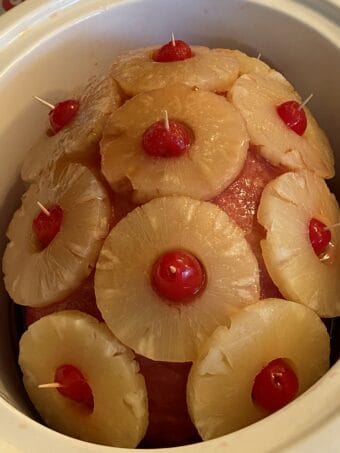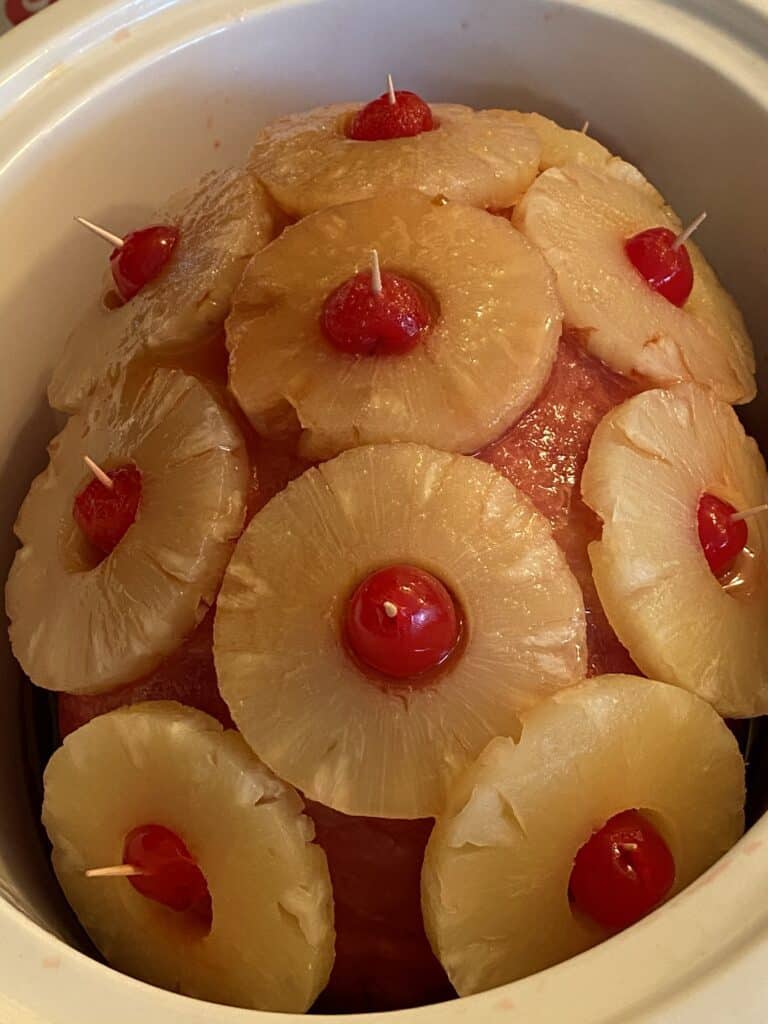 Favorite Yuletide Entree
Would you believe that the holiday ham dates back centuries. Wild boar was one of the more popular choices for pagan feasts hundreds upon hundreds of years ago. Both the Norse and Germanic pagan traditions ate boar at their celebrations, honoring fertility and prosperity. Norse cultures ate boar in tribute to Freyr, a god for whom the pig was sacred.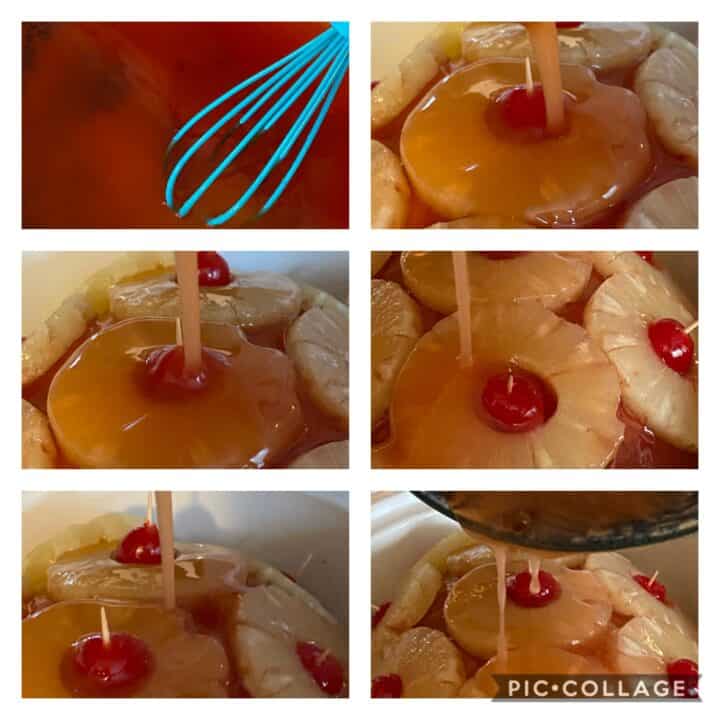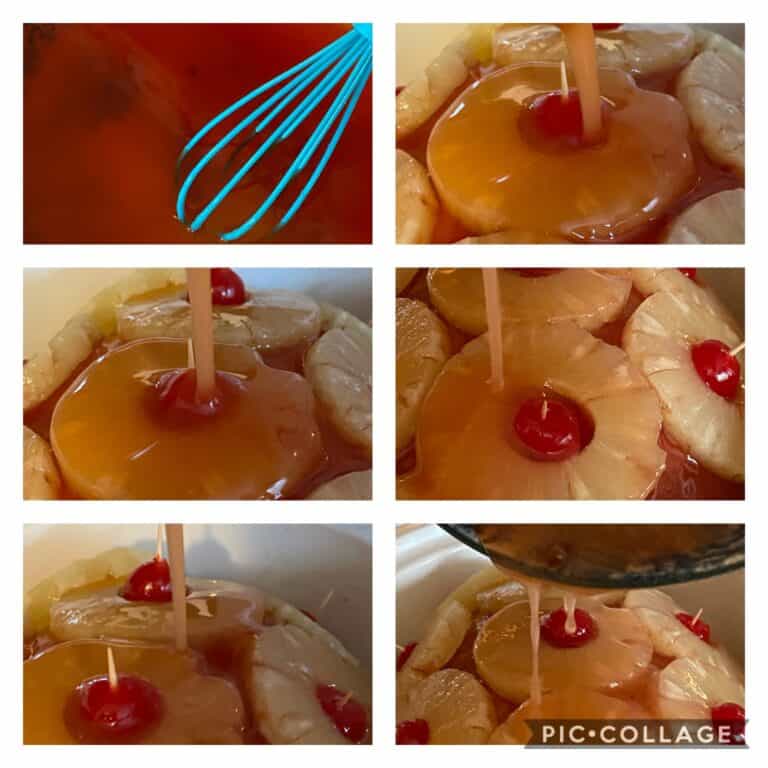 One of the popular pagan feasts, Yule, later grew to become synonymous with Christian Christmas celebrations, and the tradition of eating ham came along with it. In fact, much of the ancient Yule tradition is reflected in modern Christmas celebrations. Yuletide was a 12 day, midwinter feast associated with the winter solstice.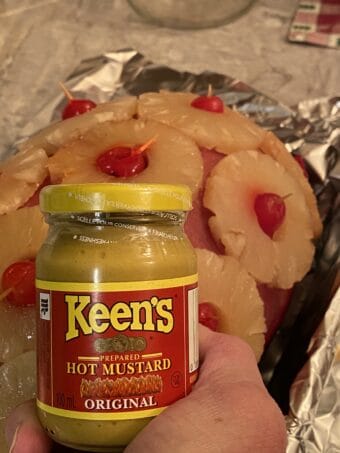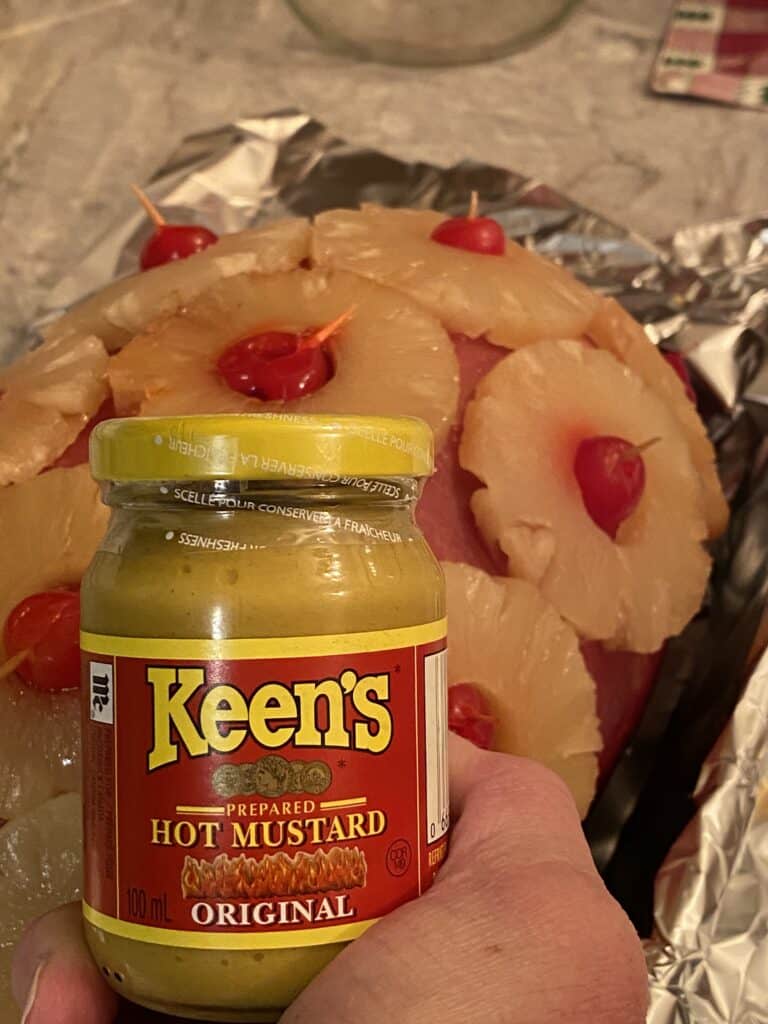 The original Yule Log was a giant log burned for the entire 12 days of Yuletide. And how about the classic carol, "Deck the Halls"? Its lyrics read, "Troll the ancient Yuletide carol," and "See the blazing Yule before us." So, as you're decking the halls and carving your ham, rest assured that you're enjoying ancient Yuletide traditions.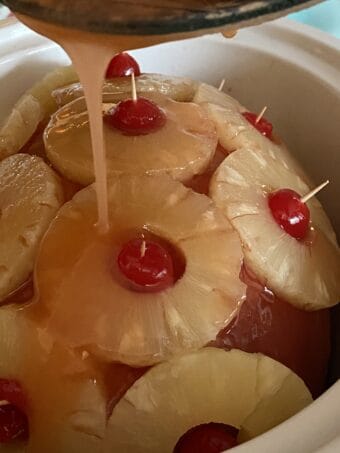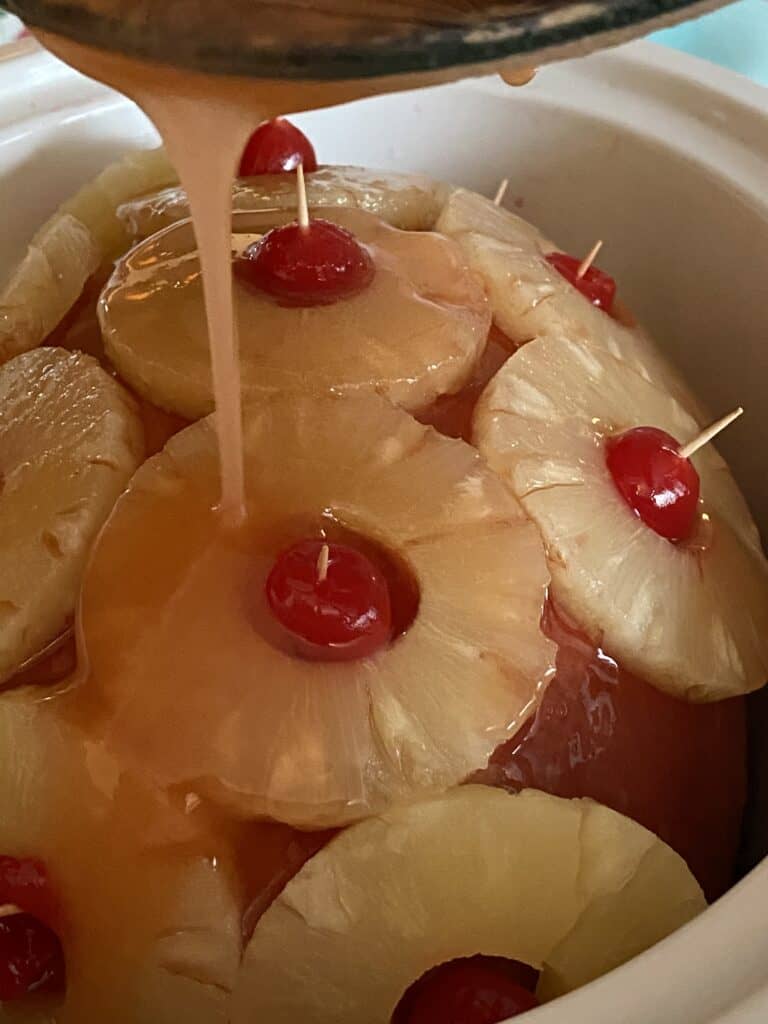 The Yule Log Cake
A Yule log or bûche de Noël is a traditional Christmas cake, often served as a dessert near Christmas, especially in France, Belgium, Switzerland, and several former French colonies such as Canada and Vietnam. Variants are also served in the United States, United Kingdom, Portugal, and Spain. One of these years I am going to try my hand at making a Buche de Noel or Yule log but until then, I'd much rather go to Dairy Queen and pick up an ice cream version of this traditional Christmas cake.
UP NEXT: chaCharcuterie Board and Happy New Year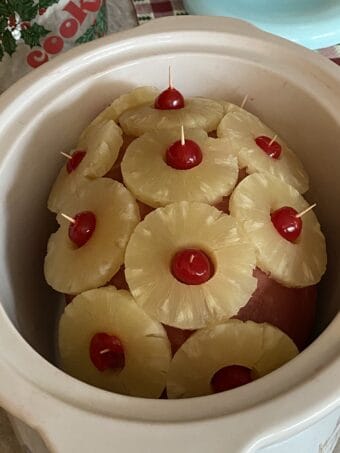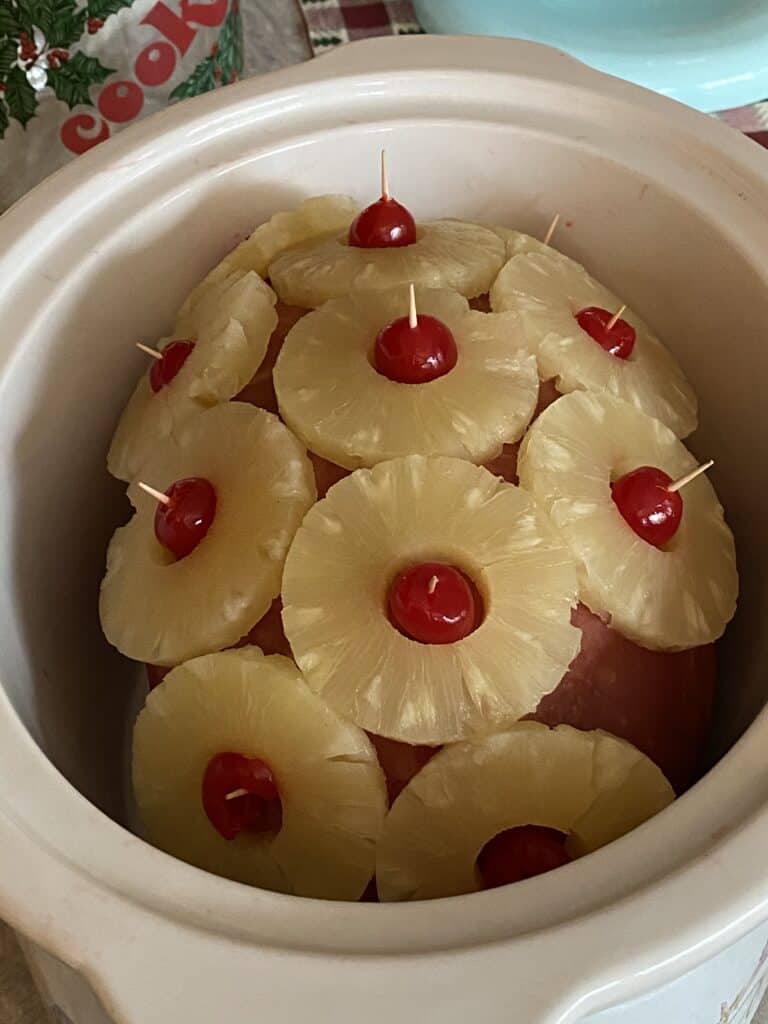 More Scrumptious Ham Recipes
Keen Mustard
I received a jar of Keen Mustard a few days before Christmas. While visiting my friend Cindy in Wiraton Ontario, I fell in love with Keen mustard. I had never had or ever heard of Keens Mustard before until then. Cindy was kind enough to send me a jar of Keen Mustard just in time to serve with our Christmas ham. KEEN Mustard comes ground also.
I'm not sure how Cindy does it but she always knows exactly when to send me a card, a package or a jar of mustard and a container of tea. Maybe she has ESP or maybe she has a KEEN sense of intuition.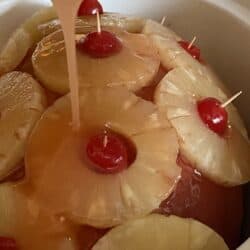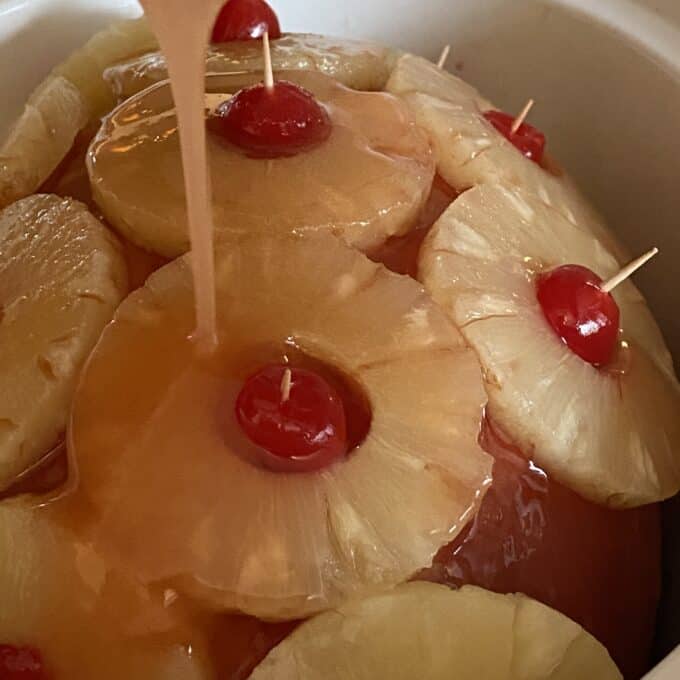 Ham with Pineapple and Cherries in Crockpot
A classic way to prepare ham.
Ingredients
4-5

lb.

Hickory Smoked Boneless Ham

1

20 oz. can

Pineapple Rings

1

10 oz. jar

Maraschino Cherries

1 1/2

cups

firmly packed brown sugar

1

teaspoon

dry mustard (KEEN'S)
Equipment
crockpot

Crock-pot, Slow cooker
Instructions
Place ham in crockpot. Score top of ham in a diamond pattern, optional.

Drain pineapple juice into a medium bowl. Measure out 1/4 cup cherry juice. Add to pineapple juice. Whisk in brown sugar and ground mustard. Set aside.

Cover top and sides of ham with pineapple rings. Using a toothpick secure a maraschino cherry into hole of pineapple ring. Whisk together the brown sugar/juice mixture and pour over ham.

Cover and cook on low for 5 hrs.