Haddock in Wine
We may earn money or products from the companies mentioned in this post.
Haddock in Wine
I recently purchased 2 boxes (5 lbs each) of Haddock fillets and I have been on a haddock making roll ever since. Earlier this week, I posted a recipe for Easy Lemon Haddock. Today's recipe features haddock once again but this time in a simple wine sauce. Normally when fish is cooked in wine, you poach the fish in a "fish poacher."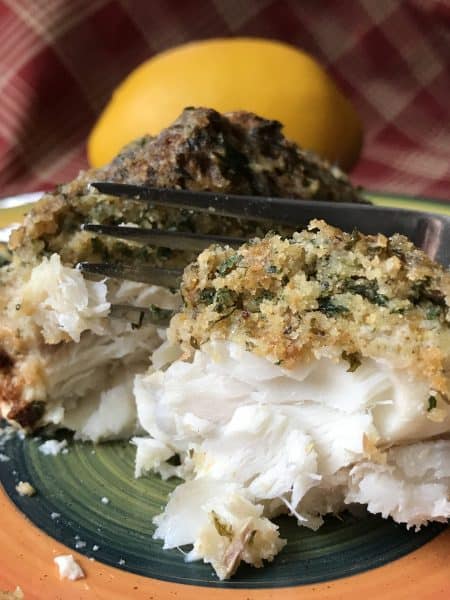 What is a Fish Poacher
A "fish poacher" is a long (around 18 to 20 inches) oval pan specifically designed to poach whole fillets, although pieces can also be cooked in it. A poacher is fitted with a steel rack, on which the fish sits above the poaching liquid, with two handles and a tight-fitting lid. Price for poachers range from $40.00 to $1,300.00. The next time I happen to see a fish poacher on one of my thrift shoppers expeditions, and I do come across them from time to time, I'm grabbing it! Picking a poacher up for $3 to $5.00 is a far cry from $40 dollars! And a $1000 bucks for a fish poacher?? Come on now, get a grip.
The best types of fish for poaching are oily fish such as; (whole or fillets) salmon or trout and firm white fish such as; halibut, snapper, haddock, sole, cod, and tilapia.
Folk Lore
Some of the best fresh-water fishing in the world is found in Wisconsin's two Great Lakes, 15,000 inland lakes and about 2,400 streams. These bounteous waters give the serious fisherman and the idle angler alike a rewarding chance to enjoy the bounties that are given to us. Folk lore has it that credit goes to Paul Bunyan for Wisconsin's numerous inland lakes.
When Paul Bunyan jumped from the top of Rib Mountain, located near Wausau Wisconsin into the Wisconsin River, he created a splash so huge that each drop created a lake where it landed. It is said that Paul Bunyan got his amazing pet fish from one of these lakes. The fish learned how to walk and accompanied Paul everywhere, or so they say.
Musky Waters
The area around Winter WI is noted for its excellent musky waters. Not the musky smelling type of water but musky waters where Wisconsin's State Fish, the muskellunge can reach over five feet in length and weigh more than 70 pounds. It's a highly prized game fish, not only for its size, but also because of its ferocious fighting spirit. Fisherman have an obsession with trying to outsmart this big one.
The Freshwater Fishing Hall of Fame and Museum located in Hayward Wisconsin, is the international headquarters for education, recognition and promotion of fresh water sport fishing. Their mission is to develop and maintain the Fresh Water Fishing Hall of Fame and its Museum for the preservation and display of historical artifacts of fresh water sport fishing.
You Might Be Thinking??
Now you must be thinking, "You live on a lake, don't you fish?" Well no, we don't. Shame on us, right? My husband isn't a fisherman, nor am I but maybe retirement will someday change that. During lent boxes of haddock can be purchased for a beyond reasonable price. I purchased 2 (5 lb boxes each) for $17.99 a box, so for $36.00 I purchased 10 lbs of haddock and that's a whole lotta fish.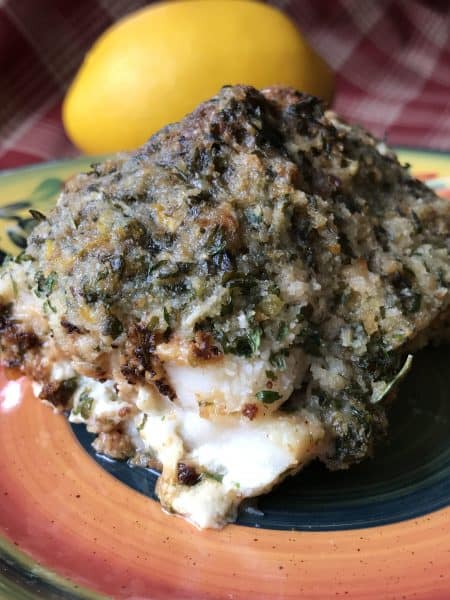 So until we reach retirement age or until we can make some friends who are willing to give us some fish caught in the abundant waters here in Wisconsin, (of course I would be willing to bake a dessert of choice for exchange for some fresh Wisconsin fish:) we will continue to buy our fish at the local grocery store. Any donations would be greatly appreciated:)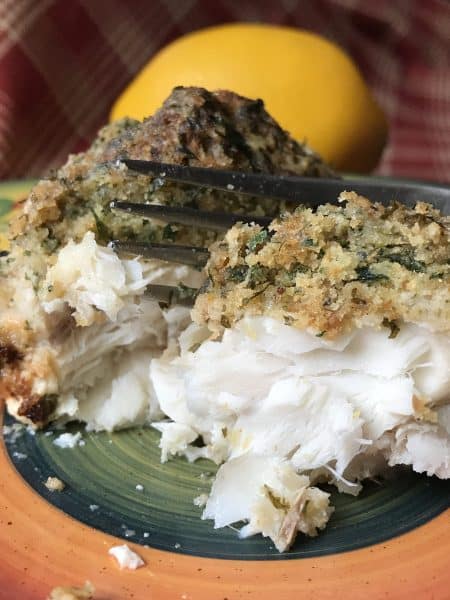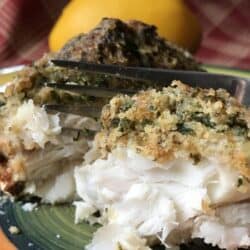 Haddock in Wine
Ingredients
1

pound

haddock fillet—or other white fish

2

tablespoons

olive oil or bacon fat

1

cup

seasoned bread crumbs

2

tablespoons

dried parsley

½

teaspoon

dried Italian herbs blend

¼

teaspoon

lemon pepper blend

½

cup

white wine or red wine

1

tablespoon

lemon juice

2

tablespoons

melted butter
Instructions
Preheat oven to 350 degrees.

Drizzle oil or bacon fat in a 2 quart baking dish. Rinse fish and pat dry. Place fish in baking dish. In a small bowl mix seasoned bread crumbs, dried parsley, Italian herb blend, and lemon pepper.

Sprinkle fish with bread crumb/herb mixture. Combine wine and lemon juice, pour into the bottom of pan. Drizzle butter over fish/bread crumbs. Bake uncovered for 30-45 minutes or until fish flakes easily with a fork.
UP NEXT: