Guinness Oven Baked Beef Stew
We may earn money or products from the companies mentioned in this post.
Guinness Oven Baked Beef Stew
On the menu today is Guinness Oven Baked Beef Stew. Today is St. Patrick's Day and I can't think of a better way to celebrate than with a  big bowl of beef stew served with a slice of fresh baked hearty bread. To celebrate this Irish holiday even further, we've added two bottles of Guinness Beer to our stew. This stew is packed with "good for you vegetables" such as turnips, parsnips and cabbage. Get ready to indulge in a bowl of comfort.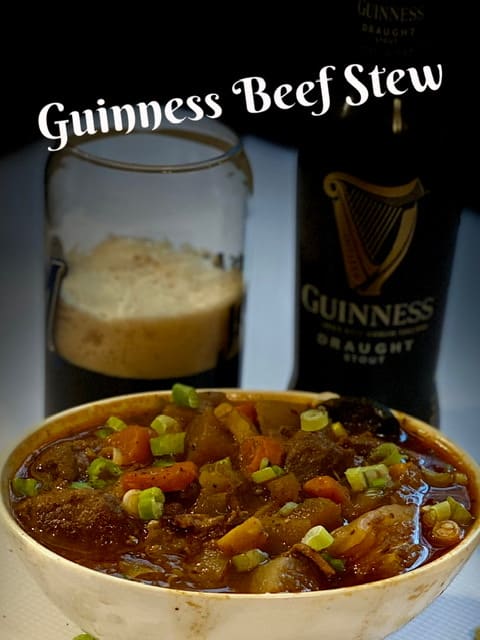 Guinness Beer
Guinness is a dark Irish dry stout that originated in the brewery of Arthur Guinness at St James's Gate, Dublin Ireland, in 1759. It's one of the most successful beer brands worldwide. It's considered the beer of Ireland and is still the best selling alcoholic drink in Ireland. The Guinness Storehouse is a tourist attraction since opening it's doors to the public in 2000, with over 20 million visitors so far..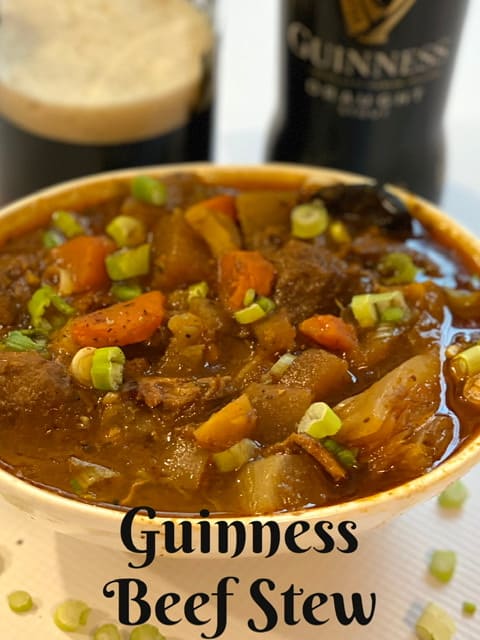 Flavor Components
The flavor of Guinness comes from malted barley and roasted unmalted barley. For many years, a portion of the aged brew was blended with freshly brewed beer to give it a sharp lactic acid flavor. Guinness still features a characteristic "tang" and the draught beer's thick, creamy head comes from mixing the beer with nitrogen and carbon dioxide. Guinness stout is made from water, barley, roasted malt extract, hops and brewer's yeast, giving Guinness it's distinctive taste.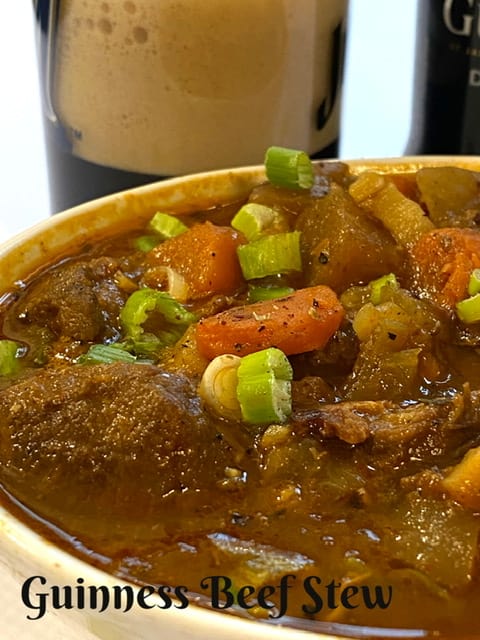 Wooden Casks
A portion of the barley is roasted to give Guinness its dark color and characteristic taste. It's then pasteurized and filtered. From it's conception in 1759, until the late 1950's, Guinness was still 'racked' into wooden casks. In the late 1950's and early 1960's, Guinness ceased brewing cask-conditioned beers. Guinness developed a keg brewing system using aluminium kegs (referred to as iron lungs) replacing the wooden casks.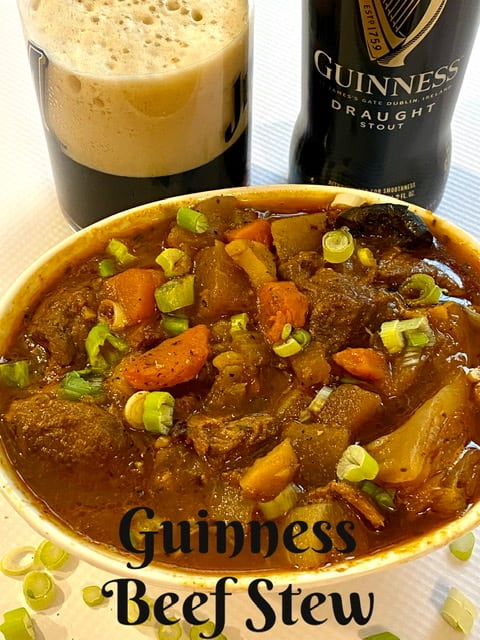 Culinary
Guinness Beer is used in many delicious recipes. It can give a simple stew an added layer of richness and deep flavor. Guinness is super added to beer bread. We recently purchased a box of Guinness Beer Bread. We served Yogurt Dill Dip with Guinness Beer Bread  and loved it!  A few favorite recipes using Guinness are; Cranberry Walnut Irish Soda Bread Muffins, Braised Short Ribs, Dublin Coddle Sausage Rolls and The Dublin Dagwood. You can find all of these delicious recipes at Guinness Recipes.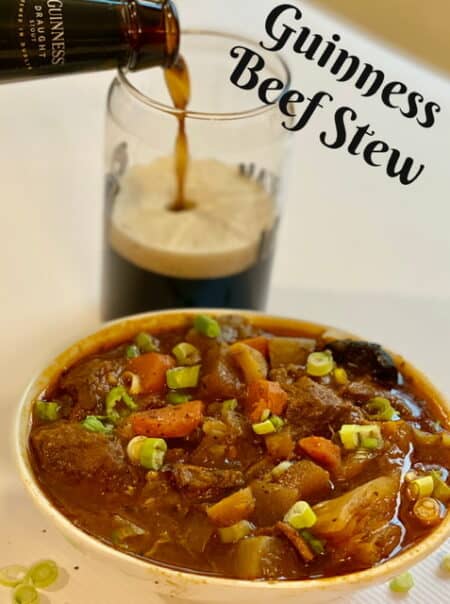 Pouring into the Glass
According to Esquire Magazine, a pint of Guinness should be served in a slightly tulip shaped pint glass, as opposed to the taller European tulip glass. To begin the pour, the server holds the glass at a 45 degree angle below the tap and fills the glass 3/4 full. The beer is forced out of the tap at a high speed through a five-hole disc plate in the end of the tap. This creates friction and forces the creation of small nitrogen bubbles, which form a creamy head.
When Guinness is poured, the gas bubbles appear to travel downwards in the glass. This effect is attributed to drag; bubbles that touch the walls of the glass are slowed in their travel upwards. As beer rises in the center, the beer on the outside of the glass falls. This downward flow pushes the bubbles in the glass towards the bottom. This phenomenon occurs in any liquid, but is more noticeable in any dark stout, as the dark colored beer combines with light colored bubbles.
Serve With
This recipe for Guinness Oven Baked Beef Stew is an easy one. There are few steps involved but once you pop it into the oven, you're good to go. A super hearty bread is best served with this stew. The better to soak up all those delicious juices with! Sourdough Cornmeal Millet Bread is the perfect bread to serve with your pot of gold, Guinness Oven Beef Stew! Don't forget so serve this yummy stew with additional bottles of Guinness.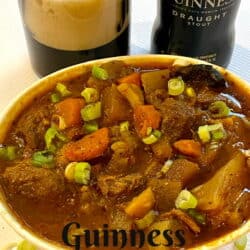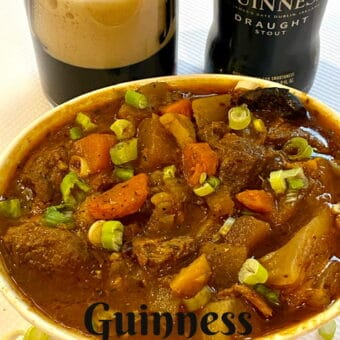 Guinness Oven Baked Beef Stew
Ingredients
2 1/2

lbs

beef stew meat or beef chuck roast, cubed

1/2

lb

bacon

1

large

onion, finely chopped

2

stalks

celery, diced

2

carrots, peeled and sliced

2

cloves garlic, minced

2

turnips, peeled and diced

2

parsnips, peeled and diced

1

6 oz

can tomato paste

2

bottles

Guinness Beer

4 to 6

cups

beef broth, plus more if needed

2

tablespoons

Worcestershire sauce

3

bay leaves

4

sprigs

fresh thyme

salt and pepper, to taste

8

oz

cremini mushrooms, wiped clean

1

small

head cabbage, quartered in wedges
Instructions
Heat oven to 325° Fry bacon in a large, heavy-duty skillet over medium-heat. Remove the bacon and set aside, leaving bacon fat in skillet.

Season beef with salt and pepper. Fry in the bacon fat until beef is browned on all sides. Remove from skillet and set aside.

In the same skillet, fry the onion, celery, and carrots for about 5 minutes. Add a small amount of oil if necessary. Add garlic, turnips and parsnips. Season with salt and pepper to taste, fry for another 3 to 5 minutes.

Add the tomato paste and stir to incorporate. Slowly pour in the Guinness, Worcestershire sauce. Bring to a simmer over low heat, scraping up the browned bits from the bottom and sides of skillet.

Add beef and bacon back to the skillet. Stir in 2 cups beef broth, mixing well. Remove from heat and pour beef mixture into a oven-proof Dutch oven. Add remaining beef stock and more if mixture appears to thick.

Add bay leaves, fresh thyme sprigs. Season with salt and pepper. Stir in cremini mushrooms. Tuck the cabbage wedges into the stew.

Cover tightly and Bake at 325° for 2 hours and stew is thick and meat and vegetables are tender.
Please excuse our mess while we remodel T2T:)