Ground Turkey and Spinach Lasagna
We may earn money or products from the companies mentioned in this post.
Ground Turkey and Spinach Lasagna
This time of year we all need a little "skinny" in our life! If you're looking for a recipe to help you eat something on the lighter side, this is it. Ground Turkey and Spinach Lasagna can be made with leftover holiday turkey, leftover chicken or even a rotisserie chicken. If you don't have any left-over turkey or chicken, ground turkey works nicely in this recipe. In fact I generally use ground turkey instead of left-over turkey in this recipe.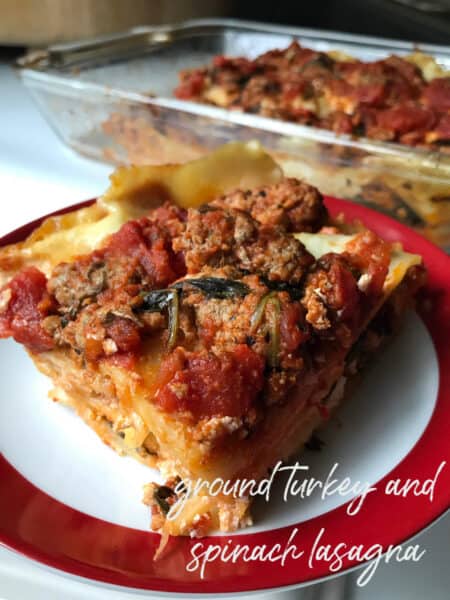 New Year's Resolution
If your New Year's Resolution this year is to eat healthier and to lose weight, you're not alone. The meaning of New Year's Resolution is: A decision that you make on the first day of the year about the things that you intend to do or to stop doing during that year. Making a resolution is the easy part, sticking to the resolution is the hard part. Researchers say that about 60% of us make New Year's Resolutions but only 8% of us are successful in achieving them. I can vouch for that!!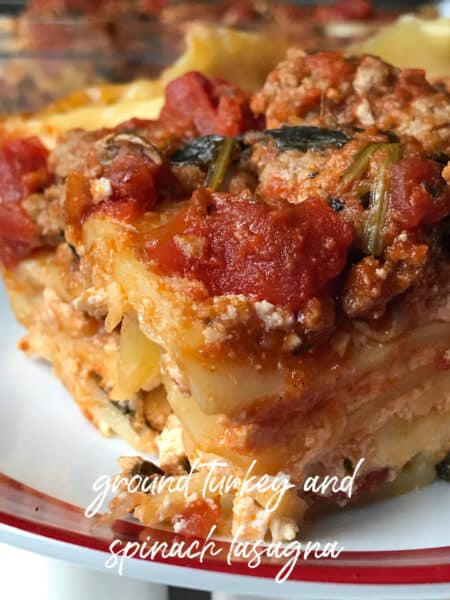 Head Start
This year give yourself a head start. While you're preparing appetizers and hors d'oeuvres for the festivities tonight, whip up a pan of Ground Turkey and Spinach Lasagna. This recipe won't take more than a few extra minutes to make and tomorrow morning when you wake up with a mild headache, there will be a pan of lasagna waiting for you in the refrigerator. Let's face it, who doesn't like lasagna! Good for you lasagna, even better. Wake up to a pan of good-for-you-lasagna and start your year and diet off to a good start!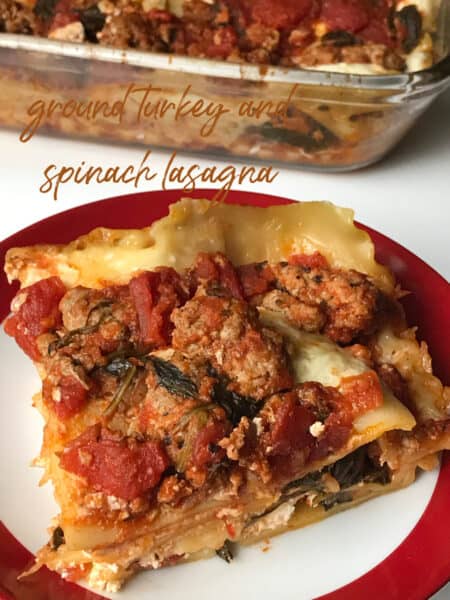 Meaning of Hors d'oeuvre
The meaning of hors d'oeuvre really simple. A fancy name for an appetizer or starter that is a small dish served before a meal in European cuisine. Some hors d'oeuvres are served cold, while others are served hot. They may be served at the dinner table as part of the meal or served before the meal such as at a reception or cocktail party. Appetizers or hors d'oeuvre can also be served in lieu of a meal altogether.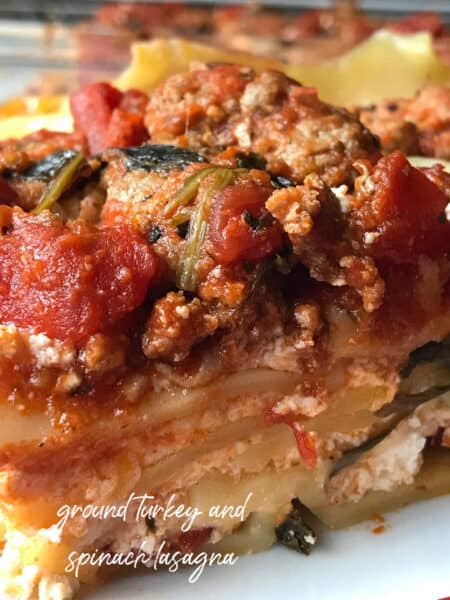 For This Recipe
For this recipe we used our favorite marinara sauce from Newman's Own, and no-boil lasagna noodles found at Aldi. 
Recent Recipe: Favorite Slow Cooker French Onion Soup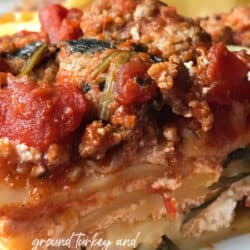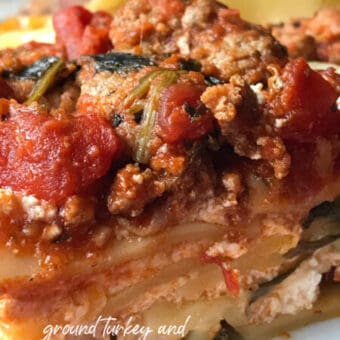 Ground Turkey and Spinach Lasagna
A delicious and good for you lasagna.
Ingredients
9

whole wheat lasagna noodles

½

cup

onion, chopped

1

tablespoon

minced garlic

1/2

cup

mushrooms, thinly sliced

1

16 oz package

ground turkey

1

24 oz jar

marinara sauce

1

tablespoon

Italian seasoning

¼

teaspoon

black pepper

1

16 oz bag

fresh baby spinach leaves

2

cups

part-skim ricotta cheese

2

cups

low moisture, part-skim, shredded mozzarella cheese

2

tablespoons

fresh parsley, chopped
Instructions
Preheat oven to 375ºF. Lightly coat a 9×13-inch baking dish with nonstick cooking spray and set aside.

Cook lasagna noodles according to package directions or until noodles are al denté. Drain noodles and rinse with cold water. Set aside.

Lightly coat a large, deep skillet with nonstick cooking spray and saute onions, garlic and mushrooms until tender. About 5 minutes.

Add ground turkey. Cook until ground turkey is no longer pink inside. Cook about 5-8 minutes longer.

Add marinara sauce, Italian seasoning and pepper, simmer for 5 minutes. Remove from heat.

Fold fresh spinach into meat mixture.

In your baking dish, arrange ⅓ of noodles (3) in bottom of dish. Spread ⅓ of ground turkey mixture, ⅓ ricotta mixture and ⅓ of the mozzarella. Repeat 2 more times ending with mozzarella.

Bake for 30-40 minutes or until cheese is melted and lasagna is bubbly. Sprinkle parsley on top. Cool for 5 minutes before cutting.
Notes
Recipe Note: Adjust the amount of fresh spinach to your family's taste. I use 3/4 of a 16 oz bag of spinach. 
Recipes on Tap: