Grilled Plums with Caramel Sauce
We may earn money or products from the companies mentioned in this post.
Grilled Plums with Caramel Sauce
Today I was going through all of my photos on my phone, something I do at the end of every year. I put the photos into folders and back them up to my computer. As you can imagine, there are a ton of food photos on my phone, that and pictures of my grandkids. In fact my daughter recently was going through the pictures on my phone (she does this periodically when she thinks I'm not looking, so she can delete the not so flattering pictures of herself) and asked me, "Don't you ever get tired of taking pictures of food?" Well, yes and no. Grilled plums with caramel sauce is the perfect recipe to get you started on your grilled fruit journey.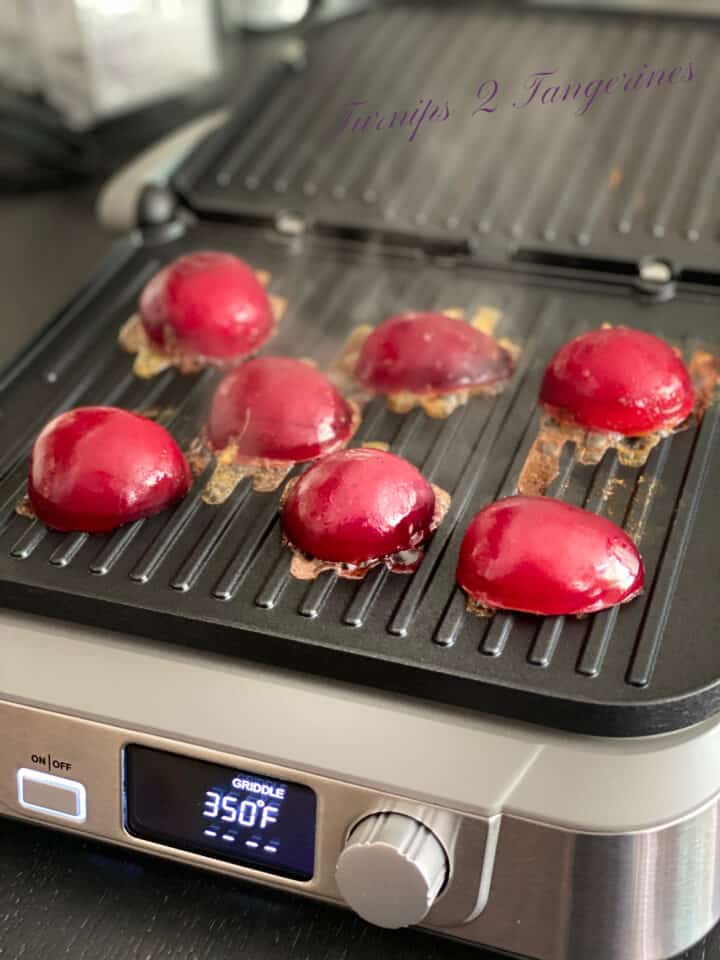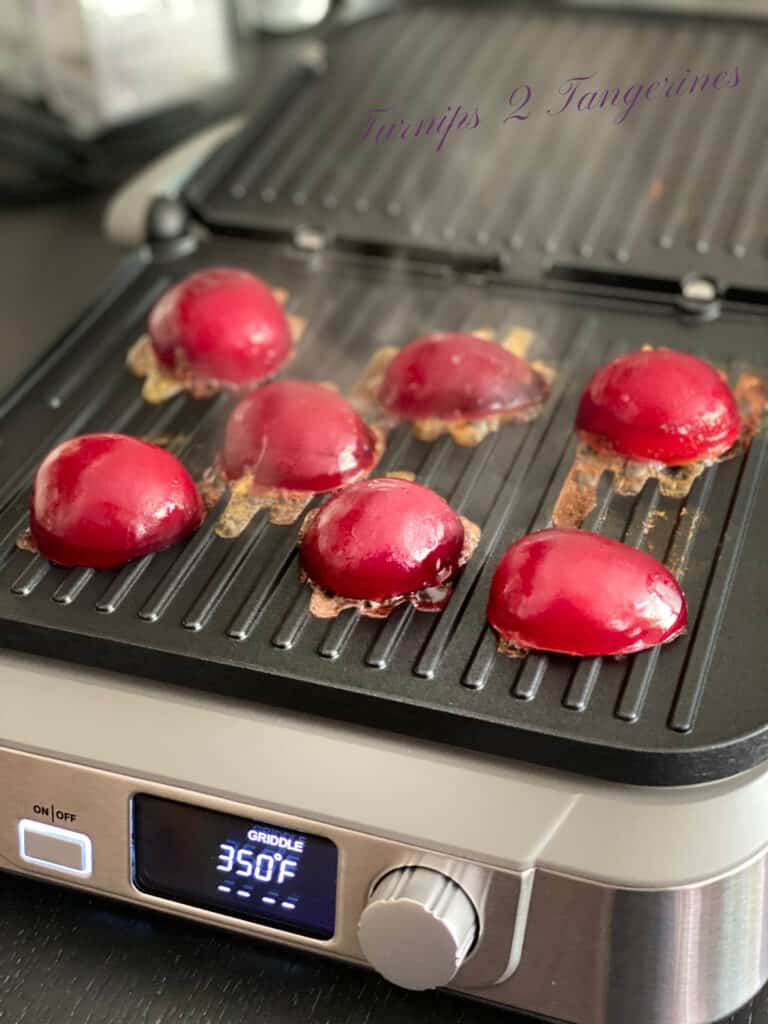 Amateur at Best
As everyone knows who reads T2T, I only use my iPhone to take pictures of the food I prepare for my blog. The reason I don't use a professional camera isn't because I don't own one. In fact I have three nice cameras. Plus I have three video camera/camcorder/vlog cameras, so I'm not cameraless. We have all the photography equipment and props to boot.
All said and done I'm ashamed to admit how much money I've invested in this endeavor, so I won't. On my computer I have installed Adobe Photoshop Elements, so I'm all set in that area too. We have all of the bells and whistles so to speak. Maybe I've gotten lazy in my advanced age but personally I think it's because this 'photography hobby' just doesn't interest me all that much. As I stated before many, many times, I'm a home cook who has a passion for cooking and just so happens to have a food blog. So there you have it in a nutshell.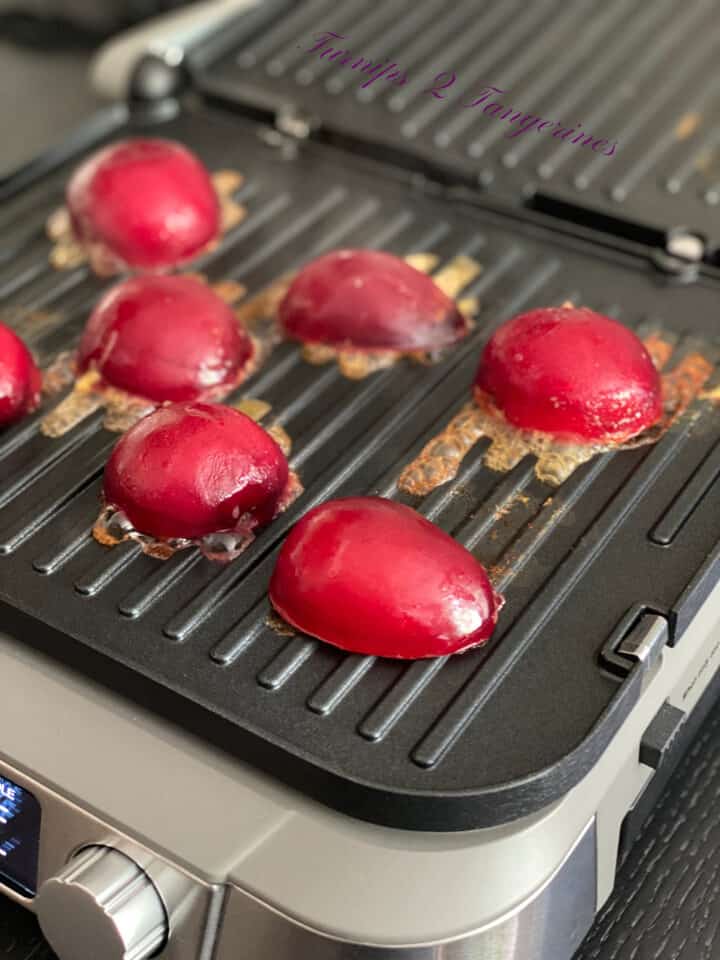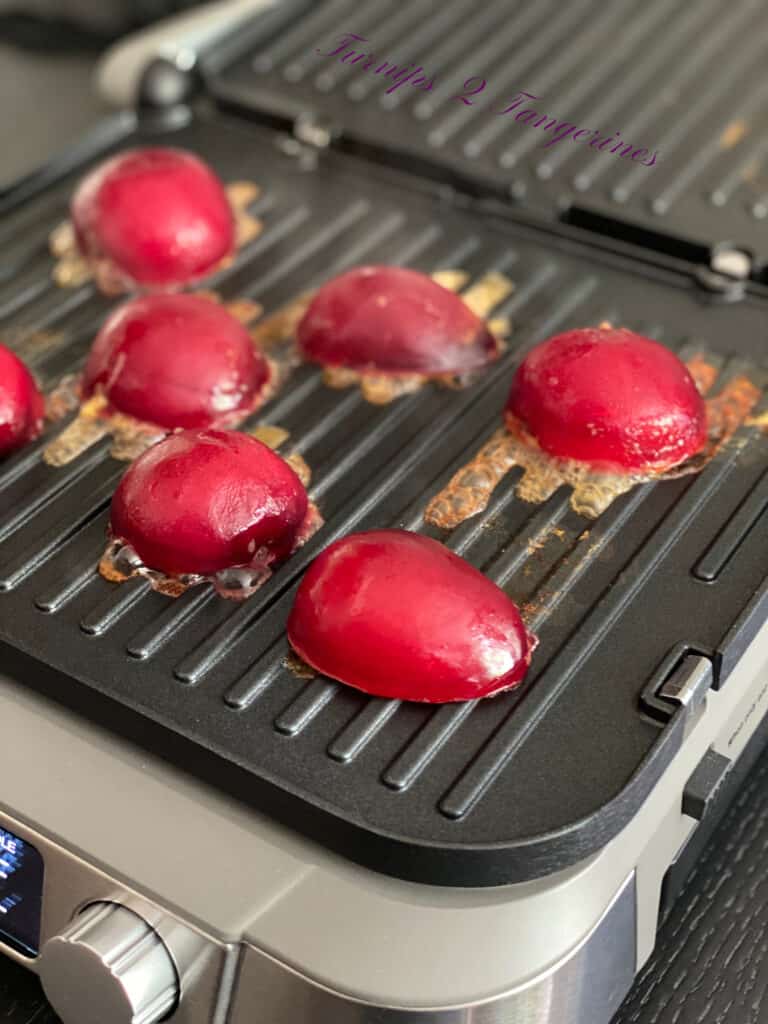 Happy Place
I'm not a chef, professional food stylist nor am I a professional photographer, all of which I admire greatly. At best I'm an amateur at all three. I'm not a 'go-getter.' Never have been and I'm to old to start now. Therefore, my blog is my happy place, a place where I can be me. A place that I can go to when I'm happy, sad, mad or glad. It's not a job, a profession nor a hobby. It's an extension of me, my small mark, a piece of me that I'll leave behind someday and hopefully my grandkids will be proud of their grandma:)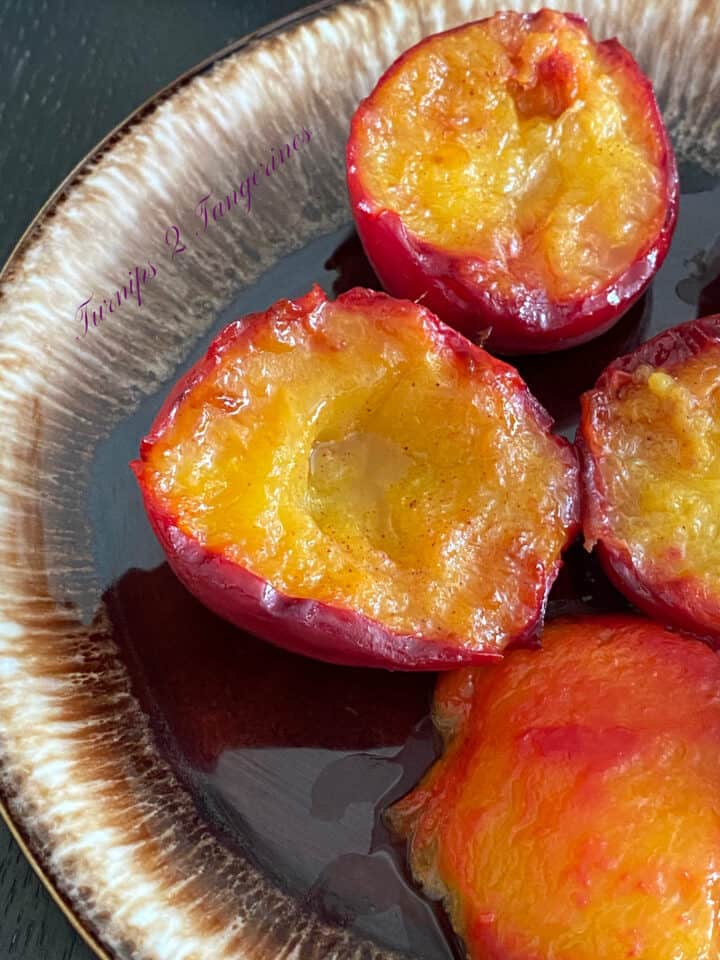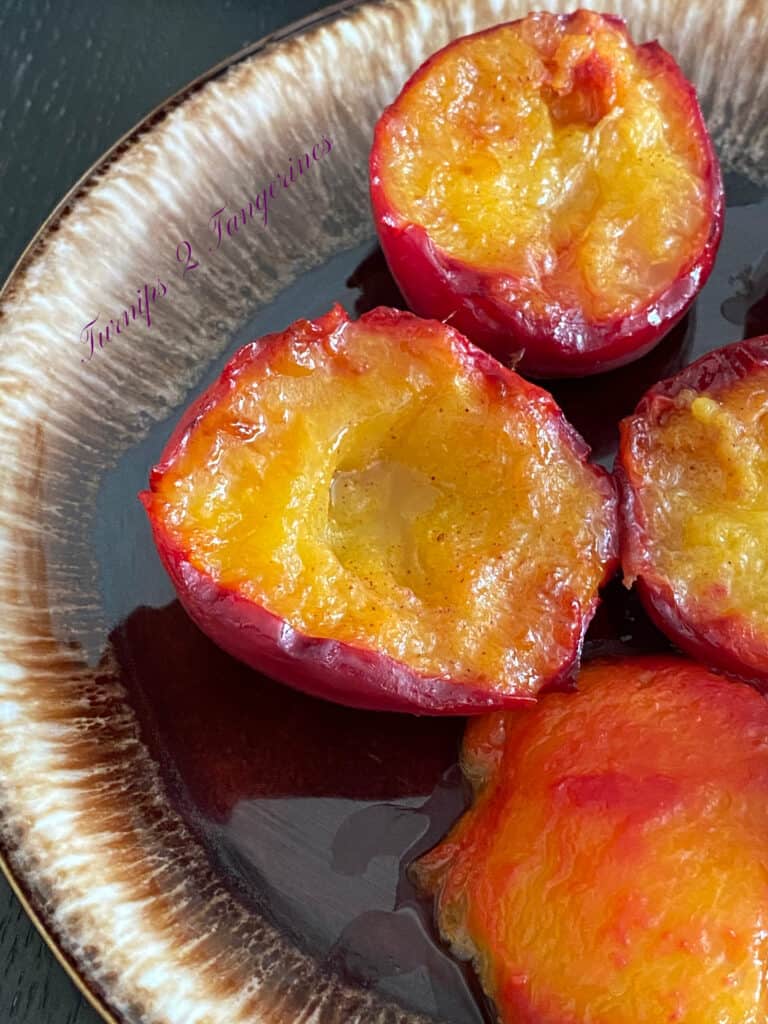 Grilled Fruit
Ok, back to grilled plums! If you want to add life, flavor and piazza back to old, worn out looking grocery store fruit, grill it!  I bought the Cuisinart Elite Griller a few months back and like usual I unpacked it, put it in the back of my cupboard and forgot about it. That is until we started to remodel our kitchen. Try grilling pineapple, peaches, a mango or two or the old stand-by, bananas. Grilled fruit transforms into an instant dessert. Add a whipped topping, ice cream, caramel sauce and a sprinkling of ground cinnamon. Fruit not only benefits from grilling but benefits also from roasting or some spending time in the slow cooker.
A few of our fruity favorites:
Caramel Sauce
The caramel sauce we used to drizzle over our grilled plums is from Trader Joe's. You can use any of the dozens of caramel sauce available on the market today. We had never tried Trader Joe's brand before, so I thought why not give it a go. My hubby is the caramel conisouor in the family and he really liked it. Now our favorite caramel sauce is of course Eckers Caramel Sauce. You just can't beat the taste of their caramel sauce, tastes just like homemade. Which brings me to making your own. If you'd rather make your own homemade caramel sauce, knock yourself out! I'm not going to stop you!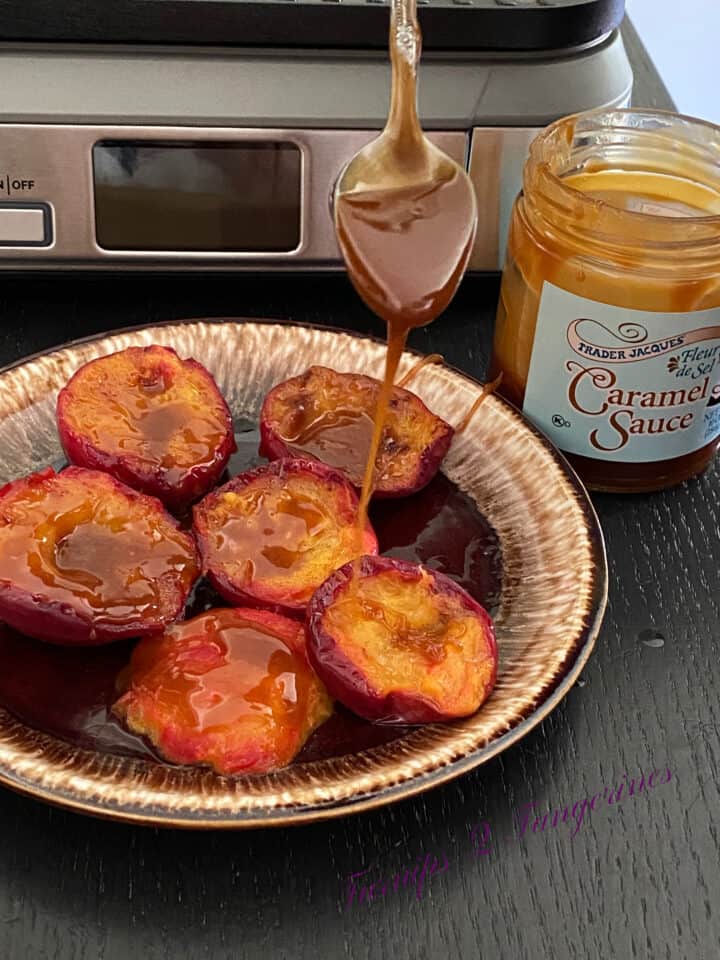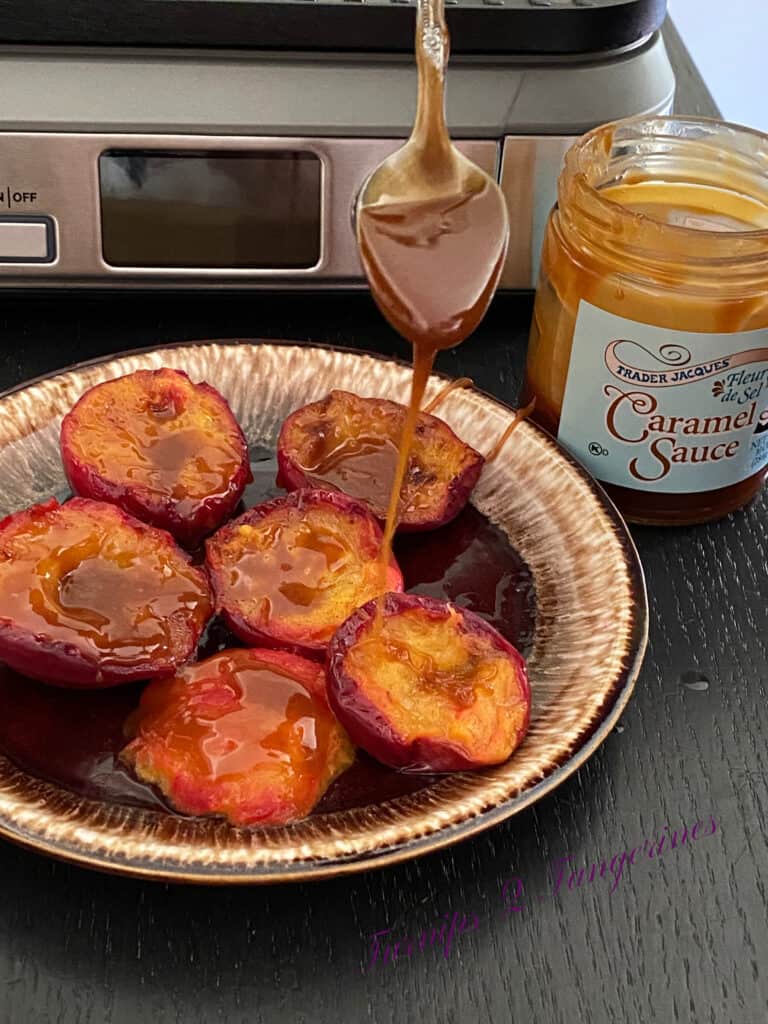 Simple Instructions
Preheat your grill or griller to 350 degrees. Lightly spray grill with non-stick spray. Cut desired amount of plums in half. Remove pit. Place plums cut side down on hot grill. Cook for 3 to 4 minutes. Using tongs, turn plums over and check for doneness. Place cut side down if necessary and grill a few minutes longer. Remove plums from grill, and place cut side up on a serving plate. Sprinkle with ground cinnamon. Drizzle with honey or caramel sauce. Top with whipped cream. With a snap of your fingers and dessert is ready.
UP NEXT: Herb Artichoke Chicken