Green Pepper Dip
We may earn money or products from the companies mentioned in this post.
Green Pepper Dip
My sister Mary gave me this recipe a long, long time ago. It's fast, easy and delicious! When she first rattled off the six ingredients that it takes to make this dip, I remember replying, "Is that it?" and she said, "That's it!" Shortly after this encounter, I was asked to bring a dip to a party. Well I knew what dip I was going to make, Green Pepper Dip immediately came to mind.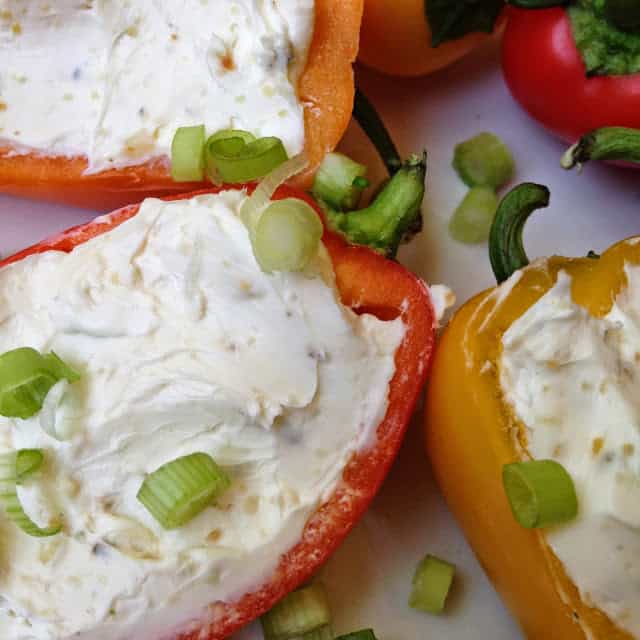 Serve In
Serve this fantastic green pepper dip in mini multi-colored pepper shells for a festive look. This dip can also be served in a large multi-colored bell pepper. Remove the stem end (set aside) and membranes. Spoon the dip into the empty bell pepper , place the top back on and you are good to go. Serve green pepper dip with celery and carrot sticks. Mary likes to serve this dip with green pepper sticks also.
Serve With
One of my favorite 'dippers' to serve with green pepper dip are pumpernickel pretzels from Trader Joe's. In fact, pumpernickel pretzels are great served with so many of our favorite dips. Besides this dip, pumpernickel pretzels are super served with Super Easy Hot Reuben Dip. The pretzels are sturdy enough to stand up to any hearty dip and the pumpernickel flavors is sensational with any dip.
Sauce
The sauce or base of this dip is a sweet sour style sauce. Butter, white vinegar and white sugar are combined in a saucepan and boiled for 2 minutes. This mixture is then cooled and whipped with the softened cream cheese. Diced onions and green peppers are stirred into the cream cheese mixture and then allowed to sit in the refrigerator 2 to 4 hours or overnight. This gives the mixture time for the flavors to blend together.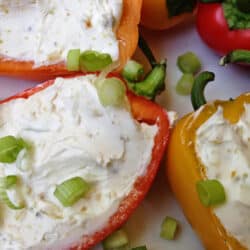 Green Pepper Dip
This super easy dip is delicious.
Ingredients
2-

8 oz packages

cream cheese, room temperature

4

tablespoons

butter

4

tablespoons

white vinegar

4

tablespoons

white sugar

1/2

cup

finely diced onion

1/2

cup

finely diced green pepper
Instructions
In a small saucepan combine butter, vinegar, and sugar. Boil for 2 minutes. Remove from heat and cool.

In medium bowl, beat together cream cheese and cooled vinegar mixture. Beat until creamy. Add chopped onion and green pepper. Beat until well combined.

Refrigerate 2 to 4 hours or overnight.

Serve with celery stalks and carrot sticks
You can't possibly find an easier, delicious and impressive dip like this one. Super Easy Shrimp Dip has only three ingredients. Cream cheese, shrimp sauce and tiny shrimp. Serve with buttery crackers. Cream Cheese used in this recipe is: Philadelphia Cream Cheese