Green and Gold Corn Dip
We may earn money or products from the companies mentioned in this post.
Green and Gold Corn Dip
Football Friday and the Game Day Recipe is for Green and Gold Corn Dip. This dip goes by many different names: Cowboy Corn Dip, Crack Dip,
Poolside Dip, Cold Corn Dip, Dump Dip and Ugly Dip. In my neck of the woods, it goes by the name Green and Gold Corn Dip. Whatever name you call this dip, it's fantastic. Made with fresh corn off the cob even better.
Go Pack Go
Green and Gold Corn Dip is named after my favorite team the Green Bay Packers. Green comes from the green pepper and Gold comes from the corn.This dip has it all, cream cheese, mayo, sour cream, fresh corn off the cob, canned tomatoes with green chilies, diced green chilies, green onions, green pepper, black olives, pickled jalapeños, hmm what else?!?
What Else?
Spices. Spices such as garlic powder, onion powder, hot sauce, salt and pepper and oh yeah, three cups of shredded extra sharp cheddar cheese. All the ingredients are mixed in a large bowl. Then allowed to hang out in the refrigerator for a few hours. This  will let all of the flavors party together for a while. We like to serve this dip with Fritos Brand Scoops Corn Chips.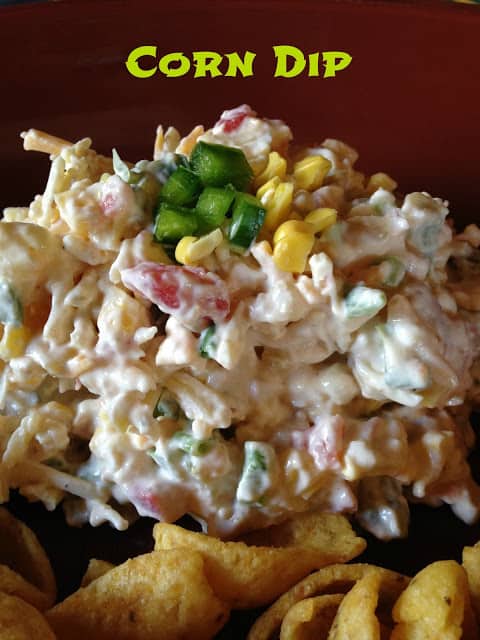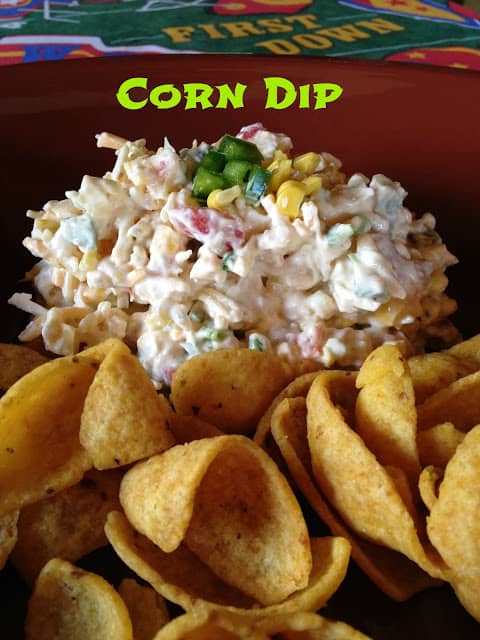 Fresh Corn
This recipe is best made with fresh, corn-off-the-cob. In fact, this is one of my favorite ways to eat fresh corn-off-the-cob. If you're like me when fresh corn is in season you buy an extra dozen or so. Take the kernels off the cob and freeze the shucked corn in freezer baggies. Corn frozen this way seems to taste so much better than store-bought corn. When you freeze fresh corn you can make this dip anytime too.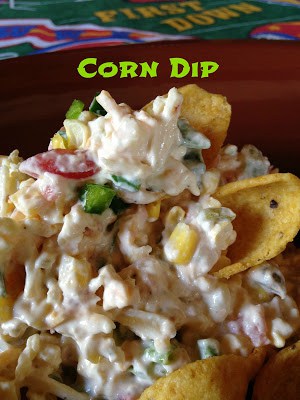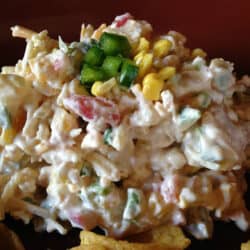 Green and Gold Corn Dip
Green and Gold Dip or Crack Dip
Ingredients
1

8 oz package

cream cheese, room temperature

1/2

cup

mayonnaise

1/2

cup

sour cream

2 1/2

cups

corn, fresh or frozen, thawed if frozen

1

10 oz can

tomatoes with green chilies, drained

1

4.5 oz can

diced green chilies, drained

6 to 8

green onions, thinly sliced

1/4

cup

sliced black olives

1/3

cup

diced green pepper

2

tablespoons

pickled jalapenos, chopped

1/2

teaspoon

sugar

1/2

teaspoon

garlic powder

1/2

teaspoon

onion powder

salt and pepper, to taste

1

teaspoon

hot sauce

2 to 3

cups

shredded sharp cheddar cheese

Fritos scoops corn chips
Instructions
In a large bowl cream together cream cheese, mayonnaise and sour cream with electric mixer.

Stir in remaining ingredients.

Refrigerate for 1 to 2 hours.

Serve with Corn Chips