Green Chili Turkey Enchiladas
We may earn money or products from the companies mentioned in this post.
Green Chili Turkey Enchiladas
I have made this recipe many, many times. It's always a hit. This is a great recipe using left-over holiday turkey. There are many variations of this recipe but this one is our favorite. Fast, easy and simple. The perfect recipe to make when time is tight. If you don't have any left-over holiday turkey, substitute cubed, cooked chicken. Rotisserie chicken works great for this recipe or any recipe where cooked chicken is needed.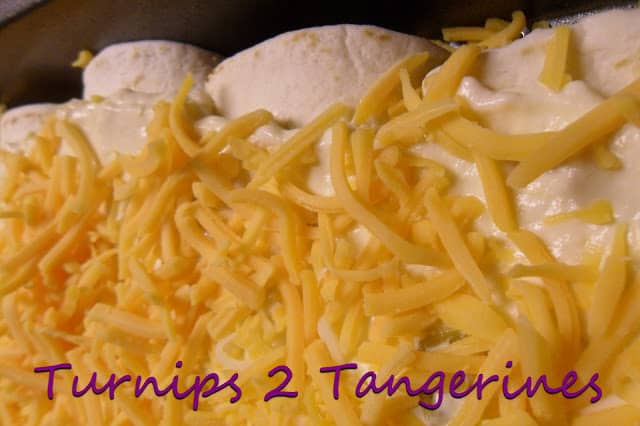 Recipe from Mindy
The first time I ate Green Chili Turkey (Chicken) Enchiladas, I was visiting my daughter Mindy and her family in Athens Georgia. We were discussing dinner plans and Mindy made the comment that she could really go for some green chili chicken enchiladas. I said, "That sounds great! Where are we going?"  She then said something that I'll never forget, "We'll stay here, I'll make 'em" Excuse me?? I don't think I heard you right, you'll make them, as in cook? You see, Mindy doesn't cook, ever. Her husband does all the cooking or they eat out, so when she made that comment, I almost feel over.
When Did You
I then said, "When did you start cooking?" I actually thought I'd cry I was so proud. She then said, "Mom, don't get all excited. I can only make green chili chicken enchiladas." Well it's a start I said. That night Mindy made her "famous" enchiladas and when we sat down to dinner she asked me, "So Mom, how do you like the enchiladas?" (What a loaded question!) I bit my tongue, told her they were super good and I wanted the recipe so I could make them when I got home..big smile:) (I didn't tell her there was way too much sour cream, wasn't cooked long enough and needed more salt;)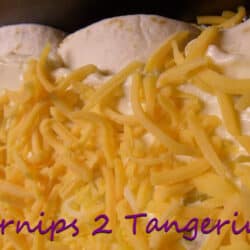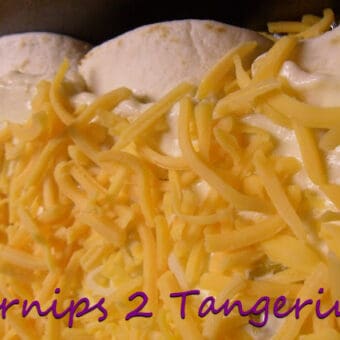 Green Chili Turkey Enchiladas
Ingredients
2

cups

diced left-over turkey

1 1/2

cups

shredded taco-style cheese

1/2

cup

diced roasted red bell peppers, from a jar

1

can 4.5 oz

chopped green chilies

1

cup

sour cream

1

can 10 oz

mild enchilada sauce

1

package

large flour tortillas

1 1/2

shredded

cheddar cheese

1

cup

each shredded lettuce, chopped tomatoes, avocado, and red onion

extra taco sauce and sour cream for serving
Instructions
Heat oven to 350 degrees.  Spray (3 qt.) glass baking dish with non-stick cooking spray.

In a medium bowl combine turkey, taco cheese, roasted red bell peppers, chilies and sour cream. Spread about 2 teaspoons enchilada sauce on each tortilla shell, top each with 1/2 cup turkey mixture. Roll up tortillas. Arrange seam side down in sprayed baking dish. Top enchiladas with any remaining enchilada sauce. Sprinkle with cheddar cheese.

Spray sheet of foil with cooking spray. Cover baking dish with foil, sprayed side down.

Bake 45 minutes, remove foil during last 5 minutes of baking time.

Serve with lettuce, tomato, avocado, red onion, taco sauce, sour cream.
Favorite
Casseroles and Baked Dishes are a favorite in our house. Green Chili Turkey Enchiladas and Turkey Tetrazzini Leftover Style are some of our favorites. Give them both a try and see what you think! Don't forget a dessert. Check out our Recipe Box.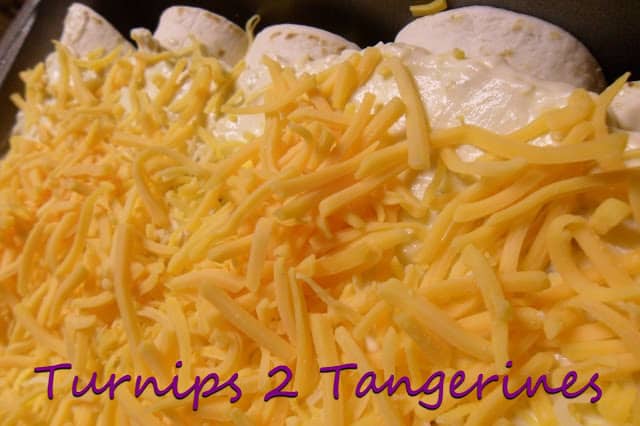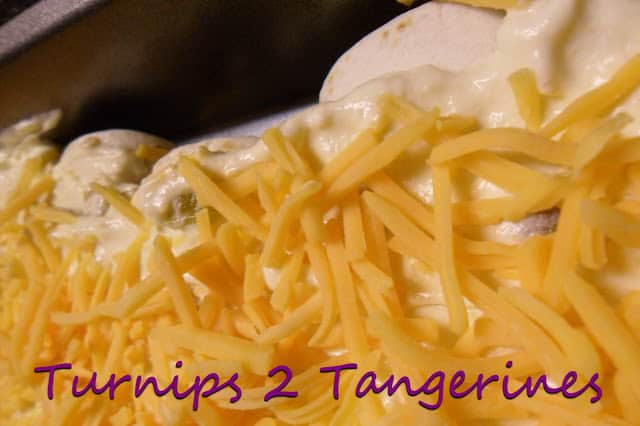 Products used in this recipe are from Ortega.