Green Chili Cheddar Corn Muffins
We may earn money or products from the companies mentioned in this post.
Green Chili Cheddar Corn Muffins
The one thing I can't keep in my house for more than a few hours are corn muffins. My family loves corn muffins, corn wedges or corn sticks. It doesn't matter how they're made or what they're with, they fly outta here, fast. Green Chili Corn Muffins are no exception. Perfect served with butter and honey or with steamy bowls of chili.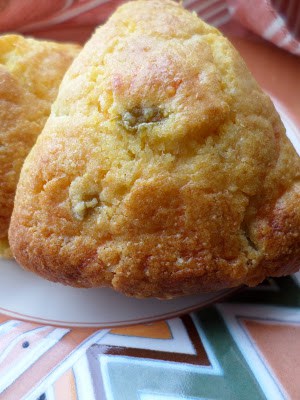 Cornbread
Cornbread is an all-American quick bread that substitutes cornmeal for most or sometimes all of the flour. It can include various flavorings such as cheese, scallions, molasses and bacon. Cornbread can be thin and crisp or thick and light. It can be baked Southern style in a skillet or in a shallow square, round or rectangular baking pan. Some of the more popular cornbreads are hush puppies, johnny cakes and spoon bread.
Cast Iron Scone Pan
I made green chili cheddar corn muffins in a cast iron scone pan that I purchased on one of my thrift store shopping adventures. Being the kind of person that I am, I didn't buy just a cast iron scone pan but also a cast iron cornbread stick pan and a cast iron cactus pan. All three were $5 a piece and are from the great company, Lodge Cast Iron Cheddar and Green Chili Corn Muffins turned out wonderful!
Moist Yet Crispy
In fact, I couldn't be happier with my new cast iron wedge pan. The corn muffins turned out brown and crispy on the outside and tender and moist on the inside. I'll never make cornbread any other way again. I'm looking forward to making cornbread sticks and cacti. Next time I make this recipe for cornbread, I'm going to add 1/2 cup fresh corn.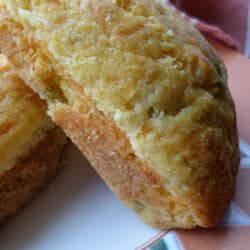 Cheddar and Green Chili Corn Muffins
Spicy, Cheesy and Delicious
Ingredients
1 1/4

cups

flour

3/4

cup

yellow cornmeal

2

teaspoons

baking powder

1/2

teaspoon

salt

1

cup

milk

1/4

cup

oil

1

egg

,

beaten

2 to 4

tablespoons

diced green chilies, from a 4 oz can

3/4

cup

shredded cheddar cheese
Instructions
Preheat oven to 400º Generously grease cast iron wedge pan.

Heat wedge pan in oven for 10 minutes.

In a medium bowl, whisk together dry ingredients.

In small bowl, whisk together milk, oil and beaten egg.

Add milk mixture to dry ingredients, stir just until moistened.

Fold in green chilies and cheese.

Carefully remove wedge pan from oven.

Carefully fill wedges with batter.

*Use caution when filling wedge pan. Pan is Hot*

Bake for 20 to 25 minutes, or until golden brown and toothpick inserted in the middle
Nutrition
Serving:
1
g
,
Calories:
351
kcal
,
Carbohydrates:
38
g
,
Protein:
10
g
,
Fat:
17
g
,
Saturated Fat:
5
g
,
Cholesterol:
46
mg
,
Sodium:
362
mg
,
Potassium:
304
mg
,
Fiber:
3
g
,
Sugar:
3
g
,
Vitamin A:
245
IU
,
Vitamin C:
1.8
mg
,
Calcium:
214
mg
,
Iron:
2.1
mg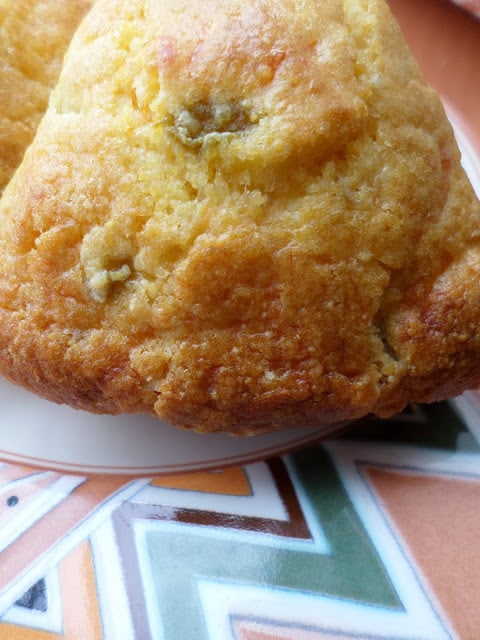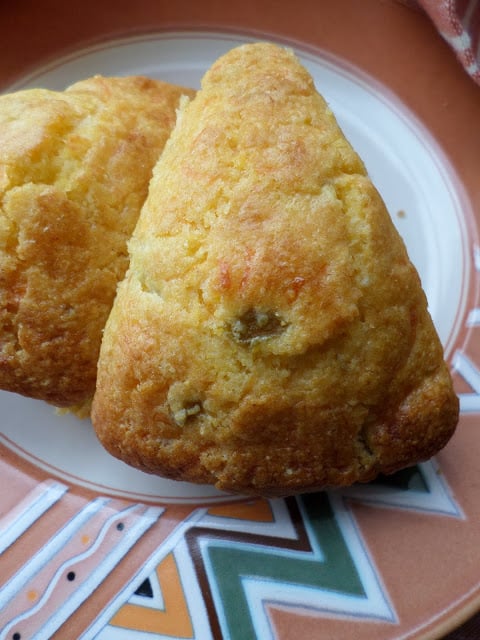 Berry Smoothie is a great way to add more fruit to your diet without the added sugar.
Health Note: Beef is a good source of vitamin B12. 
Our bodies need B12 for energy and to maintain a healthy nervous system~