Greek Style Bow Tie Pasta Salad
We may earn money or products from the companies mentioned in this post.
Greek Style Bow Tie Pasta Salad
It's that time of year, time to break out the pasta salad recipes. This recipe for Greek style bow tie pasta salad is one of my favorites. The blend of Greek inspired ingredients along with a bottled balsamic vinaigrette make this an easy throw together, pasta salad. Exactly what you want for the upcoming 4th of July holiday weekend. This 4th of July grill out some burgers, make some baked beans and throw together this yummy pasta salad.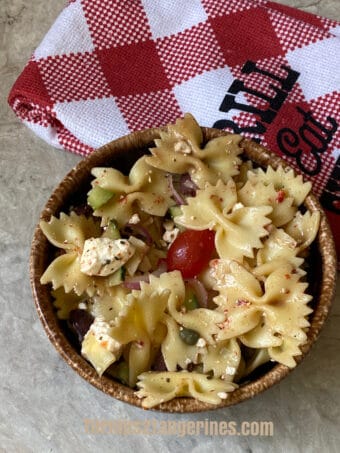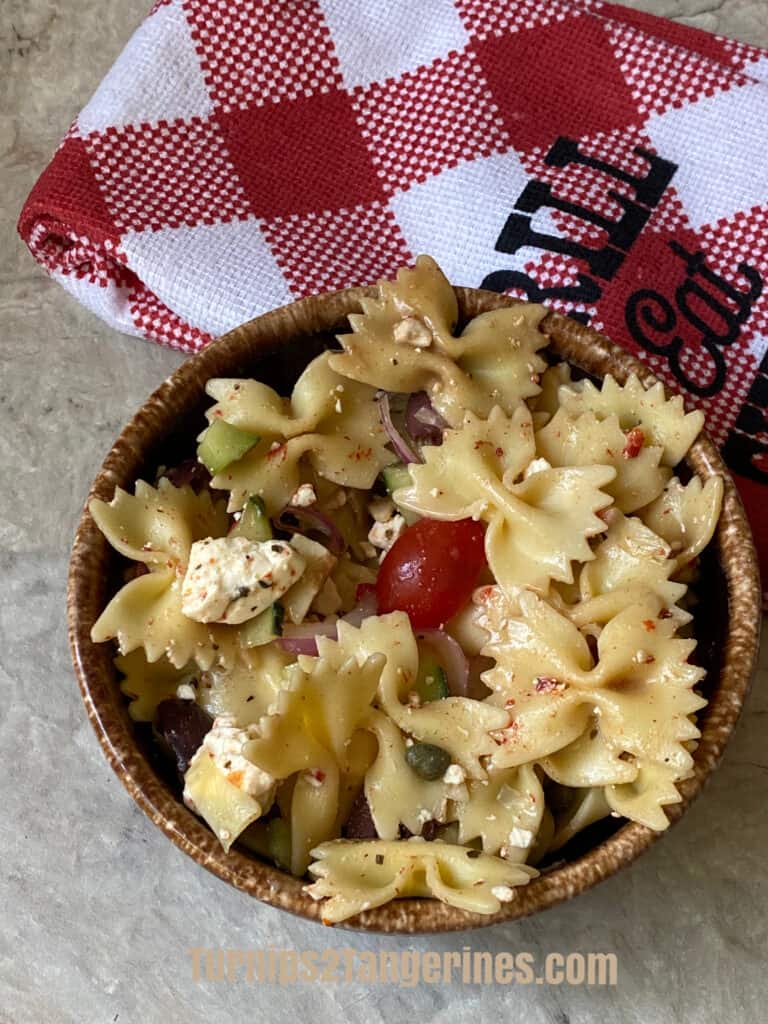 Capers
Some people aren't familiar with these "little green round things" but they're really quite delicious. If you like salty pops of flavor, capers are a no-brained. What exactly are capers anyway? Capers are the green, unripened flower buds of the caper bush also known as flinders rose. Native to the Mediterranean, capers are now grown in many countries. Once picked, they are dried and brined or packed in salt. This brings out their lemony, slightly floral, green olive-like flavor.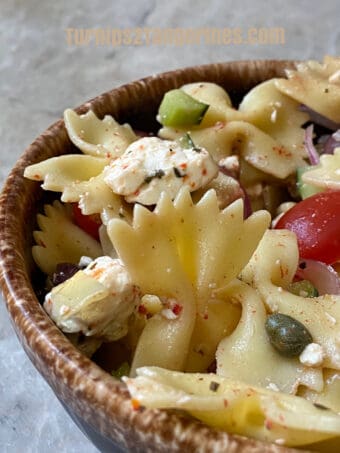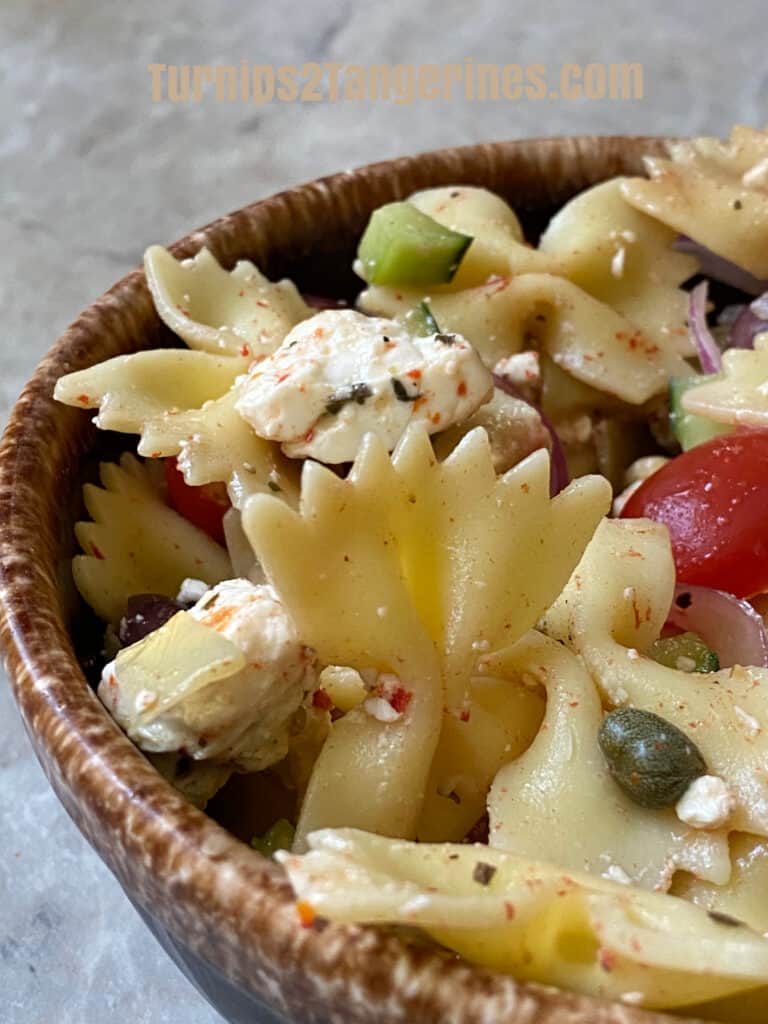 Culinary Uses
Capers have always been popular in Mediterranean cuisines but are now used worldwide, They bring a brightness to savory dishes and an equally refreshing flavor to pasta salads. Capers can be added to salads and cold dishes immediately. Like fresh herbs, they're best added near the end of the cooking time to maintain their flavor. Like pickles, capers can be added to anything. Try stirring a couple tablespoons of chopped capers into Tuna Salad Sandwich or Egg Salad Sandwich.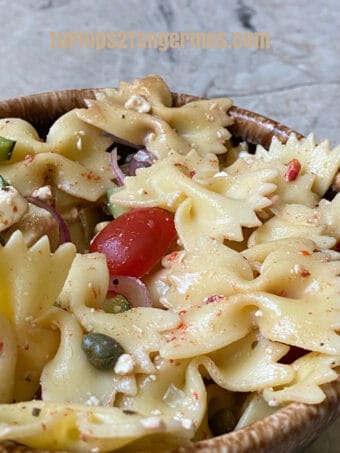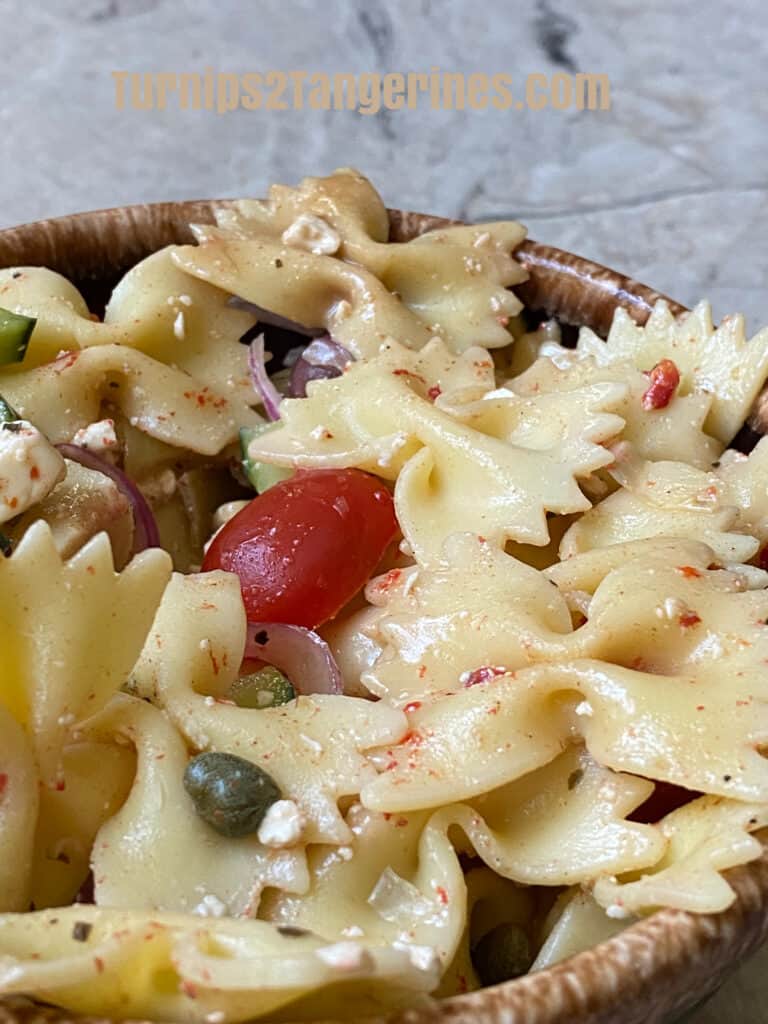 Pair Capers With
Capers are most often associated with the classic dish, Chicken Picatta but capers also pair beautifully with seafood. Most notably, salmon. Particularly smoked salmon. Add a few tablespoons too Smoked Salmon Alfredo or try capers with cream cheese, lox and bagels. Even the caper brine can be used to make cocktails. Use in place of the olive juice in your favorite dirty martini. Capers are very versatile. However, If you've yet to try these tasty little morsels, pick up a jar today and start adding them to all you're favorite recipes.
UP NEXT: Ham and Cheese Quesadilla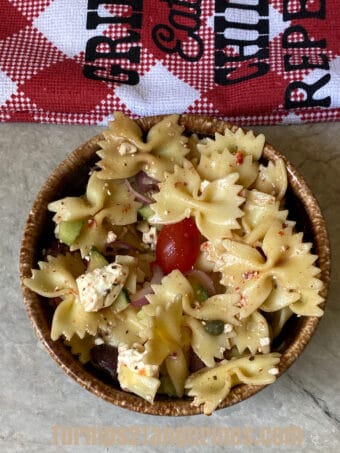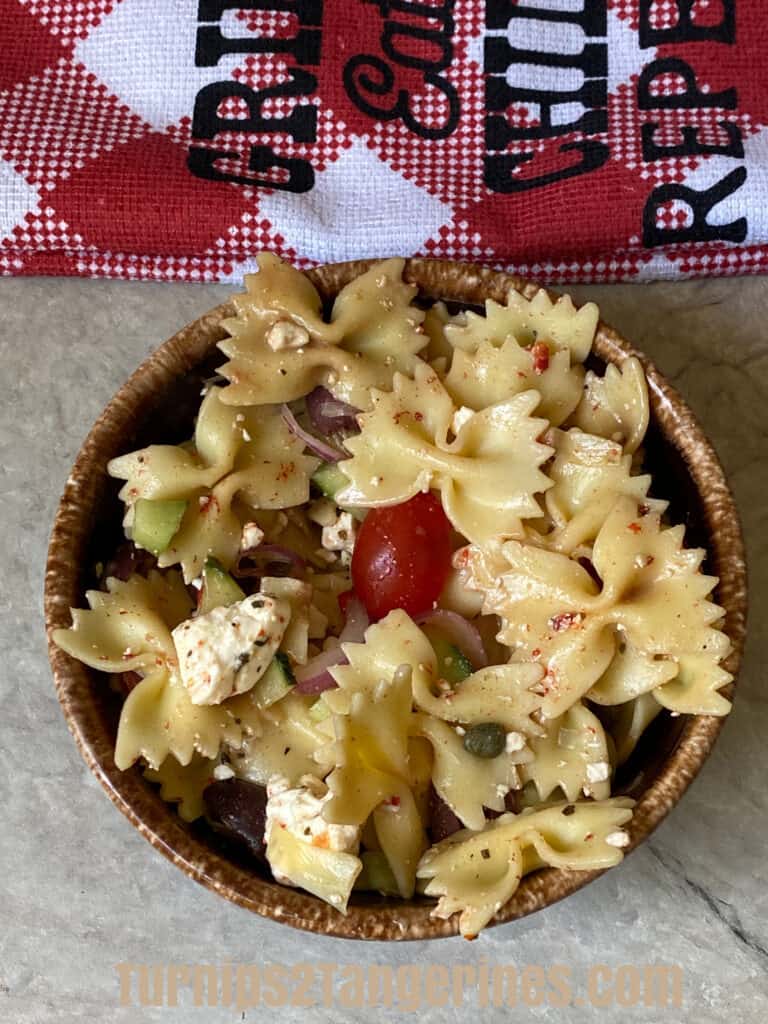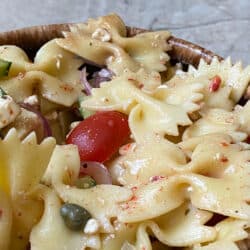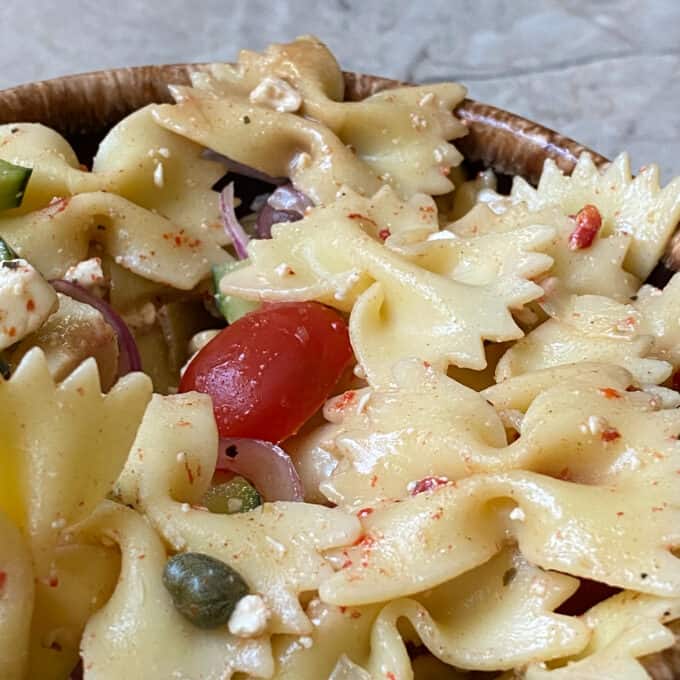 Greek Style Bow Tie Pasta Salad
A delicious blend of Greek Style flavors with a Mediterranean flair.
Ingredients
1- 12

oz. box

bowtie pasta or 1- 10 oz. box orzo pasta

1

small

shallot or red onion, thinly sliced

1

cup

Tomato and Basil Feta cheese* crumbled

3

tablespoons

capers

1/2

cup

marinated artichoke hearts, chopped

1

cup

halved cherry tomatoes

1

cup

pitted Kalamata olives

3 or 4

mini

sweet peppers, chopped

1

English

cucumber, chopped

1

small bottle

Simply Dressed Balsamic Vinaigrette*

salt and pepper, to taste

2

teaspoons

Greek Seasonings*
Instructions
Cook pasta in salted water according to package instructions.

Drain pasta and rinse under cool water to stop the cooking.

Add all the remaining pasta salad ingredients to a large salad bowl. Add the cooked pasta.

Add desired amount of Greek vinaigrette to the pasta salad and toss to coat. Season to taste with salt, pepper and Greek seasonings.

Refrigerate for several hours. Before serving, stir in more salad dressing, if necessary.
Notes
*Products Mentioned:
Aldi- Tomato and Basil Feta Cheese
Marzaretti- Simply Dressing Balsamic Vinaigrette 
Cavender's- Greek Seasoning 
Looking for Greek Inspired Recipes? Check this out…