Greek Orzo Pasta Salad
We may earn money or products from the companies mentioned in this post.
Greek Orzo Pasta Salad
Welcome back to Turnips 2 Tangerines! Today I'll be sharing another pasta salad recipe in preparation for the upcoming warmer weather months. As I stated in my last post, I like to try out new or different pasta salads before hand. However, here in Wisconsin spring has yet to make an arrival, which isn't unusual but it does make for some long days. They're are many varieties of Greek pasta salads. My favorites are the pasta salads that are made with orzo pasta like this one for Greek Orzo Pasta Salad.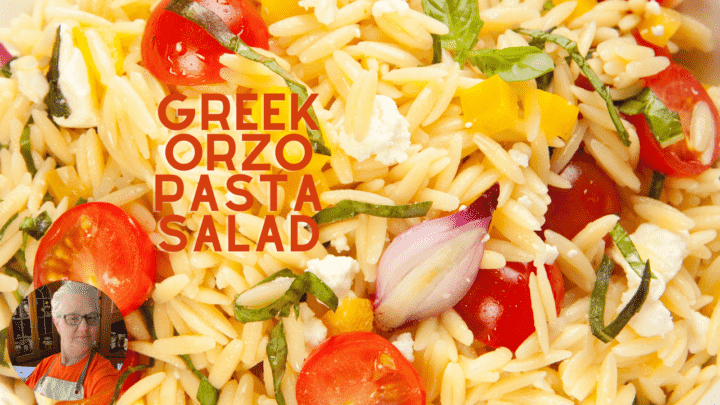 What is Orzo?
Orzo, Italian for "barley" due to its resemblance to the grain in its unprocessed form, is a small rice-shaped pasta. It's classified among pasta as "pastina" — a category of tiny shapes commonly used for soups. In traditional Italian cooking, orzo is used in soups and broths, but it's also great as a side dish and in pasta salads. It's popular across Europe, particularly in Greece, where it's known as krithiraki. Orzo pasta is made with semolina flour, which in turn is made of durum wheat.
What can be confusing is that it's categorized in the grain food group, and can be made with whole-wheat flour, but it's not a whole-grain. And despite its similarities to rice, it is definitively not gluten-free. As with most pastas, it's worth spending a little more for a quality brand that uses semolina with a higher protein content. This creates a sturdier pasta that stands up better to cooking without getting mushy.
How Do I Cook Orzo?
The simplest way to prepare orzo is to boil it in a pot of salted water and drain it as you would any other pasta. It cooks to al dente in about 8 to 10 minutes. One cup raw orzo (about 6 oz) will give you about two cups cooked. If adding orzo to a soup recipe, add the cooked orzo at the end of the cooking time so the orzo doesn't become mushy. If using cooked orzo in a pasta salad recipe, I like to drain the orzo and the rinse with cold water and drain. This will stop the cooking process and cool pasta doesn't absorb as much sauce/dressing as warm pasta.
Looking for more Greek Inspired and Pasta Salad Recipes?
Greek Orzo Pasta Salad
Ingredients
¾

cup

Greek Salad Dressing or Vinaigrette

8

oz

Orzo Pasta

1

pint

Cherry Tomatoes

,

halved

1

cup

Kalamata Olives

,

drained

6

oz

Crumbled Feta Cheese

½

large English Cucumber

,

cut into bite sized pieces

½

cup

Purple Onion

,

diced

1/2 to 1

teaspoon

Greek seasoning
Instructions
Cook orzo pasta according to package directions. Drain, rinse in cold water, drain again. In a large bowl combine all ingredients, adding more salad dressing or vinaigrette as needed