Golden Gate Bars made with Ghirardelli
We may earn money or products from the companies mentioned in this post.
Golden Gate Bars made with Ghirardelli
Golden Gate Bars featuring Ghirardelli Brownie Mix doesn't call for just any Ghirardelli brownie mix, it calls for Ghirardelli "New" Salted Caramel Brownie Mix. The minute I picked up the box, turned it around and saw this recipe on the back of the box, I knew I was going to go right home and immediately make these Golden Gate Bars. Anytime I see a recipe that has layers involved, I'm on it. Anything with layers, just seems too scream delicious!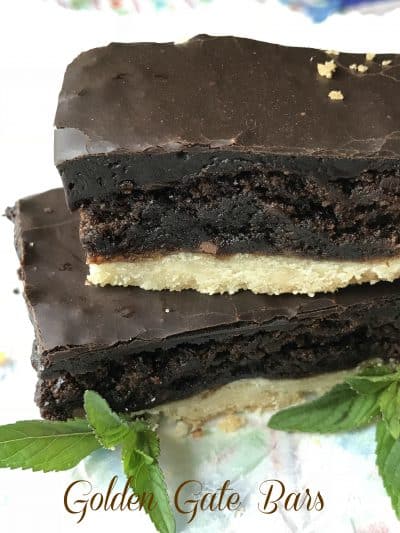 Three Layers or Four?
Golden Gate Bars start off with one of my favorite type of layers, a shortbread crust. Any bar that starts off with a shortbread crust is fine with me. Light, buttery and crispy. For this recipe, the caramel pouch (included) is spread over the baked shortbread crust, technically making this the second layer. The brownie mix is combined with water, oil and egg. The batter is spread over the caramel layer and then baked for 40 minutes. The fourth layer is…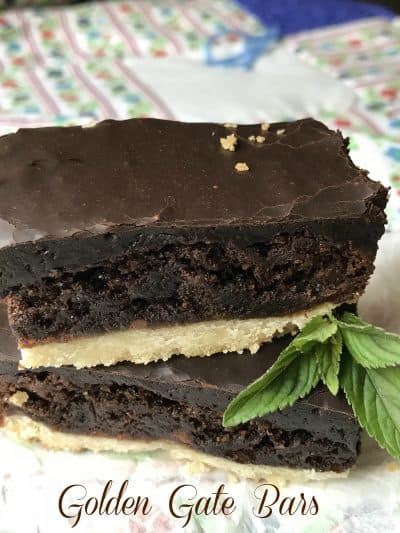 Fourth Layer
The fourth layer on these already delicious bars is an Easy Ganache. What is Ganache? Ganache [gahn-AHSH] A rich icing/filling made of semisweet chocolate and whipping cream, heated and stirred together until the chocolate has melted. The mixture is cooled until lukewarm and poured over a cake or torte. The ganache on Golden Gate Bars is made with heavy cream and Ghirardelli semi-sweet chocolate chips. Yum!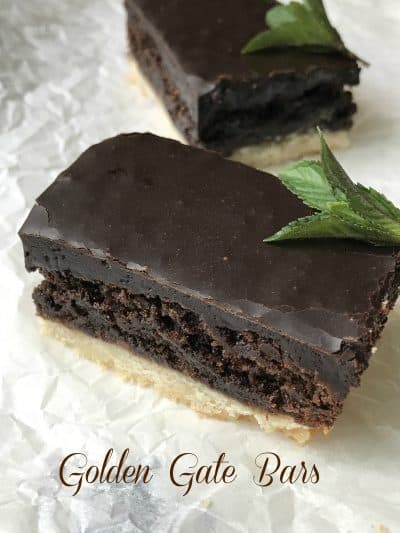 Ganache Souffle'
Ganache souffle' is made from the same base ingredients as ganache but often contains a tablespoon or so of rum or cognac. When cooled to room temperature, the mixture is whipped to approximately twice its original volume. Where as ganache is used to glaze cakes, pastries and tortes, ganache souffle' is generally used to fill them. Well, doesn't that sound good!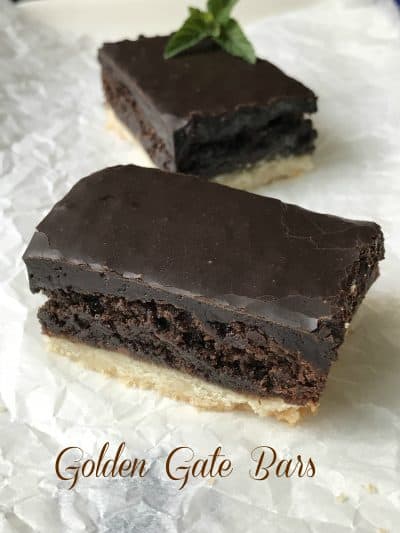 Sprinkle of Sea Salt
Another added touch, making Golden Gate Bars extra special, is the sprinkling of sea salt on top of the ganache layer. It ties all of the flavors together and takes them that one step beyond. The sea salt is optional of course but I would definitely try a bite of a bar with sea salt added and then try a bite without…you decide and see which way you like better. (Let me know what you decide in the comments section below:)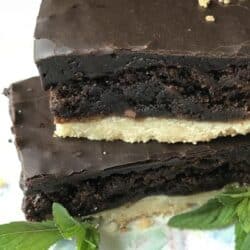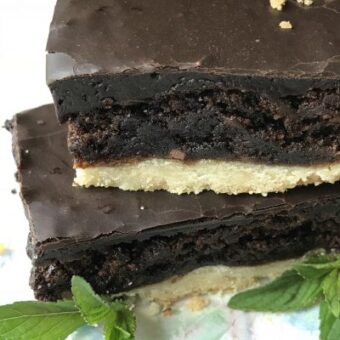 Golden Gate Bars
Golden Gate Bars are made with Ghirardelli Salted Caramel Brownie Mix. Golden Gate Bars are a layered bar that are simply delicious.
Ingredients
1/2

cup

butter, softened

1

cup

all-purpose flour

1/4

cup

powdered sugar

1

package

Ghirardelli Salted Caramel Brownie Mix

1/4

cup

water

1/4

cup

vegetable oil

1

egg

3/4

cup

heavy cream

3/4

cup

Ghirardelli Semi-Sweet Chocolate Chips

sea salt, optional
Instructions
Preheat oven to 325 degrees. Lightly grease 9 x 9-inch baking pan.

Shortbread Crust: Stir together butter, flour, and powdered sugar until well blended. Press into prepared pan. Bake crust 5 minutes. Place unopened caramel pouch in bowl of hot water for 5 minutes to soften caramel. Gently spread entire contents of caramel pouch evenly over baked crust.

Brownie: Place water, oil and egg in medium bowl and stir until fully mixed. Add brownie mix and stir until well blended. Spread batter evenly over caramel layer. Bake 40 minutes. Cool brownies completely before topping with ganache.

Ganache: In microwave-safe bowl, microwave cream on high power just until boiling. Add chocolate and stir until chips are completely melted. Pour warm ganache over cooled brownies and let set before cutting. Garnish with a sprinkle of sea salt, if desired.