Goblin Gorp Football Friday
We may earn money or products from the companies mentioned in this post.
Goblin Gorp Football Friday
Welcome back to Football Friday and the Game Day Recipe. Today's recipe is for Goblin Gorp Football Friday, which is frightfully delicious. Your guests will have a spook-tacular time, munching on goblin gorp! Goblin Gorp for Football Friday is perfect to snack on before, during, and after the game. One bite of this yummy mix and you'll be spooked into eating the whole bowl.
Candy Corn
Candy corn has been around since the beginning of time it seems. You either like candy corn or you don't. Like my son Bob says, "Candy corn has been ruining Halloween for years!" I like candy corn, in limited quantities. I can eat maybe a handful or two and that's it. An example; this recipe..this recipe is the perfect recipe to enjoy candy corn. This mixture is so delicious, it's scary. For this simple recipe, spend the extra few cents more and purchase "honey" candy corn made by Brach's.   In my humble candy corn opinion, Brach's candy corn with a 'touch of honey' is the best tasting. Candy corn works great in this recipe for Goblin Gorp Football Friday.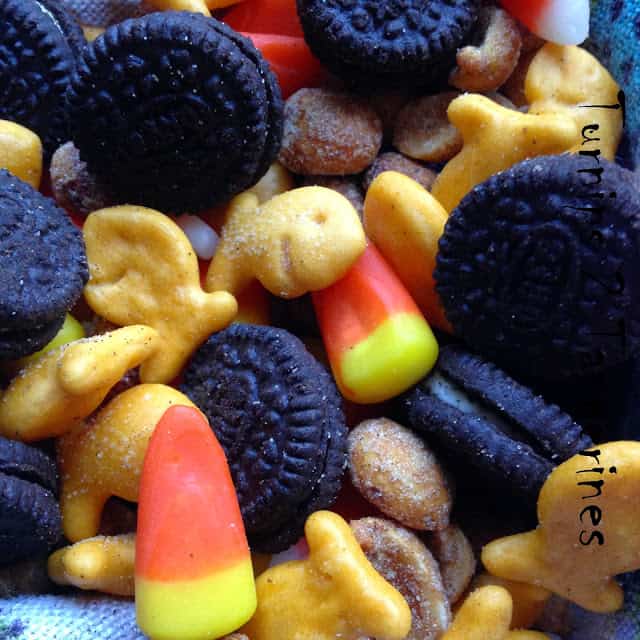 Brief Candy Corn History
October 30th is National Candy Corn Day! A time to honor this candy, most people only eat once a year. Candy Corn is said to have been invented in the 1880's by a Wunderlee Candy Company employee named George Renninger. Wunderlee was reportedly the first to produce the candy, followed by the Goelitz Candy Company, now the Jelly Belly Candy Company, which has been producing the tri-colored candy since 1898.
Back then the cooking process was done by hand; a sugar and corn-syrup based mixture was cooked into a slurry, a semi-liquid mixture, in a large kettle, then dumped into buckets called runners, and men dubbed stringers walked backwards, pouring the hot concoction into a tray of molds in the shaped of corn kernels. Today machines does most of the work but candy corn is basically made the same as it was back in the 1880's.
Looking For More?
Looking for more sweet treats? Try this recipe for Candy Cane Fudge.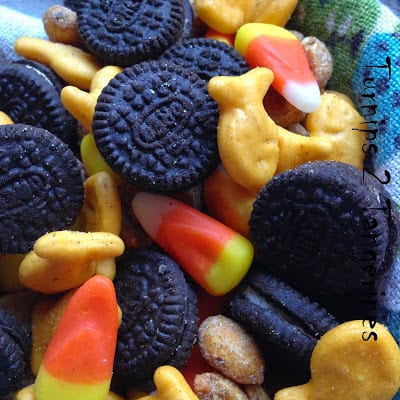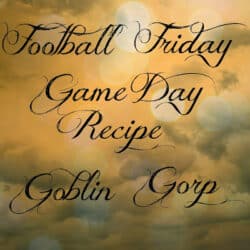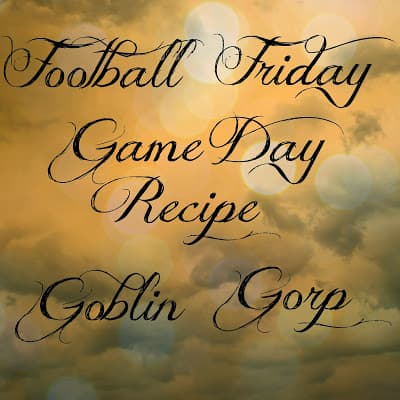 Goblin Gorp
Adult and kids alike will love this mix of this sweet and salty snack.
Ingredients
2

cups

honey roasted peanuts

2

cups

bite size chocolate sandwich cookies

2

cups

candy corn candy

1

cup

goldfish crackers

1/2

cup

golden raisins
Instructions
In a large bowl, combine all ingredients.

Store in air-tight container
Nutrition
Serving:
1
g
,
Calories:
721
kcal
,
Carbohydrates:
100
g
,
Protein:
15
g
,
Fat:
31
g
,
Saturated Fat:
6
g
,
Cholesterol:
10
mg
,
Sodium:
557
mg
,
Potassium:
425
mg
,
Fiber:
6
g
,
Sugar:
58
g
,
Vitamin C:
0.3
mg
,
Calcium:
92
mg
,
Iron:
5.1
mg