Goat Cheese Stuffed Mini Peppers
We may earn money or products from the companies mentioned in this post.
Goat Cheese Stuffed Mini Peppers
Fast, Easy and Delicious. In a Hurry? Need a fast, easy and delicious snack to bring to the party? Give these a try. Roughly four ingredients are needed to whip up these yummy appetizers. A bag of mini peppers, a log of garlic and herb goat cheese, honey and chives. A tasty snack couldn't get any easier than this. Goat Cheese Stuffed Mini Peppers are a true delight that everyone will love.
Substitutions
Goat cheese lends a nice tang and creaminess to these stuffed mini peppers but if you're not a fan of goat cheese, feel free to replace the goat cheese with onion and chive whipped cream cheese or a vegetable flavored whipped cream cheese works great too. The honey is optional in this recipe, omit if using whipped cream cheese.
Recipe Note
If you have a few extra minutes and aren't pressed for time, try roasting the mini peppers first before filling them with the garlic and herb goat cheese or cream cheese mixture. Roasting the peppers will soften them slightly, adds to the peppers natural sweetness and gives the peppers a more rustic look and visual appeal. We have made them both ways and like them equally the same either way.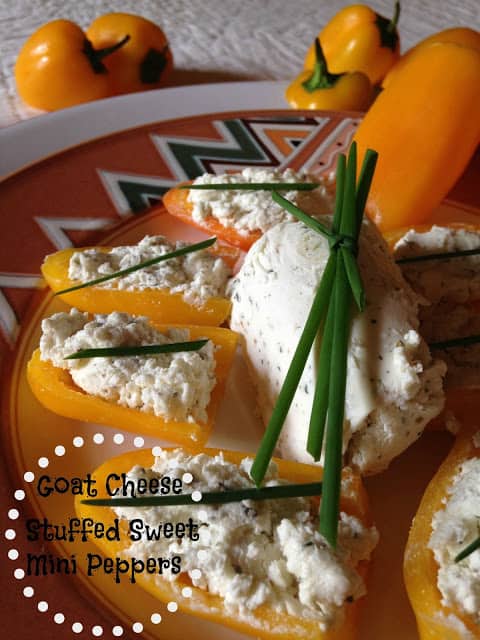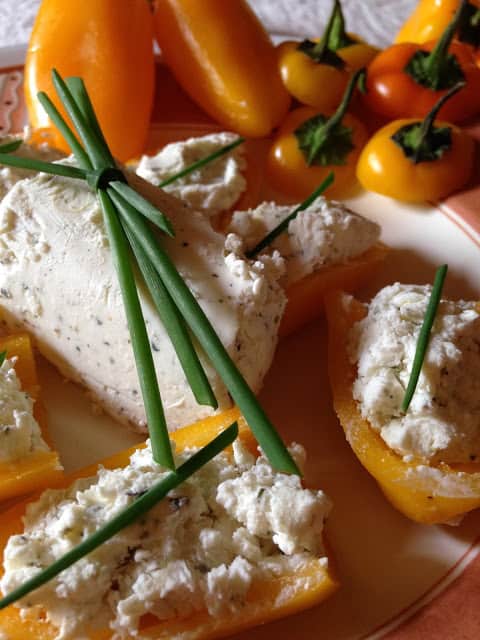 Goat cheese stuffed mini peppers makes a great vegetable "side" dish. Serve alongside a grilled steak, chicken breast or pork tenderloin. Add a twice baked potato and you'll have a fantastic meal. Wine Suggestion: Chianti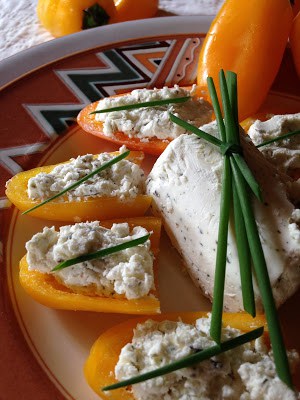 Goat Cheese Stuffed Mini Peppers
Ingredients
1 (4 oz) log




garlic and herb goat cheese, soften

1 (12 oz) bag




sweet mini peppers

1 to 2 tablespoons honey

few sprigs of fresh chives
Cooking Directions
Cut mini peppers in half. Scoop out membranes and seeds, discard.
Fill inside of mini peppers with soften goat cheese.
Lay chive springs on goat cheese, drizzle with honey.
Serve.