German Style Coleslaw
We may earn money or products from the companies mentioned in this post.
German Style Coleslaw
Here in Wisconsin, one of our favorite things to do on a Friday Night is to head out to our favorite local tavern or restaurant, order a brandy old fashion and enjoy a good 'ol Friday Night Fish Fry. What goes with beer battered, deep-fried fish? Besides french fries, tarter sauce and buttered rye bread? German Style Coleslaw, of course! Some people like a creamy style coleslaw and others like an oil-vinegar style. Me, I like any kind of coleslaw.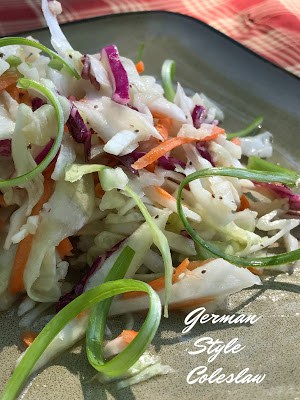 German-Style
German-Style Coleslaw is made with a fantastic homemade vinegar/oil dressing. We used a German Seasoned Vinegar by Hengstenberg. We ordered this tasty German seasoned vinegar on Amazon, but you might be able to find it in specialty stores or in large supermarkets in your area. You can also use distilled white vinegar, white wine vinegar or even an apple cider vinegar.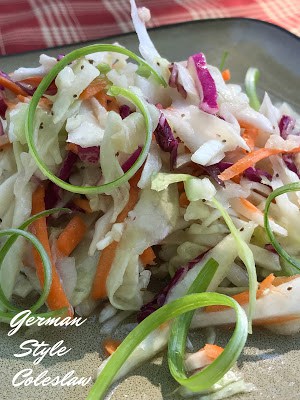 Not Creamy
If you normally prefer a creamy style coleslaw, after trying this recipe we might have changed your mind. This recipe makes a tangy, slightly sweet dressing, that goes perfect with the crisp cabbage and carrots. The dressing consists of vinegar, dry mustard, celery seeds, salt, sugar and vegetable oil. Even my 4 year old grand-daughter loved this coleslaw, she ate two bowls!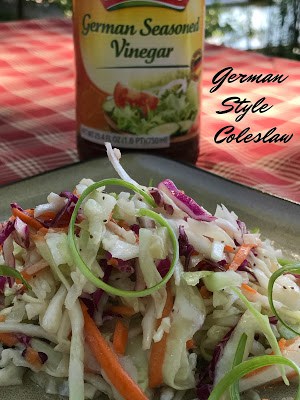 Cole Slaw Girl
After I made this recipe for German-style coleslaw my daughter-in-law made the comment to me about how much Willow loved coleslaw. Willow had recently spent the night at Kim and Bob's house and they ordered broasted chicken with all the fixin's from a favorite restaurant. Kim said she couldn't believe Willow ate 2 bowls of slaw. I told her my story too and after that Willow was crowned the official "Coleslaw Girl!"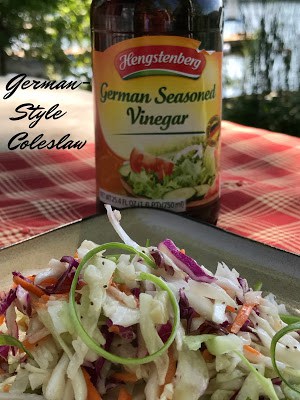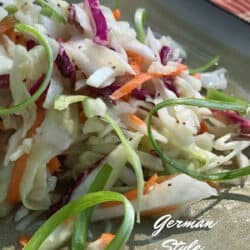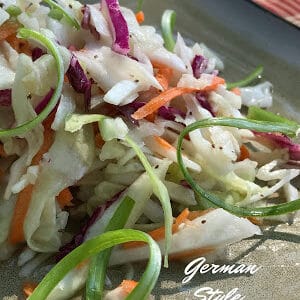 German-Style Coleslaw
A delicious and tangy coleslaw.
Ingredients
1/3

cup

German seasoned vinegar or distilled white vinegar

1

teaspoon

dry mustard

1/2

teaspoon

celery seeds

salt, to taste

1/3

cup

sugar

1/2

cup

vegetable oil

7

cups

green cabbage, cored and finely sliced*

1 1/2

cups

red cabbage, cored and finely sliced*

1

small carrot, peeled and grated*
Instructions
For the dressing: Place the vinegar, mustard and celery seeds into a medium bowl. Whisk to combine. Season with salt to taste. Add the sugar and whisk vigorously until dissolved.

Pour the vegetable oil in a thin stream into the bowl while whisking constantly, until it is well combined with the other ingredients and a smooth dressing is formed. Season again with salt to taste and set aside.

For the coleslaw: Put the green and red cabbages and carrots into a large bowl. Add the dressing and toss well to combine. Store the coleslaw in the refrigerator until ready to use, up to 1 day. Serve chilled.
Notes
*To save time and for convenience, two bags of Cole Slaw Mix can be substituted for the cabbage, red cabbage and carrots. Cole Slaw Mix can be found in most grocery stores produce department, near the bagged salads.*
Here is another fantastic recipe for coleslaw Oriental Coleslaw Salad. Making coleslaw is a great way to add vegetables to your diet. Cabbage and carrots are super healthy for you and if slaw is made with lo-fat, lo-calorie ingredients, it can be good for you too.