German Sour Cherry Cake
We may earn money or products from the companies mentioned in this post.
German Sour Cherry Cake
German Sour Cherry Cake is a delicious cake that is perfect to serve with a cup of coffee. The tradition of Kaffee and Kuchen (coffee and cake) on Sunday afternoons is ingrained in the German culture. Cakes and Tortes, baked from traditional German cake recipes are familiar favorites. Recipes that have been handed from one generation to another. Cakes made with real cream, fruit, chocolate, nuts and streusel make their appearance. These cakes are a treat to be savored, a time for family and friends to sit together and enjoy each others company.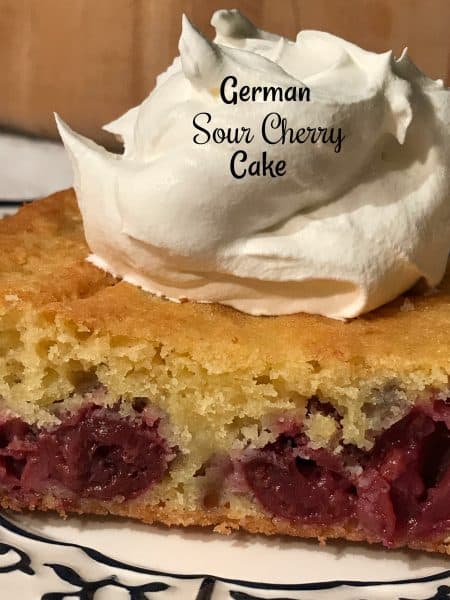 Sour Cherries
There are probably as many variations of kuchen as there are bakers. Versunkener Apfelkuchen, or Sunken Apple Cake is made with slices of apples that are placed on top of the dough before baking and they sink into the cake as it bakes. German Sour Cherry Cake, Versunkener Kirschkuchen or Sunken Cherry Cake is made the same way but sour cherries are substituted for the apple slices.
Sour cherries are placed on top of the cake dough and during baking the cherries sink into the cake. This yummy cake is made using a jar of Trader Joe's sour cherries, drained. You can save the juice for another recipe or if your like me, you can drink it! All that is needed to top this cake is a sprinkling of powdered sugar or a dollop of whipped cream.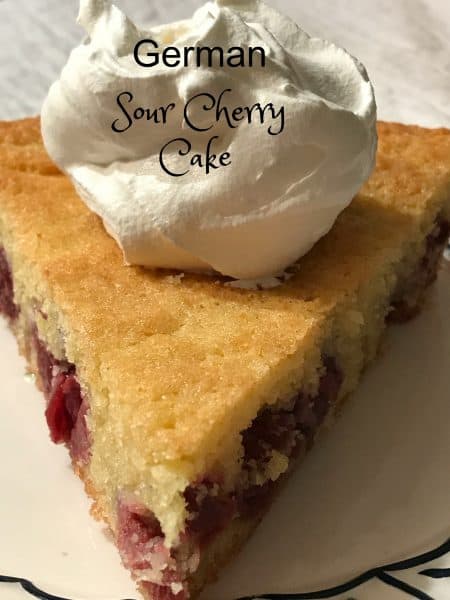 Cherries and Birthdays
February birthdays remind me of cherries. Seems strange I know but when you have a brother, niece and sister who all have the same birthday, February 22nd and that birthday is also George Washington's birthday, you think of cherries. At least Aggie did. My sister and brother celebrated the same birth-day even though they are 8 years apart. Now that is an even stranger event than George Washington cutting down a cherry tree in 1734… Each year on their birthdays, Aggie would make them a cherry pie or some kind of cherry dessert.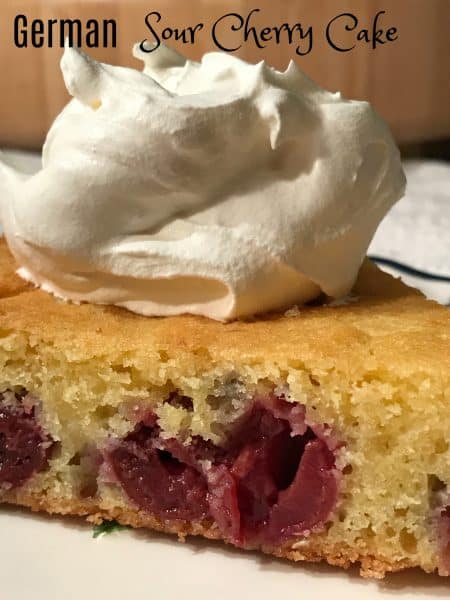 Remember When?
One year I remember telling Aggie about a cake that my 7th grade Home Economics class made, the only class that I ever got an A in. Aggie and I decided to make the cake for my sister and brother. We used a boxed white cake mix and made the cake in two, round 8-inch layer baking pans. After the cakes baked, we removed them from the pans and allowed the cakes to cool completely.
We frosted each layer cake with cool-whip, which is a family favorite. (In my family, we put cool-whip in and on everything….even potato salad but that's another story:) We then topped each "frosted" cake with canned cherry pie filling. If you have been reading my blog for any length of time, you are well aware that my mom Aggie was a terrible cook. I mean, shake your head back and forth terrible cook. That being said, she thought that this simple cake was a culinary masterpiece.
Cherry Tree Myth?
The cherry tree myth is the most well-know and longest enduring legend about George Washington. In the original story, when Washington was six years old, he received a hatchet as a gift and chopped down his father's favorite cherry tree. When his father discovered what he had done, he became angry and confronted him. Young George bravely said,"I cannot tell a lie…I did cut it down with my hatchet." Washington's father embraced him and rejoiced that his son's honesty was worth more than a thousand trees. Share this story with your kids and then have a Cherry Pie for Dessert! Cherries, Valentine's Day, (Aggie's birthday) February, and birthdays are all stamped on my memory.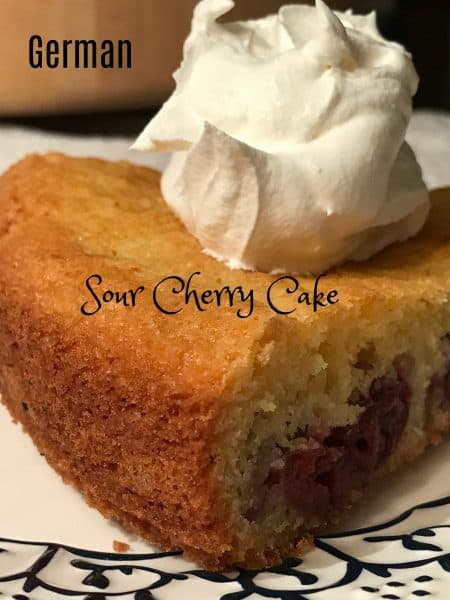 This recipe for German Sour Cherry Cake is delicious. Fast and easy to make, you'll be eating cake in less than 90 minutes. This recipe calls for 2 tablespoons baking powder. This is definitely an eyebrow raiser. According to German Girl in America this is not a mistake. The recipe does indeed call for 2 tablespoons baking powder.
Recipe Suggestion: When you make this cake, be sure to sift the baking powder into the flour mixture to make sure the baking powder is properly incorporated. There is nothing worse than biting into an undissolved speck of baking soda…yuk!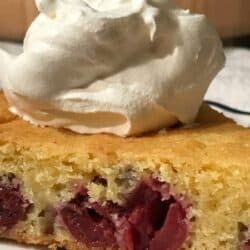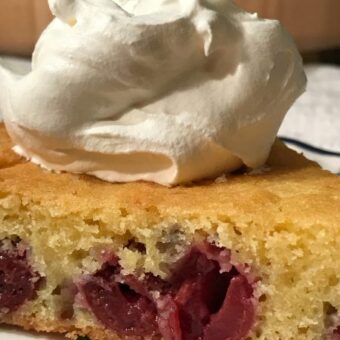 German Sour Cherry Cake
A delicious and easy cake.
Ingredients
1 1/4

sticks unsalted butter, room temperature

3/4

cup

granulated sugar

1/2

teaspoon

lemon zest

3

eggs, room temperature

pinch

salt

1 1/2

cups

all purpose flour

2

tablespoons

baking powder

1 to 4

tablespoons

milk

1

jar (16 oz)

well drained sour cherries

2 to 4

tablespoons

powdered sugar
Instructions
Preheat the oven to 350 degrees

Spray or grease the inside of an 11'' springform pan

Beat the butter, sugar and lemon zest with a mixer until light and fluffy, around 5 minutes. Scrape down the sides and under the beaters occasionally.

Slow the mixer down, and add the eggs one at a time, beat until they are incorporated.

Combine the flour, salt and baking powder, slowly add to the sugar/butter/eggs mixture, alternate with a bit of milk if it looks too dry.

The batter should be a bit stiff, but not too stiff... And it shouldn't be liquid. I find that 2 tablesoons of milk is usually enough, on the average day. You may need more or less depending on the humidity. Spread the batter into the prepared pan.

Scatter the drained cherries across the batter... don't push them down into the batter, and try to keep them off the edge. The ones on the edge get really dark.

Bake for 40 minutes.

Put a toothpick in the center... if it comes out clean, the cake is done. If not, bake another 5 minutes. It shouldn't take longer than 50 minutes.

Let the cake cool in the pan on a wire rack.

Cut around the edge to loosen the pan, then take the edge of the pan off to finish cooling.

Before serving, put the powdered sugar into a sieve or sifter... and sprinkle it generously and evenly across the cake.