German Potato Salad
We may earn money or products from the companies mentioned in this post.
German Potato Salad
For this recipe we used Baby Dutch Yellow Potatoes by: Melissa's. Baby Dutch Yellow Potatoes have a rich, buttery flavor. Perfect grilled, roasted or in salads. Not only were these little gems tasty, they made making German Potato Salad a breeze. Boiled whole for 20 to 25 minutes, cut in half, and
tossed with bacon, green onions and a tasty vinegary dressing, this recipe for German Potato Salad was ready to eat in less than 45 minutes.
No peeling, chopping or dicing involved.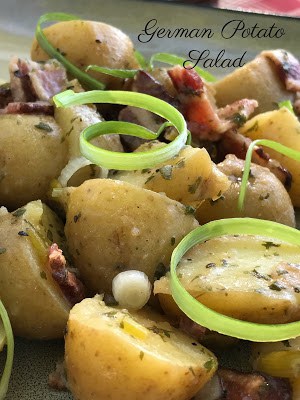 Creamy or Vinegar Potato Salad
This was the first time we have ever made German Potato Salad. I'm really not sure why either….maybe it was the vinegar….but it probably comes down to the fact that most potato salads are creamy. We have always made and eaten a mayonnaise based potato salad and I think most people do think of potato salad as a creamy-style potato salad. Most if not all of the parties, family picnics and summer grill parties we attend always serve a creamy version of potato salad.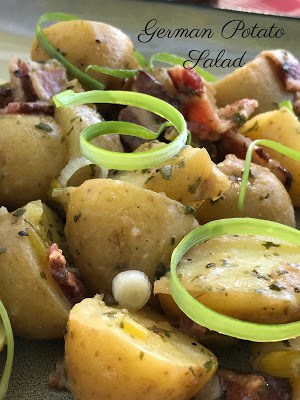 Time For A Change
Well that is about to change….We really, really, loved this recipe. The bacon, sliced green onion and the potatoes were delicious. The star of this salad, though is the easy vinegar dressing. We used a German Seasoned Vinegar by: Hengstenberg .  We ordered the seasoned vinegar from Amazon, but you might be able to find this tasty vinegar in a specialty gourmet food store or in a large supermarket. If you can't find German Seasoned Vinegar in your area, a good quality apple cider vinegar can be substituted with the same great results.
Serve German Potato Salad with German Style Coleslaw for an authentic German-style meal.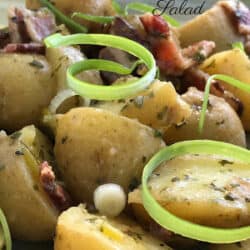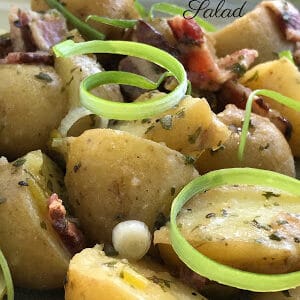 German Potato Salad
A delicious German Style Potato Salad, complete with bacon and green onions.
Ingredients
6

slices

slab bacon

1

teaspoon

oil

4

fresh green onions, thinly sliced

1/3

cup

German seasoned vinegar or apple cider vinegar

1/4

cup

chopped fresh flat leaf parsley or 2 tablespoons dried parsley

1/4

teaspoon

dry mustard

1/2

cup

chicken broth

sea salt and freshly ground black pepper, to taste

2

lbs

Baby Dutch Yellow Potatoes

,

Melissa's

1/4

cup

vegetable oil
Instructions
In a medium saute pan, cook bacon over medium heat until crisp. Remove bacon from pan, drain on paper towels. Pour off bacon fat, saving 2 tablespoons in the pan. Add 1 teaspoon oil to pan. Add green onions and cook over medium heat for about 3 minutes.

Remove pan from heat; stir in vinegar. Add parsley, mustard, chicken broth, sea salt and freshly ground black pepper, to taste.

Boil potatoes in water until tender but still firm; drain. Cut potatoes in half. Add vinegar mixture to warm potatoes in a large bowl. Toss well and allow to rest for 5 minutes.

Add 1/4 cup vegetable oil and mix well again. Adjust seasonings and oil to personal taste; serve at room temperature.