German Potato Pancakes Authentic Kartoffelpuffer
We may earn money or products from the companies mentioned in this post.
German Potato Pancakes Authentic Kartoffelpuffer
German potato pancakes are a fast and easy side dish. They are shallow-fried pancakes of grated potatoes, flour, eggs and are often flavored with grated onion and seasonings. Potato pancakes may be topped with a variety of toppings ranging from sour cream to sweet apple sauce. Potato pancakes are sometimes made from mashed potatoes to produce pancake-shaped croquettes.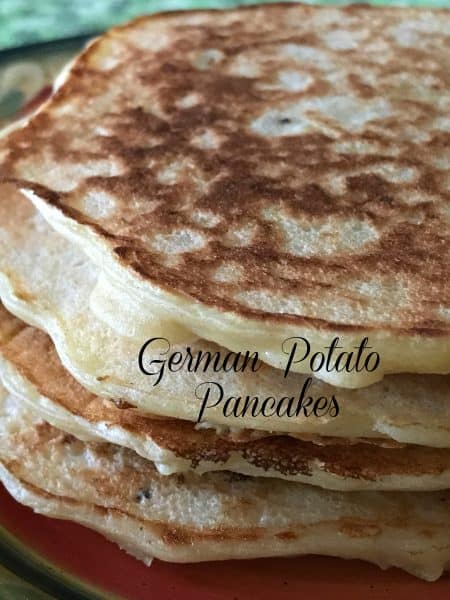 Mashed Potato Pancakes
I remember eating mashed potato pancakes several times during the course of my childhood. I didn't realize until I was much older that this was an actual "recipe" and not something that my mom Aggie came up with on her own. Aggie formed mashed potatoes into pancake shaped, thick patties, fried them in butter and served mashed potato patties with a sunny-side egg on top. What a great way to use up left-overs!
Croquette
I'm pretty sure than my mom had no idea that these mashed potato patty pancakes were actually called "croquettes" in other countries. Croquette [kroh-KEHT] is a mixture of minced meat or vegetables, a thick white sauce and seasonings that are formed into small cylinders, ovals or rounds, dipped in beaten egg and breadcrumbs, then fried until crisp and brown. I'm being to think Aggie was on to something after all…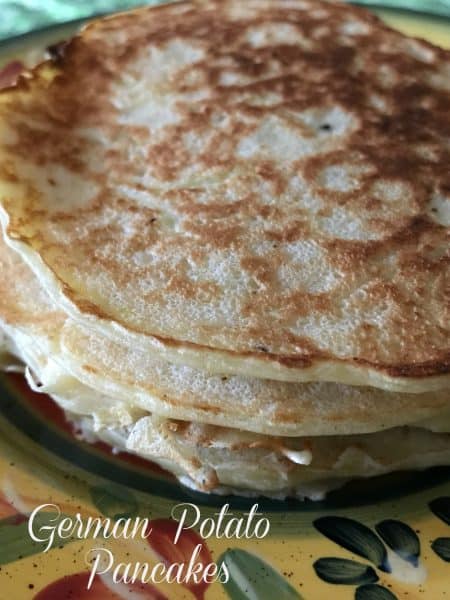 Kartoffelpuffer
Apart from Kartoffelpuffer, potato pancakes are also known as Reibekuchen and Kartoffelpfannkuchen in Germany.  Reibekuchen are often eaten with applesauce or plum compote and are also eaten with liverwurst or served with smoked salmon and sour cream. But the most traditional way to eat potato pancakes is with apple sauce.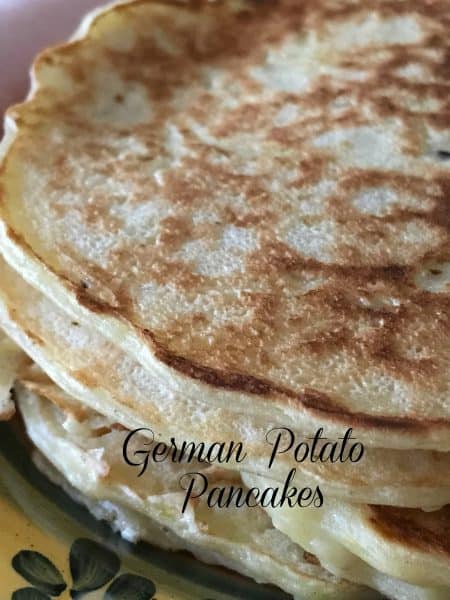 Reibekuchen
Reibekuchen or Kartoffelpuffer literally translated as "grated cakes." While they are popular in all areas of Germany, they are most famous in the Rhineland, where they are also known as "Rievekooche." You'll find them being sold at street stalls, especially in Cologne, the most famous of which is situated outside the Cologne railway station.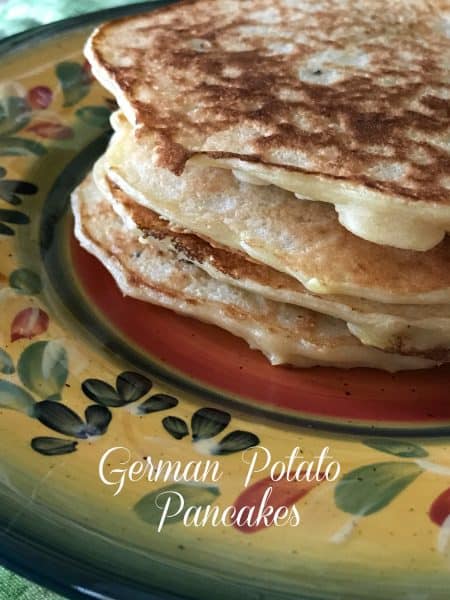 Popular Everywhere
Potato pancake dish hugely popular across Germany and very simple to prepare. The dish is often associated with Christmas markets where it's served with applesauce ideal for the cold winter season. Reibekuchen is also a popular side dish in Bavaria where it's eaten with sauerkraut and sausages. It's well known that Germans love their potatoes and pommes or large french fries are often served with bratwurst or sausage.
Looking For More?
Looking for another fun recipe to make with mashed potatoes? Give this one a try for Halloween. Mashed Potato Ghosts  Looking for a recipe to go with German Potato Pancakes? Try this recipe for Crispy Coated Fried Haddock.
German Potato Pancakes Authentic Kartoffelpuffer
Author:
Prep time:
Cook time:
Total time:
Potato Pancakes are easy to prepare and are delicious served with apple sauce.
Ingredients
6 medium-size potatoes, washed, peeled and shredded
1 medium onion, peeled and shredded
2 eggs, lightly beaten
1/2 cup flour
1/2 teaspoon sea salt
1/2 teaspoon freshly ground pepper
vegetable oil for frying
Instructions
Combine potatoes, beaten eggs, flour, salt and pepper in a large bowl and stir well, until flour is no longer visible.
Heat 1 inch of vegetable oil in a large skillet, and use a 1/4 cup measure to scoop three piles of potato mixture into hot oil. Let fry on medium-high heat about until golden brown, about 3 minutes.
Turn pancakes and press down with a spatula, flattening them as much as possible. Fry until golden brown, and remove onto paper towels. Repeat with remaining potato mixture.
Serve pancakes immediately.
Mashed Potato Pancakes
Author:
Prep time:
Cook time:
Total time:
An easy recipe that can be served for breakfast, lunch or dinner.
Ingredients
2 cups mashed potatoes
1 egg
1⁄4 cup flour
salt
pepper
chives or shredded cheese (optional)
oil, for frying
sour cream or applesauce for serving
Instructions
Mix mashed potatoes, egg, flour, salt and pepper.
Add chives or shredded cheese, optional.
Preheat skillet and add a couple of tablespoons of oil.
Form a 1/4 cup batter or more into patties.
Place patties in hot pan; brown on both sides.
Enjoy with sour cream or applesauce.
For more German Recipes check out German Recipes