German Christmas Stollen Classic Recipe
We may earn money or products from the companies mentioned in this post.
German Christmas Stollen
What is German Christmas Stollen? It's a bread like fruit cake with a traditional Old World taste. German stollen is extremely popular during the holidays. Families use recipes that have been handed down from generation to generation. Families make stollen year after year that most don't even need to follow a recipe. Baking begins early throughout Germany because stollen gets better with time.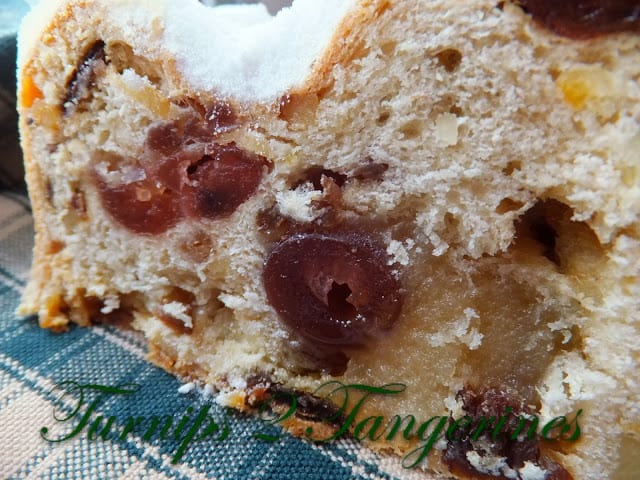 Stollen
Stollen is a traditional German Christmas Bread/Cake, that is served during the Christmas Season. Dresden has the most famous Christmas Stollen, Christstollen or Weihnachtsstollen. Stollen is a breadlike fruit cake made with yeast, water, flour, dried/or candied fruit, nuts, raisins, spices and often mazipan. It is then heavily covered with sugar, powdered sugar or icing. Christmas Stollen should be made weeks in advance to allow the flavors to mellow and the fruit to soften.
Dried Fruit
German Stollen contains dried fruit. Candied cherries, lemon peel, orange peel, candied pineapple and golden raisins. Paradise Fruit is the dried fruit we use most often here on Turnips 2 Tangerines.  Paradise Fruit Co.
Some recipes call for soaking the stollen in rum, brandy, bourbon or whiskey. You don't actually soak the stollen in liquor. It usually means to soak the dried fruit in liquor. The dried fruit is placed in a bowl and liquor is poured over the fruit. The fruit is allowed to sit in the liquor several hours or overnight. This step is totally optional and up to you. I have made this bread both ways and either way it's good.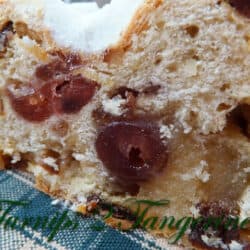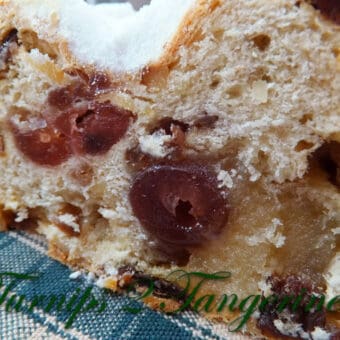 German Christmas Stollen
A traditional recipe for a German classic.
Ingredients
8 1/2 to 9

cups

all-purpose flour

1

cup

plus 2 tablespoons sugar, divided

2

1/4 oz each packages

active dry yeast

2

teaspoons

salt

2

cups

milk

1 3/4

cup

butter, softened and divided

4

eggs

1 1/2

teaspoons

almond extract

1

teaspoon

grated lemon peel (zest)

1

teaspoon

rum extract

2

tablespoons

cherry liqueur or maraschino cherry juice

1 1/2

cups

slivered almonds

1

cup

chopped candied cherries

1

cup

chopped candied lemon peel

1

cup

chopped candied orange peel

1

cup

chopped candied pineapple

1

cup

golden raisins

2

cups

sifted confectioners' sugar of dusting
Instructions
In a large mixing bowl, combine 3 cups flour, 1 cup sugar, yeast and salt.

In a saucepan, heat the milk and 1-1/2 cups butter to 120-130 degrees. Add to dry ingredients; beat just until moistened. Beat in eggs until smooth. Stir in enough remaining flour to form a soft dough. Add the almond extract, lemon peel, rum extract and cherry liqueur, if using. Stir in the almonds, candied cherries, lemon peel, orange peel, pineapple and raisins. (dough will be slightly stickTurn dough out onto a heavily floured surface; knead until smooth and elastic, about 6 to 8 minutes. Place in a greased bowl, turning once to grease top. Cover and let rise in a warm place until almost doubled, about 1-1/2 hours.

Punch dough down; turn onto a lightly floured surface. Divide into thirds. Roll each portion into a 15 x 8 inch oval. Melt remaining butter. Brush each oval with 1 tablespoon butter and sprinkle with 2 teaspoon of the remaining sugar. Fold long side of oval to within 1/2 inch of the opposite side; press edges lightly to seal. Place on parchment lined or lightly greased baking sheets. Curve ends slightly. Cover and let rise for 30 minutes.

Bake at 350º for 30 to 35 minutes or until golden brown. Brush with remaining melted butter; remove from pans, place on wire racks to cool.

When cool, sprinkle loaves heavily with sifted confectioners sugar.

Yield: 3 loaves
Overnight Maple French Toast Bake  is a great breakfast option during the busy holiday months.