Funfetti Strawberry Marshmallow Treats
We may earn money or products from the companies mentioned in this post.
Funfetti Strawberry Marshmallow Treats
Today I'm going to share a recipe with you with 2 new to me products, Funfetti cereal and Strawberry Fluff. Combine together the cereal and marshmallow fluff and you have a whole new taste sensation on an old classic. I originally bought the strawberry marshmallow fluff to use in an upcoming whoopie pie recipe and the cereal was something I spotted at Menards of all places, and immediately thought of marshmallow treats. Surprisingly the two went together perfectly and a new flavor favorite is going strong at my house.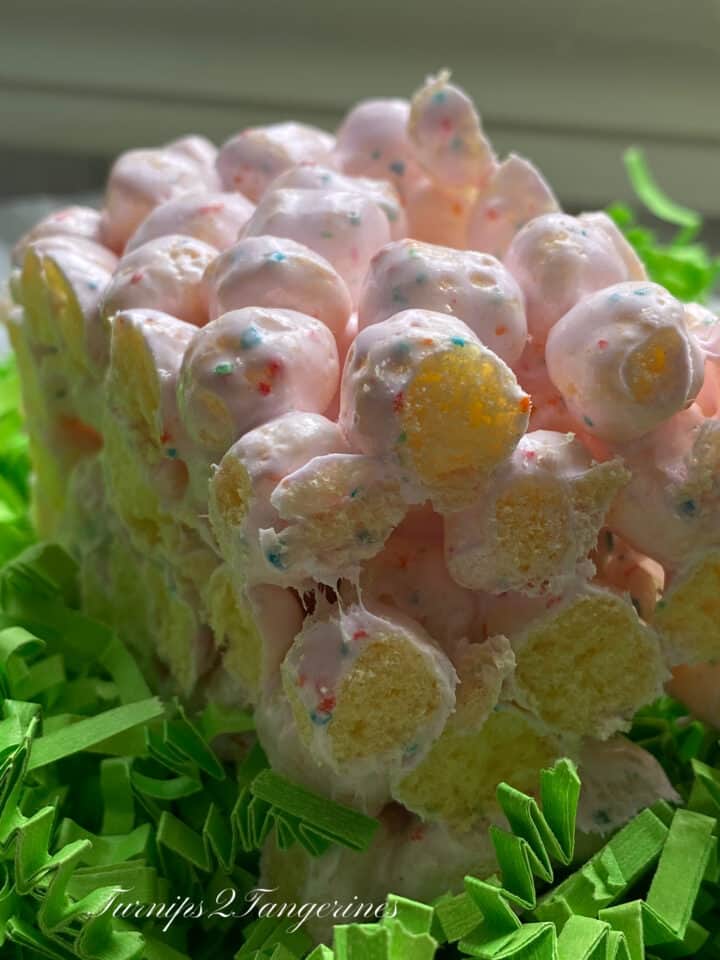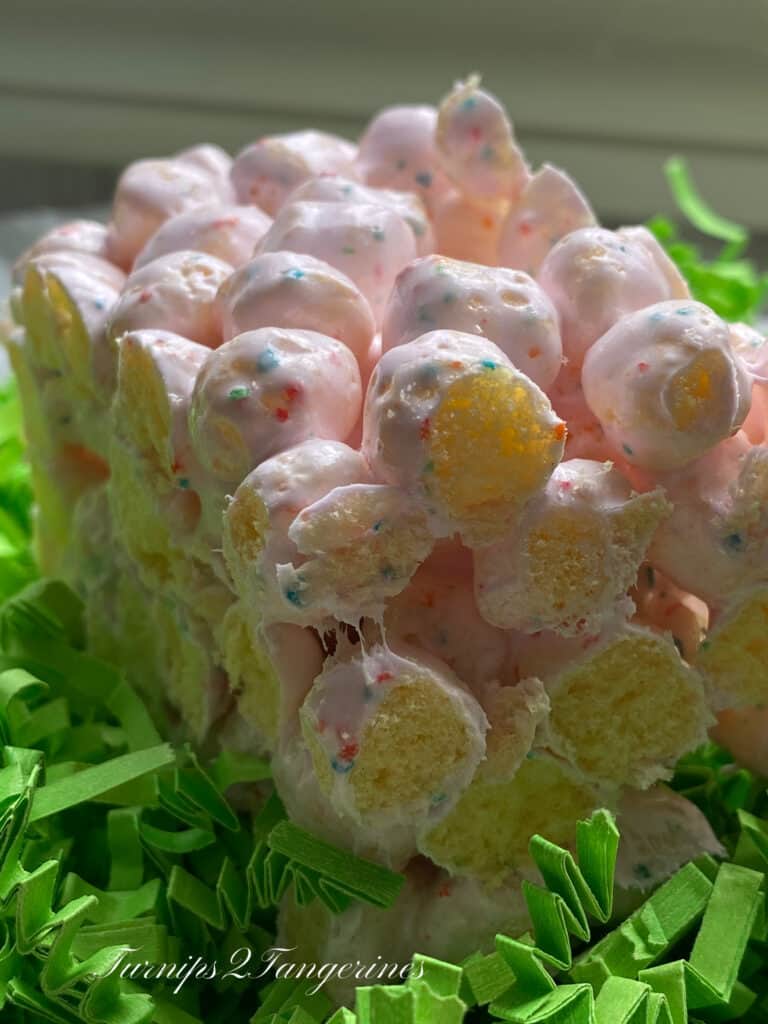 Where I Bought Funfetti Cereal
I'm not going to talk about the history of marshmallow treats, we've heard that one before nor am I going to go through the history of marshmallow fluff. I recently posted a recipe forChocolate Cherry Whoopie Pies that gets into all of that but I will talk briefly about the cereal. Funfetti cereal is not an overly sweet cereal. It reminds of Kix cereal with sprinkles. My daughter made the comment that she couldn't find Funfetti cereal near where they lived. I told her I found it at Menards in Antigo WI, which is an usual place to find cereal, since Menards is a Home Improvement Super Store. Regardless, they do have a grocery section with a nice selection of food items, check it out! Menards handles two of my favorites: Olive Garden Salad Italian Dressing and Red Robin's Campfire Sauce.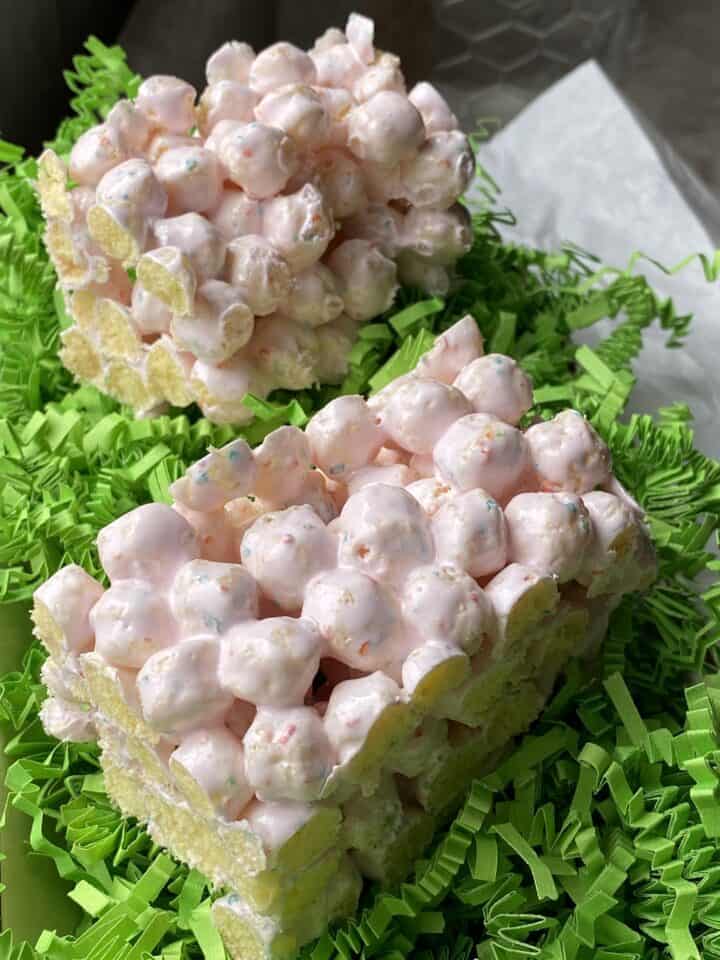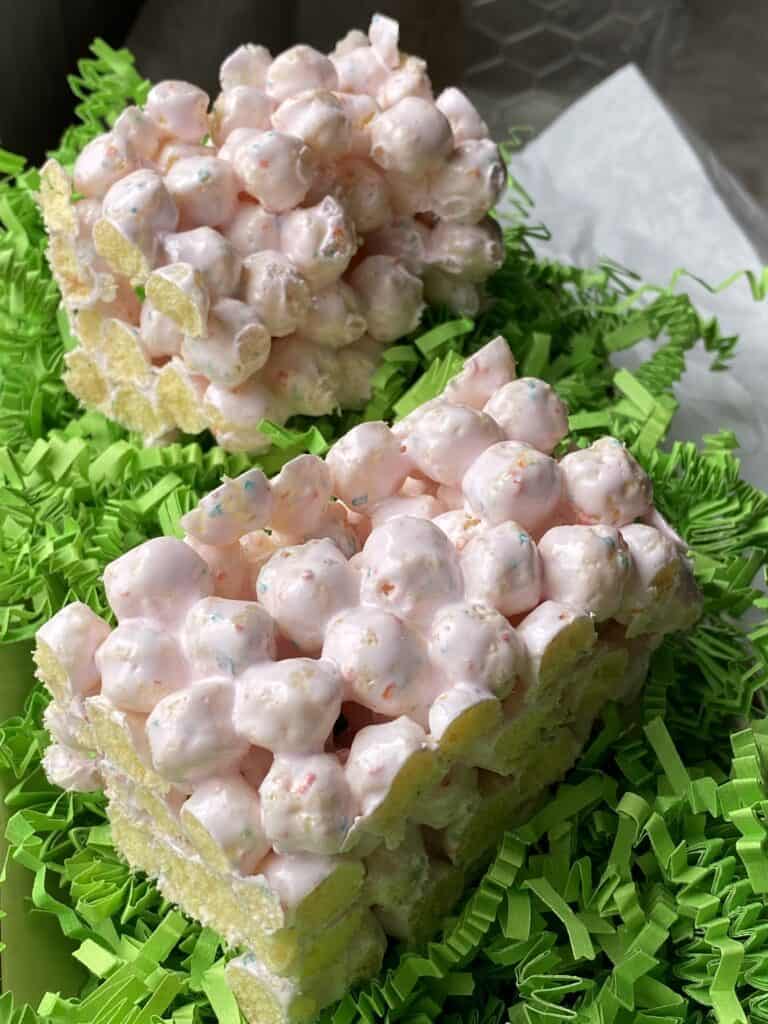 Here on Turnips 2 Tangerines we have more than a handful of marshmallow treat recipes to choose from. Whether you're looking for marshmallow treats made with Rice Krispie cereal or marshmallow treats made with Reese's Peanut Butter cereal, we've got you covered. We have a rice krispie treat recipe to fit just about every occasion.
Funfetti Strawberry Marshmallow Treats
A new take on an old favorite! Made with New Funfetti cereal and Strawberry Flavored Marshmallow Fluff
Ingredients
5

cups

Funfetti cereal

4

tablespoons

butter

7 oz

container

strawberry marshmallow fluff
Instructions
Butter an 8 x 8-inch square pan. Set aside.

Set a saucepan over low heat. Add butter and allow butter to melt. Spoon the marshmallow fluff into pan and begin to stir.

Continue to stir until the marshmallow cream and butter come together into a smooth mixture, this may take up to a minute. Turn off heat.

Pour the cereal into the marshmallow mixture and toss to coat.

Spread the cereal mixture into an even layer in the buttered square baking pan.

Cool and cut into squares