Fruitcake Gems made with Paradise Fruit
We may earn money or products from the companies mentioned in this post.
Fruitcake Gems made with Paradise Fruit
Fruitcake Gems made with Paradise Fruit are bite-size gems that are the perfect size to pop into your mouth. Nothing better than walking past the holiday buffet table piled high with delicious treats. Grabbing a little gem of a treat and popping it into your mouth. Have you ever observed how people mingle and snack at parties? I have:) I could sit for hours in an airport, mall, restaurant, and observe people going about their business.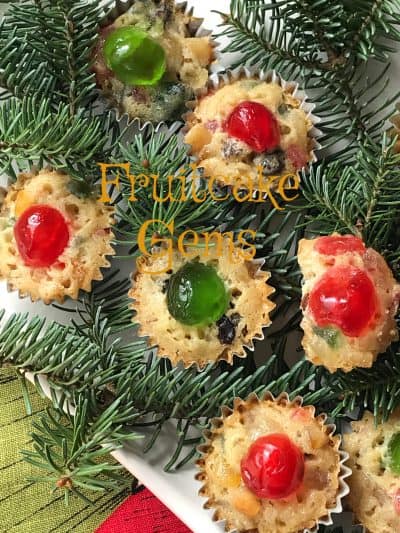 Buffet/Sideboard
A buffet sometimes referred to as a sideboard is a term used in entertaining to describe the place where food is served from. In the 40's and 50's when home entertaining was popular, formal dinning rooms became fashionable and therefore sideboards became increasingly popular. A buffet or sideboard is traditionally used in a formal dinning room for serving food and also for storing linens, china and flatware.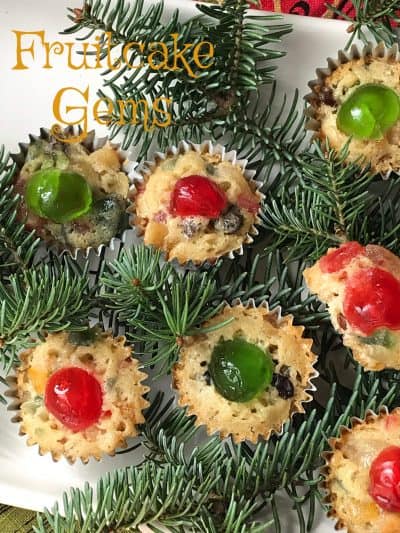 Buffet and Smorgasbord
When you think of buffet, it's hard not to think of the 'all-you can eat' buffets that are so popular. The definition of the word buffet describes an offering of several types of dishes, both hot and cold. Guests select food and serve themselves. What does smorgasbord mean? Basically the same thing as buffet. The definition of smorgasbord is a self-serve buffet of various hot and cold hors d' oeuvres, salads, casserole dishes, and meats.
Home Parties
Home "buffet style" parties serve foods that are usually made in advance and keep hot with the help from crock-pots, chafing dishes and fondue pots. Cold appetizers, such as fresh shrimp are served on trays placed over ice. Plates, napkins and silverware is available at one end of the buffet. Serving spoons are placed alongside each dish. It's the duty of the host and hostess to keep an ever watchful eye over the buffet table:)
Making A Comeback?
Is buffet or smorgasbord entertaining making a comeback or is it simply going by a different name? Good question. So to answer that question. Yes, buffet style entertaining is or has made a comeback but under a new fun name, "Buffet Bar." Maybe I'm out of touch or maybe just a day late and a dollar short again but here are a few Buffet Bar ideas; Waffle Bar, Bagel Bar, Potato Bar, Taco Bar, Cupcake Bar and so on and so forth.
[easy-image-collage id=27181]
Types of Party Goers
Over the years, I've observed several different types of party goers. The list that we've complied might not be true for all parties but it definitely is true for the parties that we have been too. It's something that we've observed over the many years of going to parties and hosting parties. The list is merely an observation, so let's start the list off with The Nibbler. That's me:) This is a dangerous category to fall into.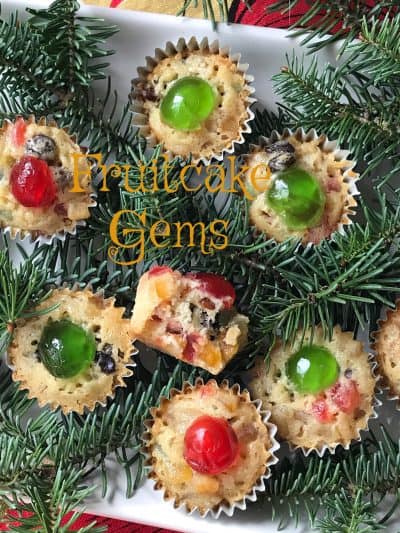 The Nibbler
Nibblers are exactly what the name suggests, they're the people who nibble at the buffet table. Nibblers usually spend hours (on and off) at the buffet table. A cracker with cheese here, a potato chip with dip there, a handful of party mix here and a peanut cluster there. Every time the Nibbler walks past the buffet table, they grab something. By the end of the night, the Nibbler has probably eaten more than anyone else at the party!
Big Spooner
Then you have the Big Spooner. The Big Spooner grabs the biggest spoon, the biggest plate possible and piles it high with food. This person usually disappears back to wherever they came from with a full plate. You hardly even know this person was at the party. They appear out of nowhere and then disappear back to wherever they came from. The Big Spooner can be found in front of a TV somewhere, watching sports and eating.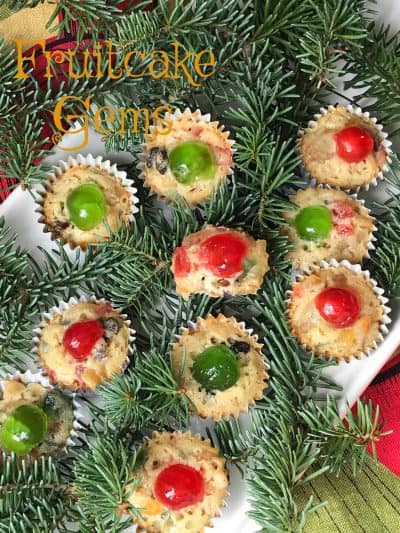 Little Spooner
Now on the other hand, you have the Little Spooner. They'll try everything on the buffet table but will only take roughly a tablespoon size serving. The Little Spooner fills their plates with tablespoon size servings of every dish. The Dieter shouldn't be confused with the Little Spooner. Whereas the Little Spooner will eat everything (at least a tablespoon size serving), The Dieter will not.
The Dieter
With all of the new diets around, someone will be on a diet. The Dieter is always on the latest and newest diet trend and is always on a diet. In fact, they've been on a diet for as long as you've known them. The Dieter has food allergies and lactose sensitivities. They'll always grab a smaller plate verses a larger one. The Dieter will bring a lo-cal dish, which usually is very delicious.
The Picker
Next you have The Picker, the person who grabs a plate, stands at the buffet table and looks everything over. The Picker picks at everything! They'll pick up a stuffed cherry tomato (smell it) and set it down again. Take the lid off the crock-pot, look inside and set it back down. The Picker doesn't like anything. The Picker will usually walk away with a roll on their plate. (They will stop at a fast-food joint on their way home;)
Sweet Tooth
Sweet Tooth party goers are exactly what the name suggests. They are party goers with a big sweet tooth. Often times they will have two plates of desserts. One thing I've observed about the Sweet Tooth, they only eat desserts. Nary a cracker, piece of fruit or vegetable will ever touch their plate. They might eat a dozen fruitcake gems before the night is over. Let's get on to the recipe.
Fruitcake Gems
Fruitcake Gems are bite-size little gems that are packed full of Paradise candied pineapple wedges, diced, candied orange peel, chopped golden raisins and chopped cashews. The recipe calls for using rum or apple juice to soak the candied fruit. I went with the apple juice but you could use brandy or whiskey also. Each fruitcake gem has a candied red or green cherry halve placed in the middle before baking.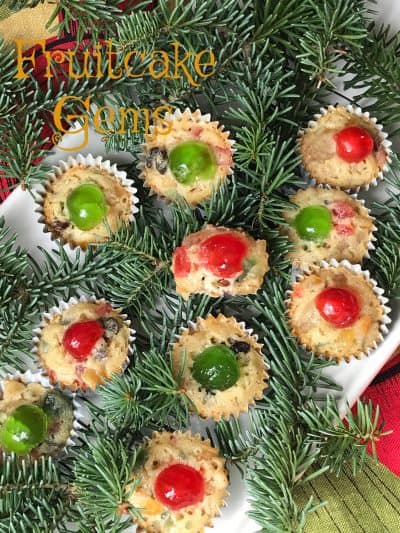 Recipe Tip
Here is a quick recipe tip when making fruitcake gems. Remove the gems using a fork immediately after removing from the oven. Place on a wire rack, set over a sheet of waxed paper or parchment paper. Fruitcake gems are buttery, which is a good thing in my eyes. Placing them on a wire rack will allow the excess butter to drip off. The fruitcake gems may emit a crackling sound while cooling.
Over the Years
Over the years we have become quite fond of fruitcake. We've made several different versions here on Turnips 2 Tangerines over the past few years. Here is a sampling of some of our favorites; Amish Friendship Fruitcake Bread  Fruitcake Fudge or Jeweled Fudge and Giddy Up Cowboy Cookies.   Recipes made exclusively with Paradise Fruit.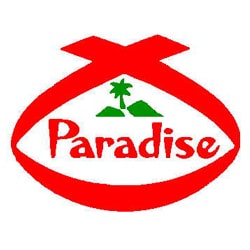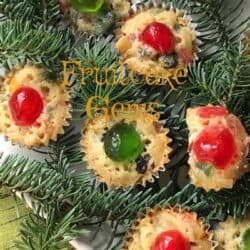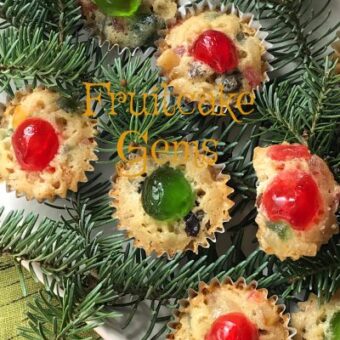 Fruitcake Gems
Bite size Fruitcake Gems are the perfect size to pop into your mouth.
Ingredients
1

cup

candied red and green pineapple wedges, chopped

1

cup

candied orange peel, chopped

1/2

cup

golden raisins

1/4

cup

rum or apple juice

1/2

cup

butter, softened

1/4

cup

light corn syrup

2

tablespoons

sugar

3

eggs

3/4

cup

flour

2

cups

cashews, chopped

candied whole red and green cherries, halved
Equipment
Miniature muffin tin and mini paper liners.
Instructions
In a medium bowl, combine candied pineapple, orange peel and raisins. Pour rum or apple juice over fruit mixture; let stand 1 hour.

Preheat oven to 300 degrees. In mixing bowl, cream butter, corn syrup and sugar. Add eggs; mix well. Add flour; mix until combined. Stir in fruit mixture and cashews. Fill paper-lined miniature muffin cups with dough. Press cherry half into top of each. Bake at 300 degrees for 25 to 30 minutes. Cool on wire cooling racks. Makes 3 dozen.
Nutrition
Serving:
12
g
,
Calories:
1516
kcal
,
Carbohydrates:
202
g
,
Protein:
26
g
,
Fat:
73
g
,
Saturated Fat:
28
g
,
Cholesterol:
245
mg
,
Sodium:
460
mg
,
Potassium:
891
mg
,
Fiber:
9
g
,
Sugar:
130
g
,
Vitamin A:
1243
IU
,
Vitamin C:
3
mg
,
Calcium:
201
mg
,
Iron:
10
mg
Collage images from Pinterest.