Fruitcake Fudge or Jeweled Fudge
We may earn money or products from the companies mentioned in this post.
Fruitcake Fudge or Jeweled Fudge
This delicious and easy fudge goes by several different names, Fruitcake Fudge or Jeweled Fudge, even White Christmas Fudge. I prefer to call it fruitcake fudge because it's made with Extra Fancy Fruitcake Mix by Paradise Fruit Co. I few weeks ago, Paradise Fruit Company sent me a great selection of their fantastic dried fruits and asked me if I'd be willing to create recipes using their product. Of course I said yes!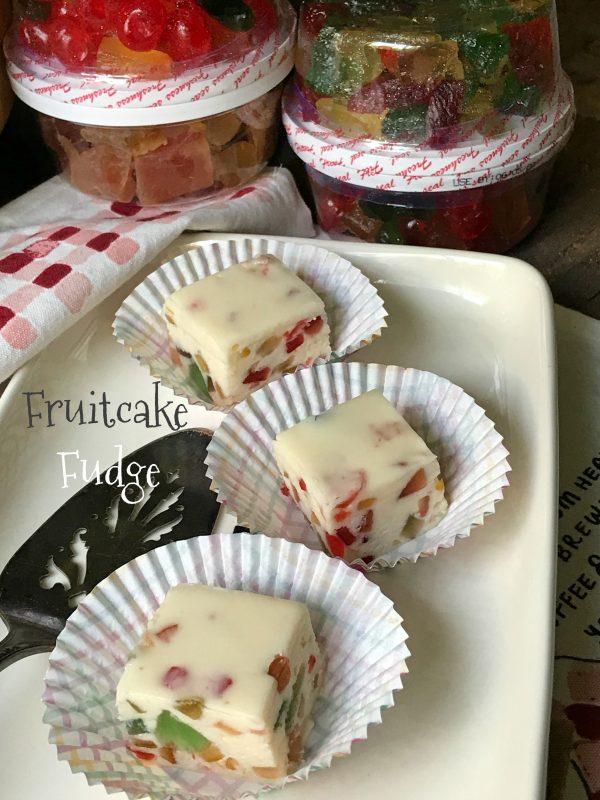 Tropical Fruit Smoothie Bowl
The first recipe I made with Paradise Fruit was for Tropical Smoothie Bowl. A delicious and refreshing smoothie bowl, topped with all kinds of "good for you" ingredients and of course the star of the fruit smoothie bowl, Tropical Fruit Blend. I had never heard of a Fruit Smoothie bowl before even though they've been around for some time. I'm not sure why I've never heard of smoothie bowls before but I'm so glad I did! They're fantastic.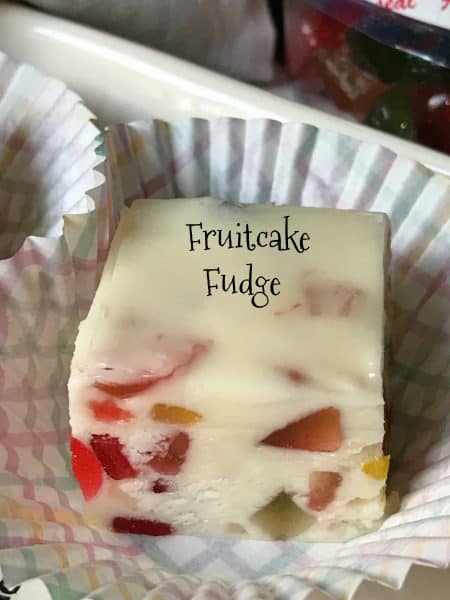 Fudge in the Summer?
You might be thinking to yourself…fudge in the summertime?? Why? Well, why the heck not! We eat candy bars in the summertime, so why not fudge…am I right or am I wrong…as my grandma would say! I can't tell you how many times I heard that statement when my grandma was still alive. Every question she would ask you, ended in that same statement..example: "It's really cold out today…am I right or am I wrong?" I would answer the same way, "Your right grandma."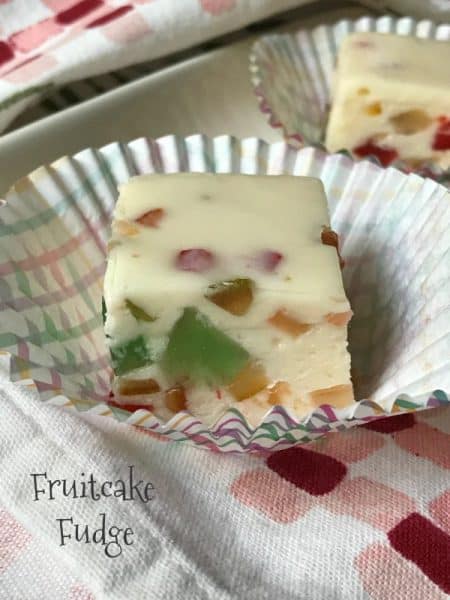 Easy Recipe
This recipe for Fruitcake Fudge is a super easy recipe that I've made many times before. There is a very good explanation for that, this recipe turns out every single time. Not once have I ever made this recipe and it did not turn out. I found the recipe a few years ago on the back of a bag of Nestle Premier White Morsels and have making it ever since. I tweak the original recipe as needed, to accommodate for the addition of different ingredients but the basic recipe remains the same.
Looking for another tasty White Fudge Recipe? Give this delicious White Chocolate Blueberry Fudge a try.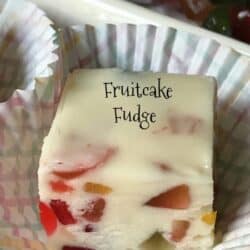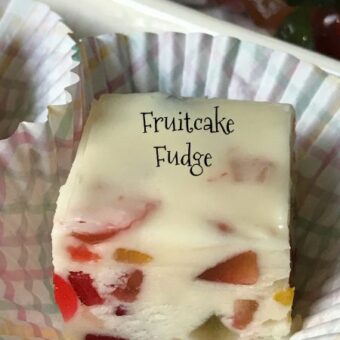 Fruitcake Fudge
Creamy White Fudge made with Extra Fancy Fruitcake Mix. Simple and Delicious.
Ingredients
1 1/2

cups

granulated sugar

2/3

cup

evaporated milk

2

Tablespoons

butter

2

cups

miniature marshmallows

2

cups

Premier White Morsels

,

Nestle

1

teaspoon

almond extract

1

16 oz. container

Extra Fancy Fruitcake Mix
Instructions
Line 8-inch square baking pan with foil. Lightly butter foil. Set aside.

Combine sugar, evaporated milk and butter in a medium heavy-duty saucepan. Bring to a full rolling boil over medium heat, stirring constantly. Boil, stirring constantly for 4 1/2 to 5 minutes. Remove from heat.

Stir in mini marshmallows, morsels, almond extract and extra fancy fruitcake mix. Stir vigorously for 1 minute or until marshmallows are melted. Pour into prepared baking pan. Refrigerate until firm. Lift from pan; remove foil. Cut into squares.
Thank-you Paradise Fruit Co. for sponsoring this post and Thank-you to the readers of Turnips 2 Tangerines who sponsor the companies that sponsor us.