Fruit and Veggie Smoothie
We may earn money or products from the companies mentioned in this post.
Fruit and Veggie Smoothie/Popsicles
Today I'm going to share a smoothie/popsicle recipe. I mean, what kid doesn't like a popsicle on a hot summer day! What's even better, these fruit and veggie smoothie popsicles are good for you too. I have been on somewhat of a smoothie "kick" lately and I have gotten to the point that I enjoy a smoothie almost as much as I enjoy a bowl of ice cream. I really like the fruit and veggie smoothie blends are fantastic.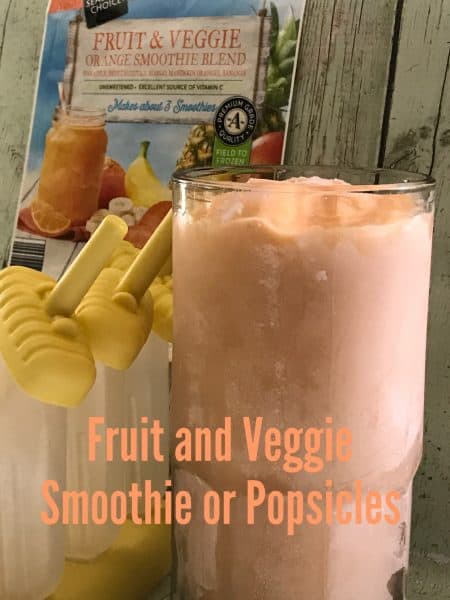 Beat the Heat
Beat the heat this summer with these smoothies or popsicles made with a fantastic product that I discovered at Aldi. The name of the product is called: Season's Choice Fruit and Veggie Orange Smoothie Blend is made with pineapple, sweet potatoes, mango, bananas and mandarin oranges. The sweet potatoes really add a nice, unexpected sweetness to this blend. This blend is also under $3.00, which makes it a steal in my book.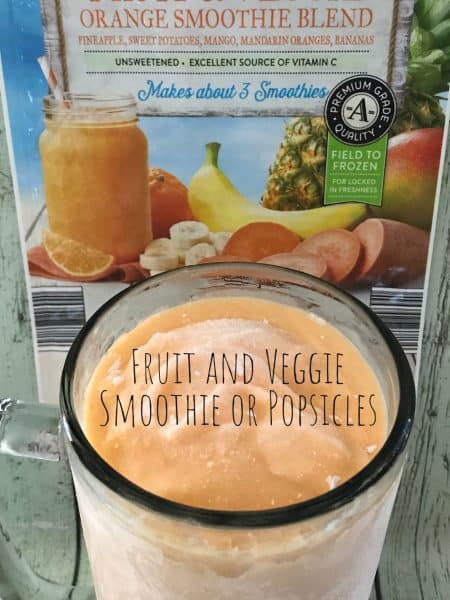 Field to Table
All of Season's Choice fruits and vegetables are harvested and frozen at the peak of freshness to lock in flavor and nutrition. Freezing as "freshness frozen" allows you to enjoy "just picked" quality all year round. Look for the green ribbon on packages of Season's Choice products, for their pledge to 100% delicious and farm to field nutritious produce.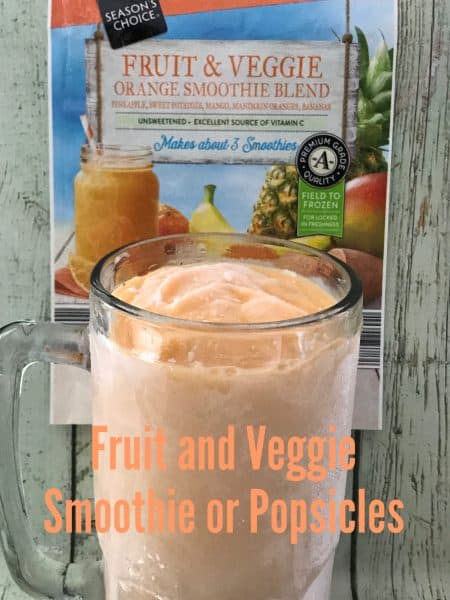 Computer Troubles
I will be posting from my phone over the next week or so due to computer troubles. My computer is a few years old and I do just about everything on my laptop so this is a huge inconvenience for me. That being said, please over look any inconsistencies, wonky looking images and the like that might occur in my posts. For now I'll be posting with my phone😀
The Season's Choice Fruit and Veggie Orange Smoothie Blend contains: sweet potatoes, pineapple, mango, mandarin oranges and bananas.
Fruit and Veggie Smoothie
1- 16 oz package Season's Choice Fruit and Veggie Orange Smoothie Blend
1- 5.3 oz container coconut Greek style yogurt
1/2 ripe banana
1/2 to 1 cup apple juice, as needed
Place all ingredients into a blender. Blend for 2 to 4 minutes or until smooth and creamy, adding more apple juice as needed to reach desired creaminess. Pour into glasses and serve or pour into Popsicle molds and freeze until firm.
Here is another recipe using sweet potatoes. Sweet Potato Goat Cheese Cranberry Rounds
*Turnips 2 Tangerines has not been compensated in any way for this post. Here at Turnips 2 Tangerines we like to pass on to our readers products that we find fantastic.