Fruit Salad Tossed with Noosa Yoghurt
We may earn money or products from the companies mentioned in this post.
Fruit Salad Tossed with Noosa Yoghurt
Fruit salad tossed with Noosa yoghurt is a delicious blend of six different kinds of fruit; cantaloupe, strawberries, grapes, blueberries, blackberries and canned pineapple. Cubes of jello are added per my grandsons suggestion and the fruit/jello combination is tossed together with a mixture of Noosa yoghurt and cool-whip free. If you aren't able to find Noosa Yoghurt in your area, replace it with your favorite brand and/or flavor of yogurt.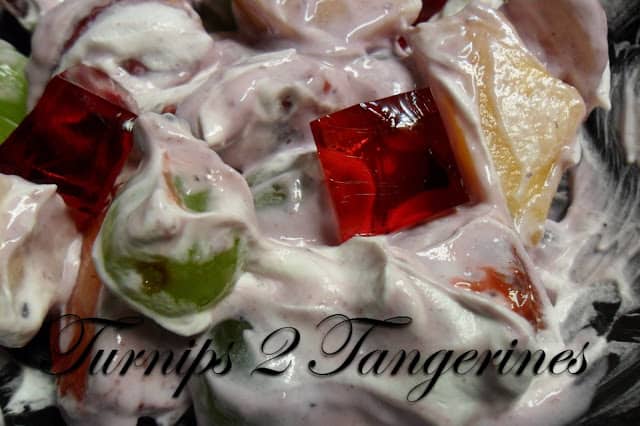 Fruit Salad for All Ages
A refreshing fruit salad made with an assortment of fresh fruit, canned pineapple, and strawberry jell-o cubes. Everything is then tossed together with a delicious mixture of non-dairy whipped topping and Noosa blueberry yoghurt. I made this salad recently for my grandson while I was staying in Athens Georgia. My daughter was in the hospital giving birth to my first born granddaughter and my grandson wanted a snack. We both loved this salad.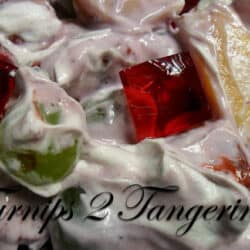 Fruit Salad with Noosa Yoghurt
A delicious fruit salad tossed lightly with Noosa yoghurt and non-dairy whipped topping.
Ingredients
1

large ripe

cantaloupe or honey dew melon, cut into chunks

1

quart

strawberries, hulled, rinsed, patted dry and cut in half

1

bunch

grapes, rinsed and patted dry

1

pint

blueberries, rinsed and patted dry

1

pint

blackberries, rinsed and patted dry

1

15 oz can

pineapple chunks, drained

1

8 oz container

blueberry yoghurt, (Noosa)

4

ounces

cool whip free whipped topping

1

3 oz package

sugar-free strawberry jello, (plus water per package directions)
Instructions
Make jello according to package directions.

Pour jello into a 8 x 8 glass baking dish.

Chill until set. Cut jello into cubes, set aside.

In large bowl, combine melon chunks, strawberries, grapes, blueberries, blackberries and pineapple chunks. In a small bowl fold together yogurt and cool-whip, pour over fruit. Lightly fold in cubed jello.
Coney Island Sauce Wisconsin Style . Coney island sauce is a super delicious sauce that is perfect to top grilled hot dogs or a yummy Wisconsin grilled brat. Made in the traditional Coney Island way but with a Wisconsin-style twist. It's made with beer!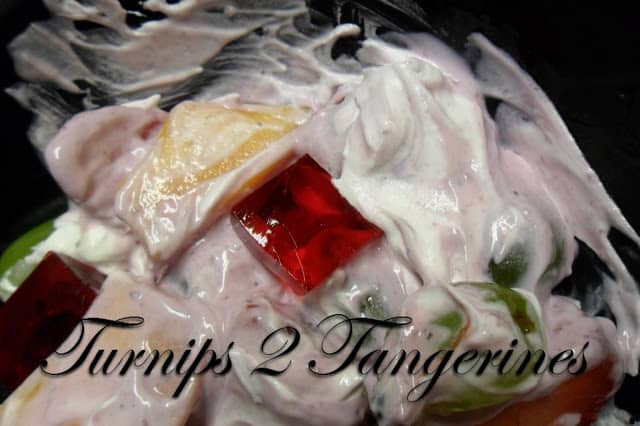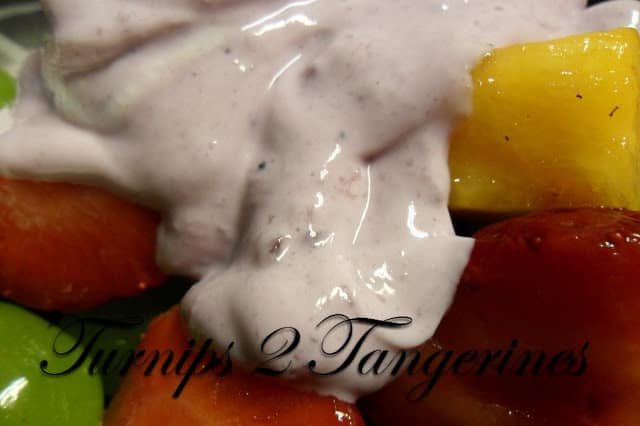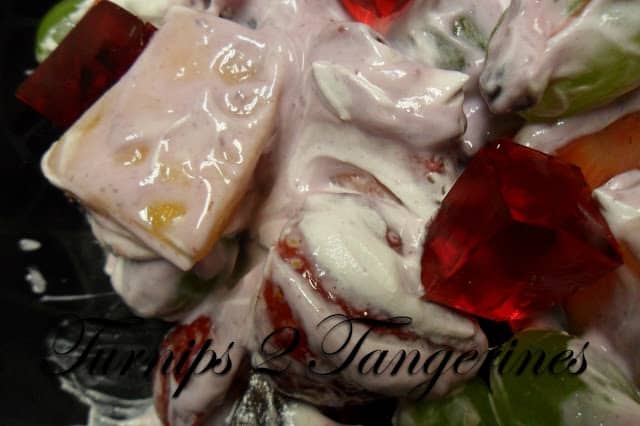 More fruit salad recipes at your fingertips. Overnight Fruit Salad, Winter Fruit Salad, and Simple Sweet Watermelon Salad