Frozen Coffee Slushy
We may earn money or products from the companies mentioned in this post.
Frozen Coffee Slushy 
Frozen Coffee Slushy is a delicious and refreshing summertime drink. Made with Van Gogh Espresso Vodka, this adult slushy is the perfect drink to sip on after a long day at work or on a hot summer evening at the lake. If you're a fan of coffee, this delicious cocktail will become your fast favorite refreshing drink. Cool off with delicious, creamy and icy adult cocktail. Frozen Coffee Slushy will definitely cool you off this summer.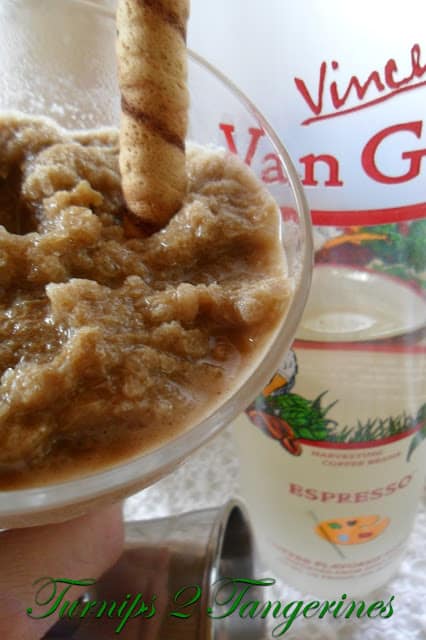 Off to the Store
This recipe came about one afternoon when my hubby came home from the store. I had 'sent' my hubby to the store because I was in the middle of making dinner and ran out of cheese. Living in the America's Dairyland, this is an "udder" (I just had too:) no no. I never run out of cheese! But on this particular day, I did. So what's a girl to do? Send the hubby to the store, right? For some of you ladies that might be a simple option. Not for me.
Espresso Vodka
When I send my hubby to the grocery store, I never know for sure how long he'll be gone. Sometimes, but not very often, he will be right back. Other times, he'll dilly dally around which is usually the case. He always, always comes home with two bags of items we didn't need, nor do I want. There have been times when he has come home without the item I sent him to the store to buy in the first place. This particular time he came home with a bottle of vodka and two cartons of International Iced Coffee.
I have a thing for glass jars and bottles, and immediately loved this bottle! I have a confession to make, I have boxes in my attic full of bottles and jars that I just couldn't depart with. Pickle jars, jam/jelly jars, wine bottles, vinegar bottles..you name it, I save it. So anyway, when I saw this bottle I was in love! How cool is this bottle:) And the vodka is pretty darn tasty too. I had just made a batch of Blackberry Brandy Slush and Brandy Slush.  You don't have to be a rocket scientist to figure out what I was going to make!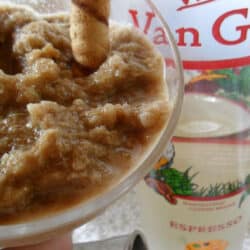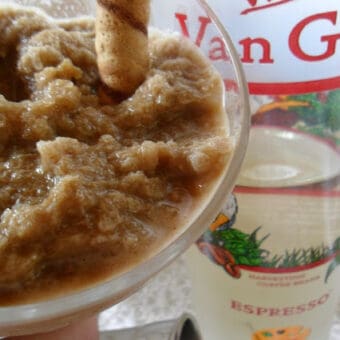 Frozen Coffee Slushie
An Adult Coffee Flavored Slushie
Ingredients
2

half gallon containers

International Delight Iced Coffee, Sweet and Creamy Coffeehouse Drink

4

tablespoons

ground espresso coffee

12

cups

water

4

individual packages

sugar or sugar substitute sweetener

1

cup

Van Gogh Espresso Vodka

5

quart

clean, empty ice cream pail
Instructions
Brew espresso in a regular coffee maker, using 4 heaping tablespoons espresso and 12 cups water.

When espresso is finished brewing, cool to room temperature.

In clean 5 quart ice cream pail, pour one half gallon International Delight Iced Coffee. Add the cold brewed coffee. Pour in the 4 packages of sweetener/sugar substitute, espresso vodka and stir. Place cover on pail and freeze. Freeze overnight or until mixture is frozen enough to scoop out.

To Serve: Using an ice cream scoop, scoop out frozen coffee. Fill large glasses 3/4 cup with frozen coffee mixture. Using second container of iced coffee drink, pour some into the glass containing frozen mixture and stir until desired slushie consistency. Serve with a straw.
You can never have too much puppy chow to munch on. Nutella People Puppy Chow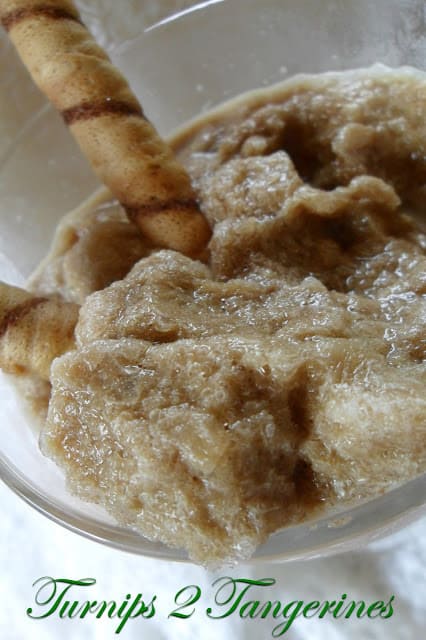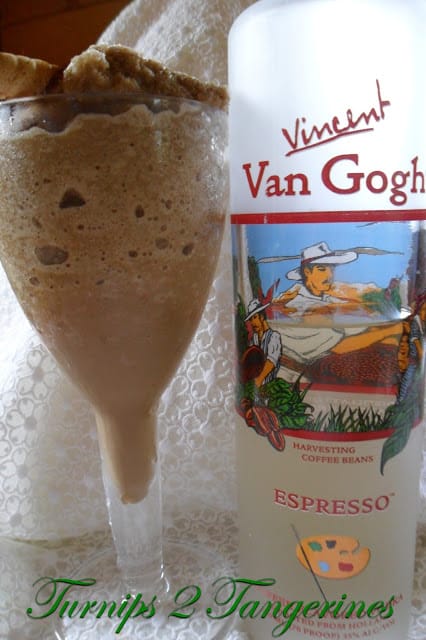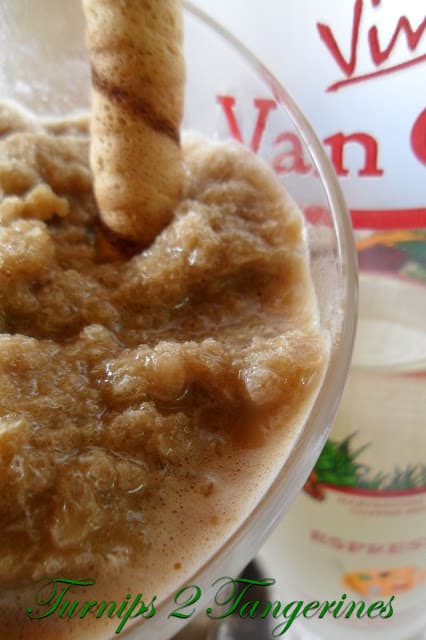 *Note: This is not a sponsored post. Here at Turnips 2 Tangerines we enjoy passing along to our readers "Food Finds" Van Gogh Vodka is one such food find.