Fritoeroos
We may earn money or products from the companies mentioned in this post.
Fritoeroos
Do you like Scotcheroos? You know, those ooey, gooey, sticky cereal treats. No, not rice kripsie marshmallow treats but the treats with the melted  chocolate/butterscotch chips on top? In these here parts we call them Scotcheroos but you might know them by the name Special K bars. If you like scotcheroos, or special k bars or whatever you call them in your area, you are gonna love Fritoeroos.  Fritoeroos are made the exact same way as scotcheroos but….you guessed it, they are made with Fritos instead of cereal!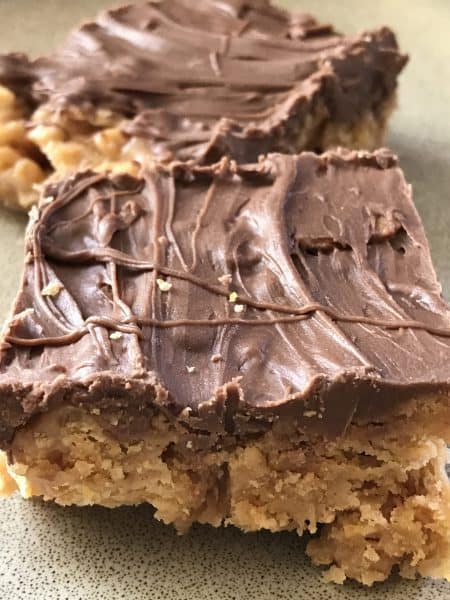 Made with Fritos
Yep, you read that right, Fritoeroos are made with lightly crushed fritos. Other than that, they are made the same way. Fritos, white sugar, corn syrup, creamy peanut butter, milk chocolate chips and butterscotch chips are all that is needed to make these delicious, lip-smacking treats. If you love sweet, salty and chocolaty, you won't be able to get enough of these yummy bars.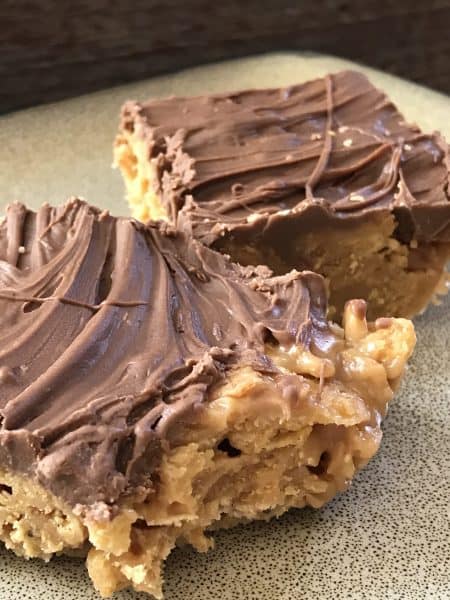 Bring a Pan Along
Fritoeroos are irresistible, therefore making them extremely hard to resist. They are highly addictive making you yearn for more and more. If you don't believe me, give this recipe a try and see for yourself. The next time you're asked to bring a dish to pass or you're asked to bring a sweet treat, reach for this recipe. Instead of bringing a pan of Scotcheroos, bring a pan of Fritoeroos. Let your family, friends and/or co-workers decide:)
Make a pan of Fritoeroos and watch how fast they disappear. Store fritoeroos in an airtight container.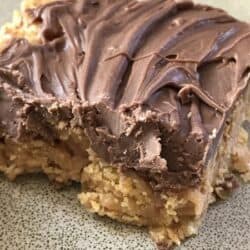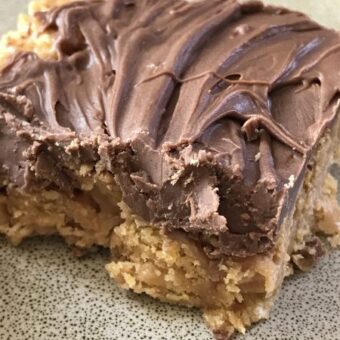 Fritoeroos
If you like Scotcheroos, you are gonna love Fritoeroos! Made the same way as scotcheroos except you substitute crushed Fritos for the cereal used in this classic recipe!
Ingredients
6 to 8

cups

crushed Fritos

1

cup

white sugar

1

cup

light corn syrup

1 1/4

cups

creamy peanut butter

1

cup

milk chocolate chips

1

cup

butterscotch chips
Instructions
Lightly butter a 13 x 9-inch baking dish. Set aside.

Measure the crushed fritos and place in a large mixing bowl. Set aside.

In a medium saucepan, over medium heat, combine the sugar and white corn syrup. Stir to form a sandy paste. Bring the mixture to a boil, stirring often. The sugar will dissolve and the mixture will become clear. Once the mixture is at a full rolling boil, bubbles that cover the surface, remove from the heat.

While the syrup mixture is still very hot, stir in the peanut butter. Stir until mixture forms a thick glossy sauce.

Pour mixture over crushed fritos in large bowl. Stir gently until fritos are completely coated. Pour the frito mixture into the buttered dish. With the back of a buttered spoon or using your buttered hands, firmly and evenly press mixture into prepared dish.

In a small bowl, combine the chips. Melt the chips in the microwave on high for 30 seconds, then stir. Repeat until just a few tiny pieces remain. Stir until the last pieces remain.

Pour the melted chips over the frito mixture, scraping the bowl with a rubber spatula. Smooth melted chips into an even layer with the back of an off-set spatula.

Let the bars 'set up' for a few hours before serving. Cut into bars.