Fried Chicken and Waffles
We may earn money or products from the companies mentioned in this post.
Fried Chicken and Waffles
Recipes for Fried Chicken and Waffles have been circulating for some time now. But like I've stated many times before, I'm always the last one on the culinary bandwagon! Last one on and first one off:) Anyone who has tried Fried Chicken and Waffles is already aware just how good this duo is. I think there are a few factors that go into a good plate of Fried Chicken and Waffles. Here are a few of our suggestions.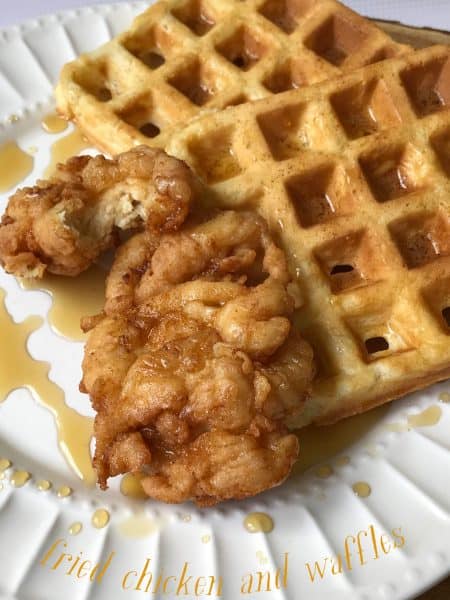 Chicken Cutlets
To make the best fried chicken and waffles in my humble culinary opinion is first, the chicken. I've made fried chicken and waffles twice. The first recipe I tried called for using a cut-up chicken with the skin on. Chicken legs, thighs, wings and the breast. The second recipe I tried, the one below (a Martha Stewart recipe) calls for thin, chicken cutlets. Even though the first batch of fried chicken and waffles turned out darn good, we preferred the thinner cuts of boneless, skinless chicken breast. When combined with the waffles and maple syrup, you have fantastic. As for the chicken breading or batter, we loved the recipe we used from Martha Stewart but if you have a family favorite breading or batter for chicken, heck use it!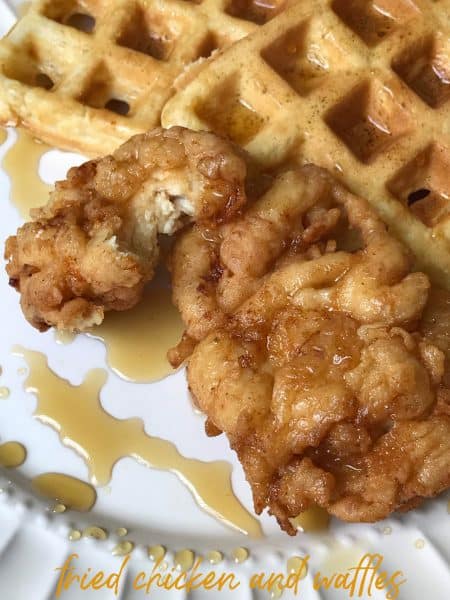 Waffles
Now on to the waffles. The waffles are important also because believe it or not they add lots of flavor. Thick waffles with the large squares soak up a lot more maple syrup. Therefore, big, fluffy Belgian Waffles are a must in my book. Leave the thin, skinny waffles for making ice cream waffle sandwiches with. God forbid, don't even think about using frozen waffles! Bring in the big, bad Belgian waffle maker for recipes such as this one. The waffle batter is another issue.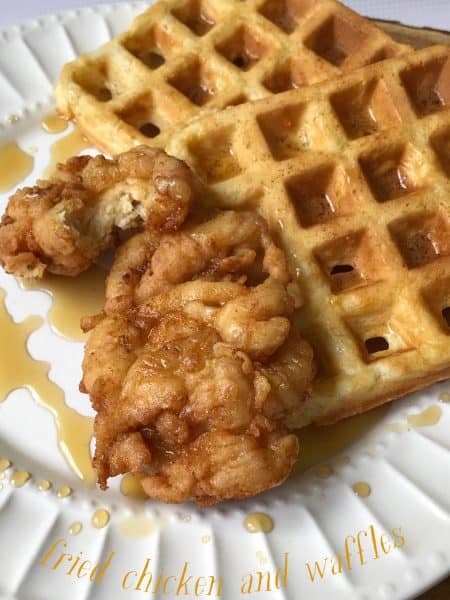 In our opinion, the waffles served with fried chicken definitely need to be made with a buttermilk batter. Buttermilk just does something to waffles. Find a good buttermilk waffle recipe or use the one below. Another option is to use a boxed, pre-made buttermilk complete Belgian waffle mix. Personally, I don't have a problem with that. I always keep a box of "complete" pancake and Belgian waffle mix in my house..just in case. Krusteaz Belgian Waffle Mix  is our favorite brand to use if not making a home-made, from scratch batter.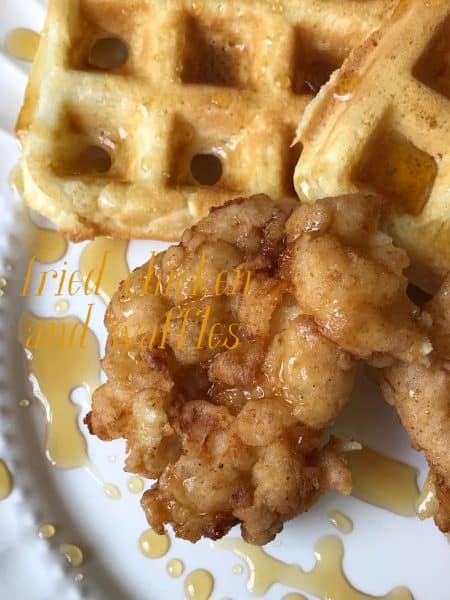 Maple Syrup
For me personally, this one is a no brained. It's all about the 🍁 maple syrup! And I'm not talking about that sugary, thick, caramel-colored stuff either. I'm talking about that clear, thin, sap that comes from maple trees. The stuff that gets boiled down and turns into liquid amber-colored gold. As with honey, the other liquid gold, maple syrup contains NO corn syrup, sugar, or artificial flavorings.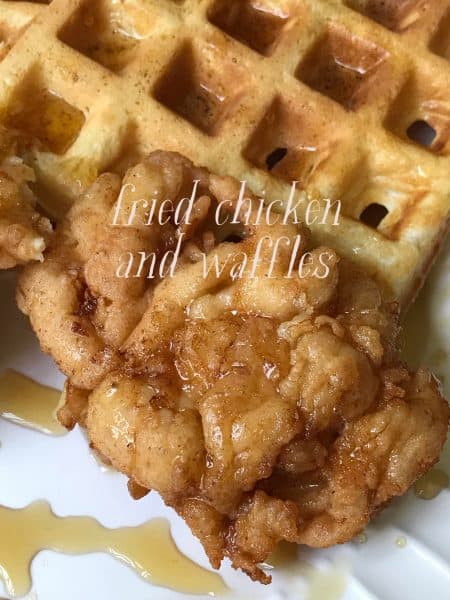 When serving fried chicken and waffles serve only 💯 pure maple syrup. I'm fortunate enough to live in Wisconsin, a state that is a huge producer of maple syrup. Wisconsin ranks 4th in the nation, behind Vermont. In fact, I can go about a mile down the road and pick up a jar of maple syrup from our good friend Andy. Now I understand that not everyone has an Andy, but try to purchase pure maple syrup. Read the label to make sure it's just maple syrup. The extra money spent will be well worth it.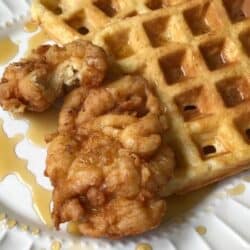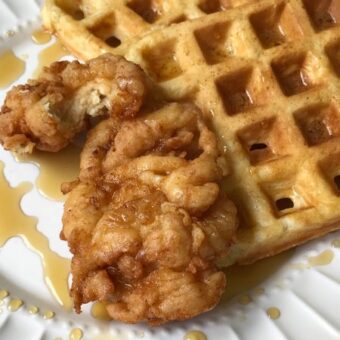 Fried Chicken and Waffles
Ingredients
2

large

eggs, lightly beaten

3

cups

low-fat buttermilk

1

stick

unsalted butter, melted and cooked

3

cups

flour

2 1/2

teaspoons

baking powder

1/2

teaspoon

baking soda

salt and pepper, to taste

1

cup

oil

4

thin

chicken cutlets, (about 1 lb total) patted dry

Pure Maple Syrup for serving
Instructions
Whisk together eggs, 2 cups buttermilk, and butter. In another bowl, whisk together flour, baking powder, baking soda, and 3/4 teaspoon salt. Transfer 1 cup flour mixture to a shallow bowl; fold rest into wet ingredients. Preheat a Belgian-waffle iron; brush with oil. Pour in 1 cup batter; spread, leaving a 1/2-inch border. Cook until golden brown, or until waffle maker signals ready. Repeat with remaining batter. Keep waffles warm in a 200° oven while making the chicken.

Heat oil in a large skillet over medium-high heat. Season chicken with salt and pepper; dredge in reserved flour mixture. Shake off excess. Dip in remaining 1 cup buttermilk, then again in flour; repeat. Cook in batches until golden brown and juices run clear. 4-5 minutes per side. Cooking time with vary according to thickness of chicken, temperature of oil etc.

Serve waffles and fried chicken with pure maple syrup.
Notes
Recipe Note: Recipe from MarthaStewart.com
Looking for more maple 🍁 recipes? Here are some favorites; Maple Chip Blondies, Maple Nut Fudge and Maple Walnut Cheesecake Tarts.