Fresh Tomatoes with Blue Cheese Dressing
We may earn money or products from the companies mentioned in this post.
Fresh Tomatoes with Blue Cheese Dressing
Aren't sure what to do with your over abundance of garden tomatoes? Try this easy recipe…Fresh Tomatoes with Blue Cheese Dressing is about as easy as it gets. Besides being super easy, it's super delicious. It's also one of my favorite ways to eat fresh tomatoes. I think that fresh tomatoes are best served as simple as possible. Homemade Blue Cheese Dressing is drizzled over fresh tomatoes. So simple, yet so delicious.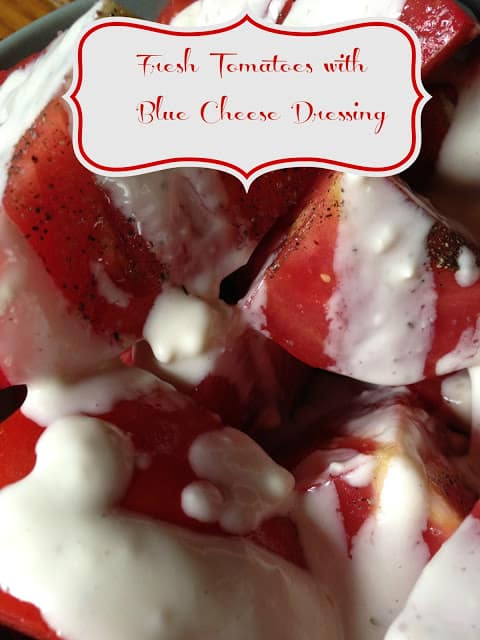 Summers Bounty
This recipe is fast, easy and delicious. A great way to showcase and serve fresh, sun-ripened, summer tomatoes. Tomatoes, like the eggplant are members of the nightshade family. It's the fruit of a vine native to South America. It took some time for tomatoes to be accepted because it was thought that, like various other members of the nightshade family, that they were poisonous.
Some tomato advocates however, claimed the fruit had aphrodisiac powers and in fact, the French called them pommes d'amour or love apples. It wasn't until the 1900's that the tomato gained some measure of popularity in the United States. Maybe due to that Roadside Diner, Blue Plate Special, the BLT. Today the tomato is one of America's favorite and versatile vegetables.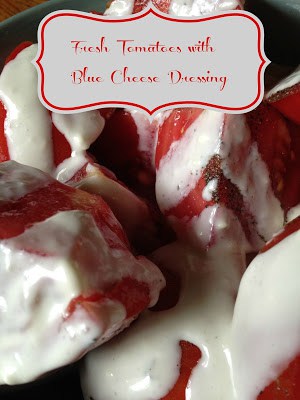 Homemade Tarragon Vinegar
Making your tarragon vinegar is very easy. Here is a fast, quick recipe that you'll really love. Wash 1 cup fresh tarragon sprigs, pat dry. Place sprigs in a sterilized jar. Using a wooden spoon, gently bruise the tarragon. Pour in 2 cups white wine vinegar. Cover jar and store in a cool dark place for 2 to 3 weeks to let flavors develop. Strain and discard tarragon. Pour into a sterilized decorative bottle. Add additional tarragon if desired. Store in a cool dark place for up to 6 months.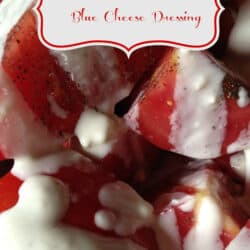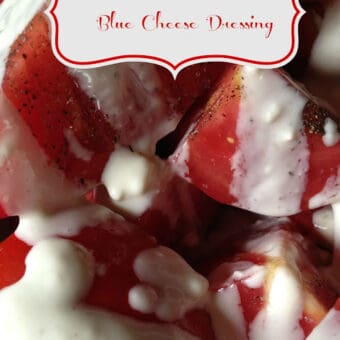 Fresh Tomatoes with Blue Cheese Dressing
Nothing better than vine-ripened fresh tomatoes.
Ingredients
4

large

ripe fresh tomatoes, cut into quarters

2

green onions, thinly sliced

salt and pepper, to taste

fresh grated Parmesan cheese

Blue Cheese Dressing

1/2

cup

reduced-fat sour cream or plain Greek yogurt

1/2

cup

reduced-fat mayonnaise

1/4

cup

crumbled blue cheese

3

tablespoons

buttermilk

1

green onion, white part only, thinly sliced

2

tablespoons

tarragon vinegar

1/4

teaspoon

black pepper
Instructions
In a food processor or blender, process all dressing ingredients until smooth.

Pour dressing into a small bowl, cover and stir. Refrigerate.

Before serving dressing, stir in a little buttermilk, if necessary to make dressing the consistency you like.

Place quartered tomatoes in a serving bowl, sprinkle with sliced green onions and season with salt and pepper.

Drizzle with blue cheese dressing.

Sprinkle with fresh grated Parmesan cheese

Dressing will keep for one week, refrigerated. Yield one cup.
Here is another easy and delicious recipe to try. Penne with Artichokes.
For this recipe we used Tarragon Vinegar. You can certainly make your own tarragon vinegar by following the recipe above. We went with Heinz Vinegar