Fresh Peach Kuchen, German Peach Cake
We may earn money or products from the companies mentioned in this post.
Fresh Peach Kuchen, German Peach Cake
Fresh Peach Kuchen came about this past week when I took a drive to Oshkosh WI to spend the day with my son Bob and his wife Kim. With both being teachers, I don't see a whole lot of them throughout the school year but once summer arrives, we try and make a point to get together several times during the few short summer months. Kim works part-time at the Antique Mall in Oshkosh and on Father's Day they had a big shindig.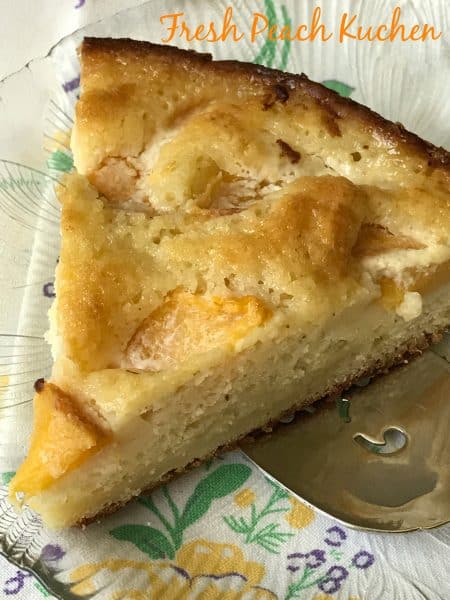 Too make a long story short, Kim was given of a box of fresh peaches. I would call that 'gifted' a half of a box of fresh peaches. Since we live in a cold climate State, peaches, especially fresh peaches, are a rare and tasty gift. Sure, we can go the grocery store and buy fresh peaches. Sometimes if we're lucky or we leave them sitting out on our window sills long enough, they may even ripen and taste good! So, when Kim asked me if I wanted any fresh peaches, I said, "Hell, yah!"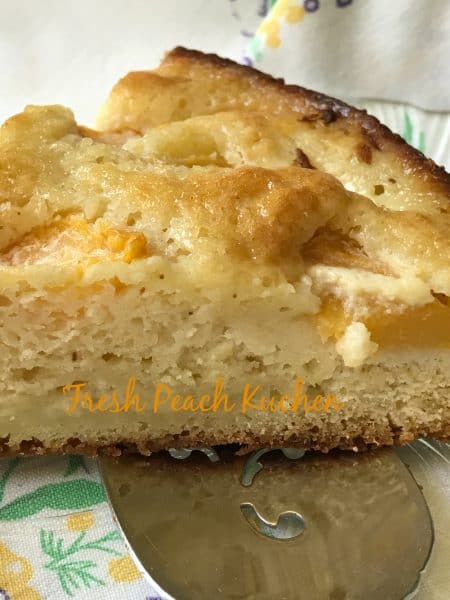 Peaches in a Crate
When I was growing up, I remember my Dad bringing home crates full of peaches from his job working in one of the many paper mills located throughout the Fox Valley, back in the day. Peaches came in wooden crates with the company label on the ends of the crates. I can only imagine how much those wooden crates, with label, would sell nowadays. The crates probably held a few dozen of peaches, some were wrapped in tissue paper and some were not. They were large, fuzzy, juicy and I loved them.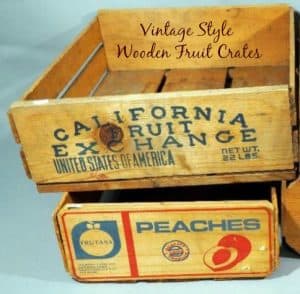 The Peach State
Of course we can't mention peaches without mentioning Georgia, the Peach State. My first born grand-daughter Willow was born in Georgia, and she is our official "Georgia Peach." Georgia is called the Peach State, but the fruit has been part of our history long before there was a Georgia. Franciscan monks introduced peaches to St. Simons and Cumberland Island in the 16th century. Cherokee Indians also grew peaches in the 18th century.
Peach production exploded after the Civil War, when Georgia farmers were looking for alternatives to cotton. They were so successful that in the following decades Georgia earned the nickname "the Peach State." increased railroad lines and the refrigerated boxcar meant faster shipment to markets and pushed peach production to 8 million bushels a year by 1928.  The peach became Georgia's official state fruit on April 7, 1995.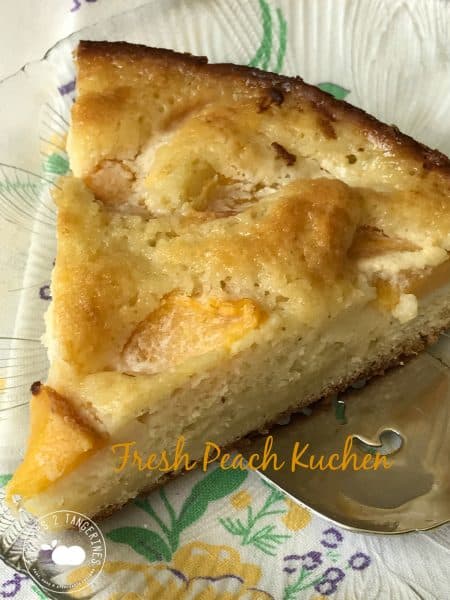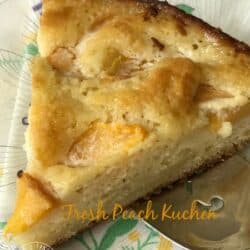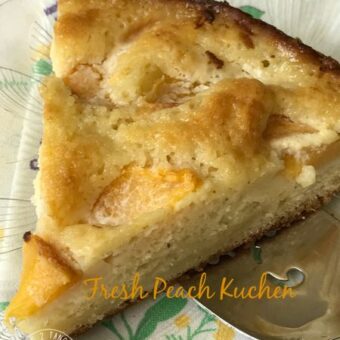 Fresh Peach Kuchen, German Peach Cake
A delicious fresh peach cake.
Ingredients
1-1/2

cups

all-purpose flour

3/4

cup

sugar

2

teaspoon

baking powder

1/2

teaspoon

salt

1/8

teaspoon

nutmeg

1/4

cup

cold butter

,

cut into small pieces

1/2

cup

whole milk

1

egg

4-6

large

,

ripe peaches

For the Custard Cream

1

cup

heavy cream

2

teaspoon

flour

1/2

cup

sugar

1

egg

1

teaspoon

vanilla extract

pinch

salt
Instructions
Preheat the oven to 400˚F

Carefully peel peaches. Slice.

Combine flour, sugar, baking powder, salt, mace in a mixing bowl and stir well with a whisk.

Add the cold butter pieces and incorporate to blend well until it becomes fine crumbs.

In a small mixing bowl, whisk milk and egg well. Pour the milk mixture over the flour mixture. Mix with a fork just until it becomes wet.

Grease a 9-inch spring form pan and spread the batter on the bottom of the pan.

Arrange the peach slices on top. Bake in the oven for 15 minutes.

Meanwhile, make the custard cream. In a small mixing bowl, combine 1/4 cups of cream with flour and whisk together to get rid of big lumps. Add the rest of the cream, sugar, egg, vanilla, and salt. whisk well to mix.

Take the cake out of the oven and pour the cream mixture on top. Put the cake back in the oven and reduce the heat to 350˚Continue to bake for 35-40 minutes.

When the cake top is puffed, and the edges are deep golden and starting to separate from the pan, the cake is done. Cool in the pan for 15 minutes, then remove it from the pan and let it cool completely.
Recipes On Tap
Here are a few of our favorite recipes that will be perfect to serve at your upcoming 4th of July celebrations. Dill Potato Salad, Twenty-four Hour Salad, Simply Sweet Watermelon Salad and lastly Red and Blue Krispie Treats. Enjoy!
To make this recipe special we used Land o Lakes Whipping Cream