French Onion Soup
We may earn money or products from the companies mentioned in this post.
French Onion Soup
There are three secrets to making delicious French Onion Soup, the first is long, slow cooking to develop the onion and garlic flavors. The second is to use French bread with a sturdy crust, so that the slices of bread stay intact as they float on top of the soup and the third, use home-made beef broth for the base of  your French Onion Soup for the most robust flavor.
Beef Stock
Making your own beef stock isn't as difficult or as scary as one might think. All you really need is some meaty beef bones which you can obtain at your local butcher shop, in the meat section of most grocery stores or simply save your own beef bones, freeze them until you have enough to make stock. Second you'll need some water and lastly carrots, onions, celery and spices, to flavor your stock. All soups benefit from homemade broth or stock but especially French Onion Soup where the base or stock is forefront.
Venison Stock
If you would like to make French Onion Soup with a more earthy, meaty, rustic taste you can substitute Venison Stock in place of the beef stock in this recipe. My hubby likes his French onion soup made with the venison stock vs the beef stock for that reason. Beef, venison, chicken, and turkey stock are basically made the same way. This summer save your ice cream pails so when winter rolls around again, you can make and freeze stock.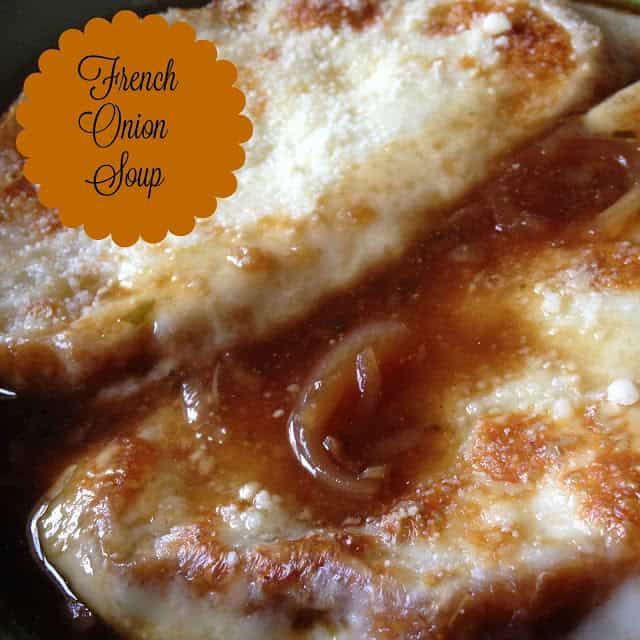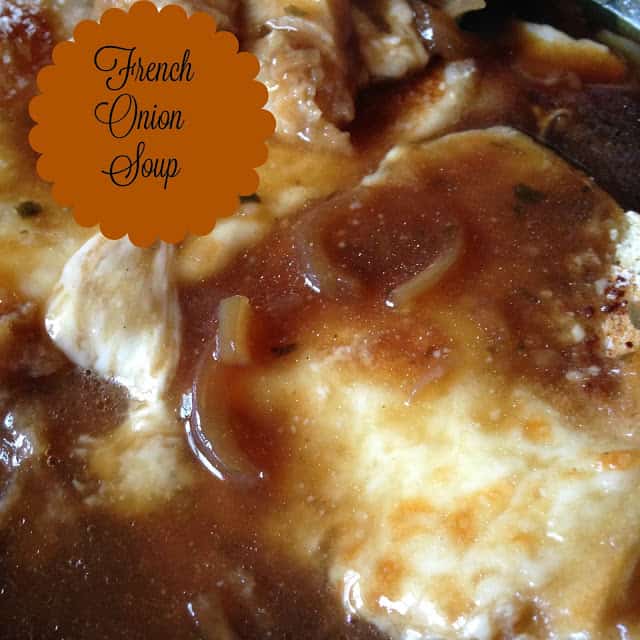 Kitchen Tip:
Stock up on cheesecloth when it goes on sale at large, discount stores (Target/Walmart) or pick it up at your local Dollar Tree. I love the Dollar Tree for stuff like that. You can find some of the handiest little gadgets at the Dollar Tree!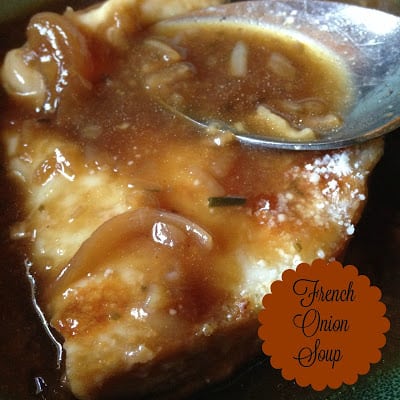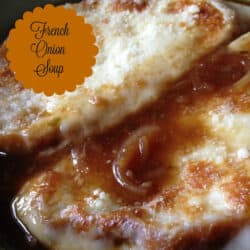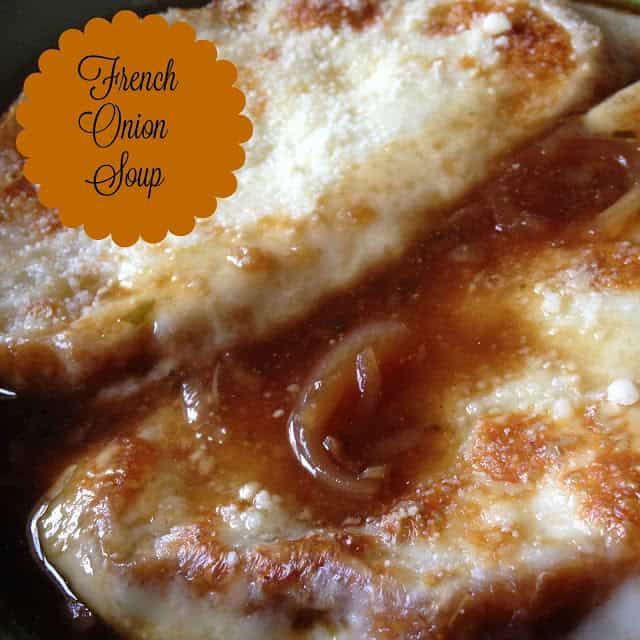 French Onion Soup
Hot cheesy, and so delicious!
Ingredients
1

tablespoon

butter

1

tablespoon

olive oil

3

large

sweet onions, thinly sliced and separated into rings

2

cloves

garlic, minced

4

cups

beef broth

1/2

cup

dry white wine or an additional 1/2 cup beef broth

1

tablespoon

Worcestershire sauce

1/4

teaspoon

each salt and pepper

6

thick

slices French bread

3

slices, 1 oz each

Havarti sliced cheese

Parmesan cheese, freshly grated
Instructions
In a large nonstick saucepan, heat butter and oil over moderately high heat.

Add onions and garlic.

Lower the heat to low and cook for 30 minutes or until onions are very soft and golden brown, stirring often.

Add the broth, wine, Worcestershire sauce, salt and pepper.

Bring to a boil. Lower the heat and simmer, covered, for 20 minutes.

Meanwhile, preheat broiler. Arrange bread on a baking sheet.

Broil 4 inches from heat for 30 to 60 seconds or until toasted.

Top each bread slice with a half slice of cheese.

Broil for 1 minute more or until cheese melts.

Ladle soup into bowls; float bread on top of soup.

Sprinkle freshly grated Parmesan cheese on top.

Serve immediately.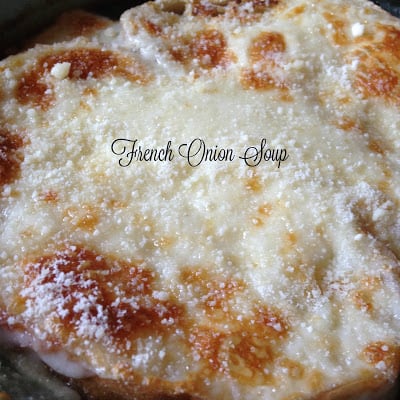 For this recipe we used cheese from Emmi Roth Cheese