Fluffernutter Cookies
We may earn money or products from the companies mentioned in this post.
Fluffernutter Cookies
Having grown up in the Midwest, specifically Northeastern Wisconsin, in the 60's mind you, I'd never even heard of a fluffernutter. Having lived a somewhat sheltered life, I was lucky I knew what a s'more was, let alone a fluffernutter. Until today, I'd never, ever tasted a fluffernutter. Both the cookies and fluffernutter sandwich are super delicious and definitely worth experiencing. If you are a fan of peanut butter cookies, a fan of cookies in general or you're just having a bad day, make a batch of fluffernutter cookies.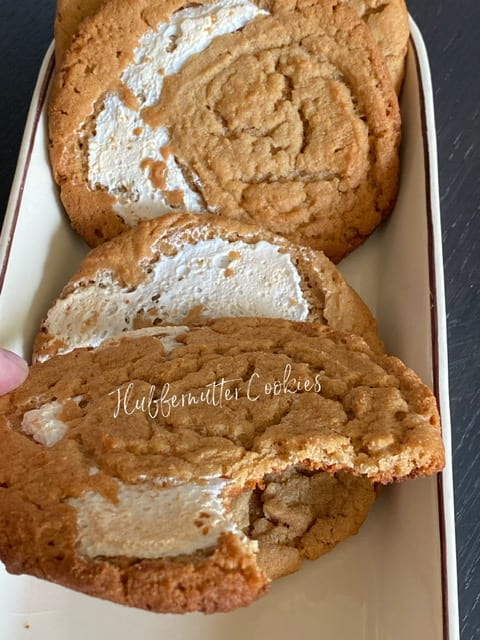 Marshmallow Fluff
I couldn't have imagined eating a peanut butter sandwich with marshmallow fluff on white bread?! A Fluffernutter is a sandwich created in 1961-ish by Durkee-Mower, Inc., the company responsible for the original Marshmallow Fluff. The sandwich has marshmallow fluff spread on one slice of bread and peanut butter on the other. Put them together and you have a Fluffernutter. Surprisingly, this concoction works!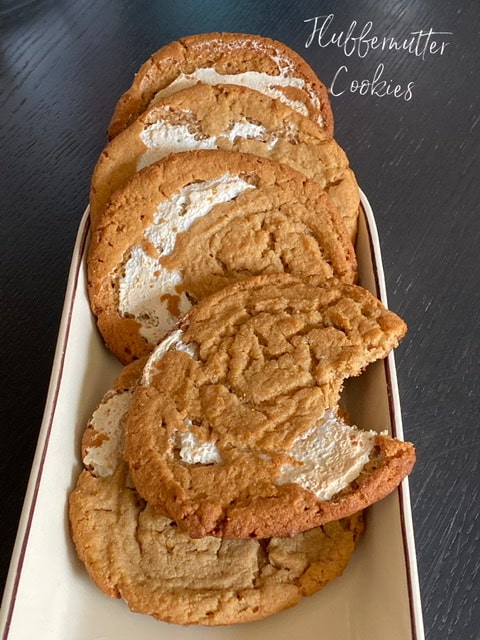 Marshmallow Fluff has been produced using the same basic  batch process for over 100 years. It's the only marshmallow fluff/creme made this way. This method is what makes Marshmallow Fluff so fluffy, white, smooth and delicious. It's the key to making delicious recipes such as Fudge, Whoopie Pies, Frosting and much more.

What is a Fluffernutter?
A Fluffernutter Sandwich is made with two slices of white bread layered with peanut butter and marshmallow fluff. It's not just a regular sandwich – but a Fluffernutter Sandwich! There is even a song written about this famous New England sandwich. If you've never had a fluffernutter sandwich try one today and then make a batch of fluffernutter cookies! Make it a Fluffernutter Day at your house today! Hey, wait a minute! Mark your calendar…National Fluffernutter Day is October 8th. Yay!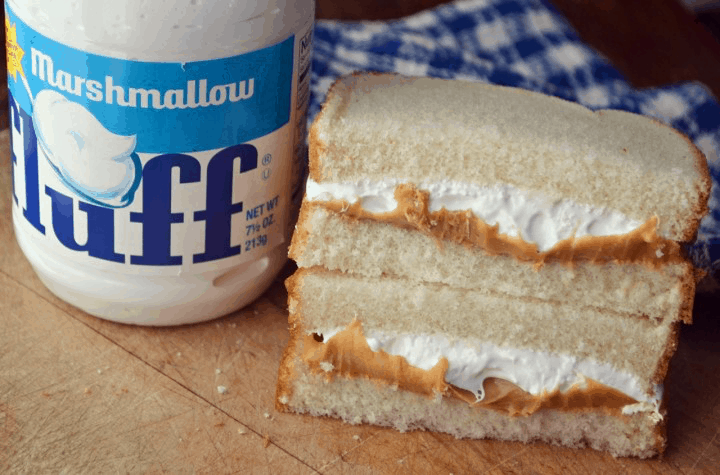 Here's what you'll need to make fluffernutter cookies.
All-Purpose Flour
Baking Soda
Salt
Butter
Peanut Butter
Brown Sugar
Eggs
Vanilla Extract
Marshmallow  Fluff
The directions are basically the same as for making peanut butter cookies, except for adding the marshmallow fluff part. That's the only tricky part, and it really isn't that tricky. To make things easier, use a medium size cookie scoop. Fill the scoop halfway with cookie dough. Press the dough into the bottom and up the sides of the cookie scoop.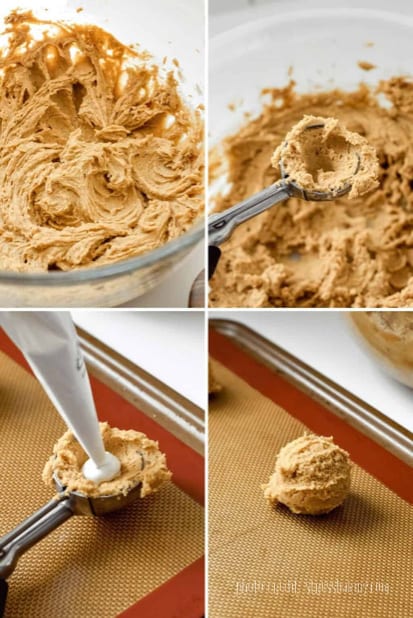 Now pipe or spoon a teaspoon or so (I used a long-handled iced tea spoon because that's what I grabbed outta my messy silverware drawer and it worked perfectly), of marshmallow fluff into the center. Top with more dough to fill the scoop. Place each ball of dough onto prepared baking sheets. Only place 6 dough balls on the cookie sheet, evenly spaced apart. This will allow the cookies to bake and spread out evenly. The cookies back up quite large which is what you want. Crispy on the outside but chewy on the inside.
Brief History
Unique and unusual the Fluffernutter sandwich is a favorite of the New England states including New York and Pennsylvania. Generations of New Englanders fondly associate Marshmallow Fluff with their childhood as it has been a childhood favorite for many raised in the northeastern United States. The Fluffernutter sandwich is more than a beloved memory of childhood, it is a local tradition.  It's as traditional a food of New England as baked beans and clam chowder.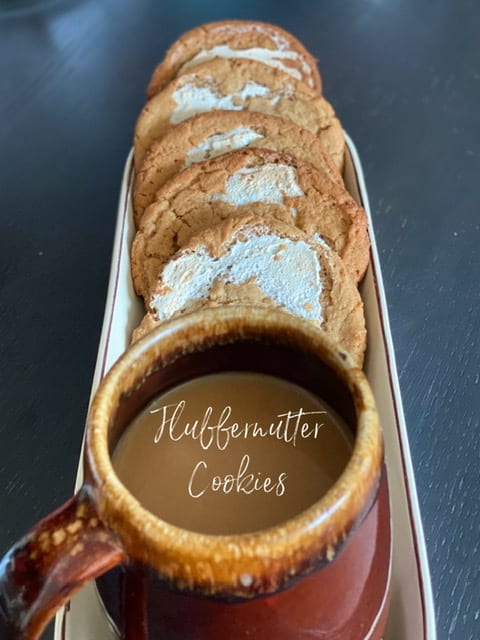 You might be surprised to learn that Marshmallow Fluff is still made by the Durkee-Mower company in Lynn MA. In the small town of Somerville MA, hard-core Fluff Fans can celebrate Fluff pride with the annual Fluff Fest. Here is a short list of the Best Food Festivals in New England. A Fluffernutter is the pride and joy of New England among the young and old. A lunchbox and brown bag favorite.
Recipe Credit
I really wish that I could take credit for this recipe but I cannot. So I will do what is only right and give credit where credit is due. Fluffernutter Cookies is the creation of a fabulous blog called: Stress Baking Being the cookie consumption that I am and somewhat of a cookie affection I can say with complete certainty that these are the very best homemade cookie I've ever made and/or eaten…ever! And I've eaten Tons of Cookies in my 60+ years:) I mean a Ton!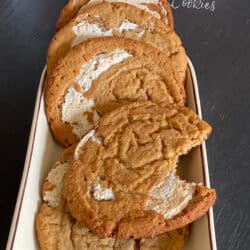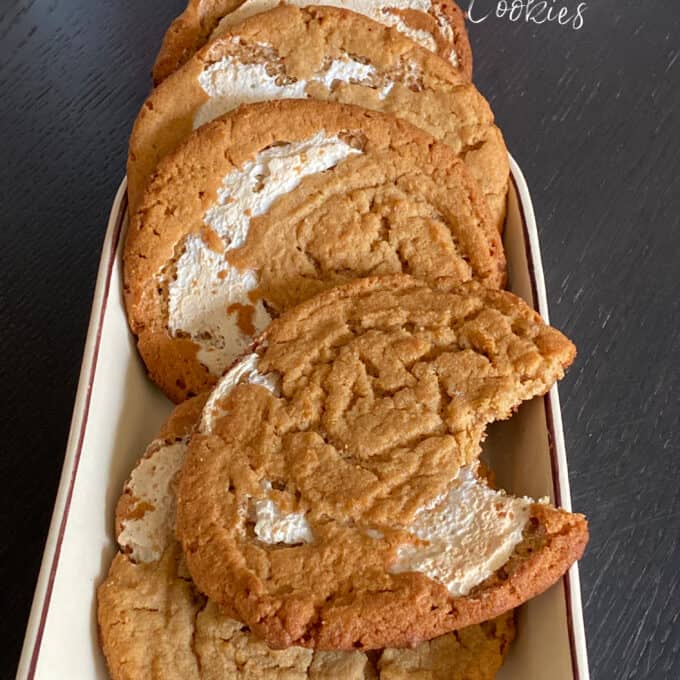 Fluffernutter Cookies
One of the best cookies I've ever tasted!
Ingredients
1 1/3

cups

all purpose flour

2

teaspoons

baking soda

Pinch

of salt

16

tablespoons

butter, room temperature

2

cups

creamy peanut butter

2 2/3

cup

light brown sugar

2

eggs, room temperature and slightly beaten

2

teaspoons

vanilla extract

1/4 to 1/3

cup

marshmallow fluff

,

(depends on how much you add to each cookie)
Instructions
In a medium bowl, whisk together flour, baking soda, and salt.

In a large bowl, combine butter, peanut butter and brown sugar. Best on medium speed until well combined.

Add egg and vanilla extract. Beat to combine.

Mix together dry ingredients. Add to creamed mixture and beat again to combine until you have a thick dough.

Cover the bowl with plastic wrap and place in the fridge for at least 1 hour.

Preheat oven to 375°F. Line two baking sheets with parchment paper and set aside.

Use a medium cookie scoop and fill it halfway with dough, pressing it into the bottom and up the sides. Spoon a teaspoon of marshmallow fluff into the center, and then top with more dough to fill the scoop. Place each ball of dough onto prepared baking sheets, with no more than 6 on each, evenly spaced out with plenty of room for the cookies to spread.

Bake for 10-12 minutes until the cookies have spread and started to crinkle on top. Baking times will vary per oven temps. Remove from the oven. Carefully move to wire racks to cool completely
Here are a few of our favorites: