Fish House Punch
We may earn money or products from the companies mentioned in this post.
Fish House Punch
This is called Fish House "Punch" for a reason! This punch packs a real Wallop. It should come with the Warning: "Beware: Highly Potent!" Make sure there are plenty of designated drivers if you plan to serve this "Punch" at your next party. The first time had this punch it was in the early 80's. Now before I go on with my story, I need to say one thing, weren't the 80's and 90's great!! What a fantastic era to live through…and survive.
On With My Story
Anyway, I was at my husbands Christmas work party. His Christmas party was being held at a local hotel. The company he worked for had rented the banquet hall. All of the employee's and their spouses had (paid) rooms for the night. After happy hour, dinner and many boring speeches later,
a band was going to start to play and dancing was going to begin. During this time, just before the band was scheduled to play, Fish House Punch was served.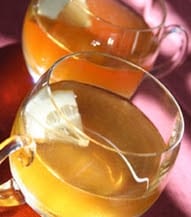 Well, Well, Well,
I had my first plastic cup of punch, then a second and a third. After my third cup of  'punch,' things started to become very fuzzy. The next morning  I woke up with my head banging and the music still playing in my head. From the bits and pieces that I could remember, I had a pretty darn good time! But…I never did find the stilettos or sequined jacket that I had been wearing earlier in the evening. I wonder whatever happened to those..
Fish House Punch is delicious, goes down nice and easy and packs one hellava punch!  Looking for more cocktails that pack a punch? Try this Warm Up Scandinavian Style with a Glogg. For this recipe we used Southern Comfort that New Orleans favorite.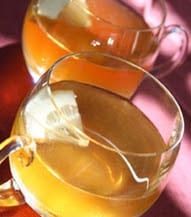 Fish House Punch
This punch packs a real "punch"
Ingredients
4

6 oz cans

frozen limeade

2

6 oz cans

frozen lemonade

4

quarts

water

2

750-ml bottles

white rum

1

750-ml bottle

dark rum

1

cup

apricot brandy

1

cup

southern comfort

juice from 4 fresh limes

2

lemons sliced, for garnish

3

limes sliced, for garnish
Instructions
Mix all ingredients in a large bowl. Chill for at least 2 hours.

To serve: Pour punch over a block of ice in a punch bowl.

Garnish: Float fresh lemon and lime slices on top of punch.