Favorite Slow Cooker French Onion Soup
We may earn money or products from the companies mentioned in this post.
Favorite Slow Cooker French Onion Soup
Favorite Slow Cooker French Onion Soup is so easy and delicious. The slow cooker does all the work for you, even eliminates the tedious job of caramelizing the onions. After long hours on low heat, the sliced onions become soft and have a jammy consistency with a rich, dark brown color. This soup will need to be started early in the day and finished off later on. You will be rewarded with eight hours of delicious smells.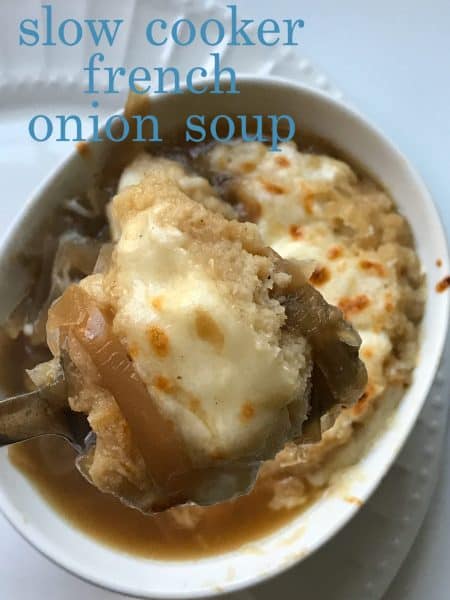 Perfectly Delicious
Get ready for this slow cooker French onion soup to be the most requested soup in your home. In fact, bring a crock-pot of this soup to the next pot luck and see how fast it disappears. Do you have New Year's Eve Plans?? Bring a slow cooker filled with Slow Cooker French Onion Soup and watch it disappear. If you do plan on bringing French onion soup to the New Years Eve Festivities, below you'll find a few things to remember when transporting soup.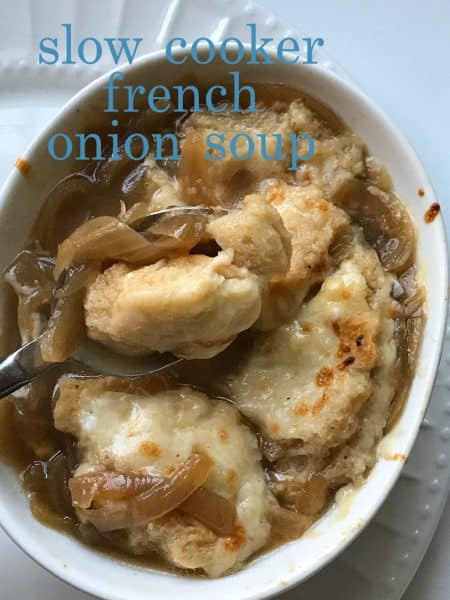 Things To Remember
When transporting soup that will be heated and served from a slow cooker, ladle the soup into a gallon or larger size ziplock plastic baggie. Place the filled baggie in the slow cooker and transport the soup to your destination. If you're planning on bringing this delicious French Onion Soup, and I suggest that you do, bring along with you a large 4 cup size bag of shredded mozzarella cheese. Most super market grocery stores carry garlic toasts, so pick up a large package. Use them to float on top of your soup.
When you get to your destination, pour the contents from the baggie into the slow cooker, turn it on high, and let it work it's magic. Within an hour to hour and a half, the soup should be plenty hot enough to serve. Now as far as the slow cooker goes. There are a few options here that you can do. Buy your hostess a brand new slow cooker, re-gift one of your own slow cookers, pick-up a slow cooker at a thrift store and re-gift it (make sure it works:) Or simply bring home a dirty slow cooker. Personally, I've done all four options.
This soup is made with: Sweet Vidalia Onions, Swanson's Beef Broth  and Emmi Le Gruyere Cheese.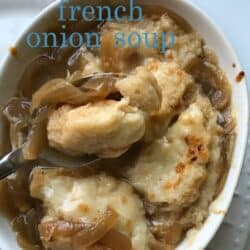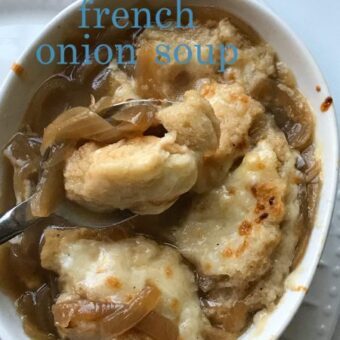 Favorite Slow Cooker French Onion Soup
Ingredients
1/4

cup

unsalted butter

6

sprigs

fresh thyme

2

bay leaves

16

cups

vertically sliced large sweet onions

1

tablespoon

sugar

6

cups

unsalted beef stock, homemade or pre-made

2

tablespoons

red wine vinegar

1 1/2

teaspoons

kosher salt

1

teaspoon

black pepper

24

1/2-inch

slices French baguette, buttered and toasted

1 1/4

cups

shredded Gruyère or mozzarella cheese
Instructions
In the bottom of a 5 or 6 quart slow cooker, add butter, thyme sprigs bay leaves, sliced onions and sugar. Turn slow cooker to low and cook for 8-10 hours.

To the onion mixture in slow cooker, add beef stock, red wine vinegar, salt and pepper. Heat on high until hot. Meanwhile place oven rack at least 6 inches under broiler. Preheat broiler. Butter one side of baguette slices. Place slices, buttered side up on baking sheet. Place baking sheet under broiler. Broil slices just until toasted.

To Serve: Ladle hot French onion soup into oven-proof soup bowls. Float one or two slices of toasted baguette slices on top of soup. Sprinkle shredded cheese over the top. Place under the broiler until the cheese is melted and bubbly.
Notes
Recipe Note: 16 cups equals roughly 5 lbs of onions.
Recipes On Tap:
More Recipes: Twenty-four Hour Salad is always a party favorite and start 2020 off right with a few "good luck" tips found here: Lentils and Ham New Year Traditions. Recent Recipe: Ground Turkey and Spinach Lasagna