Favorite Sloppy Joes
We may earn money or products from the companies mentioned in this post.
Favorite Sloppy Joe's
Favorite Sloppy Joe's a.k.a.Spanish Hamburger have made an appearance at parties, football games or when a fast and quick dinner is on the menu.
We like to eat favorite Sloppy Joe's a.k.a. Spanish Hamburger with potato chips but you can serve Spanish hamburger on your favorite buns or rolls.
Sloppy Joe's vs Favorite  Spanish Hamburger
When I was growing up Aggie always referred to Sloppy Joe's as Spanish Hamburger. In fact, I never knew that the two were one in the same until years later when I was first married. My brother and his new bride were going to have a house warming party and I offered to bring a crock-pot filled with Spanish hamburger. My new sister-in-law said, "That sounds really good, I've never heard of Spanish hamburger before." I thought that was odd but didn't say anything to her.
Country Girl
After all, she was what we called a "country girl" meaning someone who was born and raised in the "country" and we, my brother and sisters, were "city girls." Yes, you guessed it, we were born and raised in the "city." My sister-in-law had said she was going to make Hello Dolly bars, and I had never heard of those either. (with the same explanation as stated above but only in reverse)
You Say..
When we got to the party I placed my crock pot on the table next to the other crock pots and my sister-in-law said to me, "I can't wait to check out your Spanish hamburger!" When she opened the crock pot she took one look inside and said, "You made Sloppy Joe's!" and I said, "No I didn't, I made Spanish Hamburger." We all had a good laugh over that.
What's In A Name
Well come to find out, her 'Hello Dolly Bars' are what my family calls 'Seven Layer Bars.' Funny how different families have different names for the same thing. This recipe for Sloppy Joe's a.k.a. Spanish Hamburger is fast, easy and delicious. Made with only eight ingredients, it has remained a family favorite for as long as I can remember. I like to eat my Spanish Hamburger with a big handful of potato chips, another influence of Aggie's.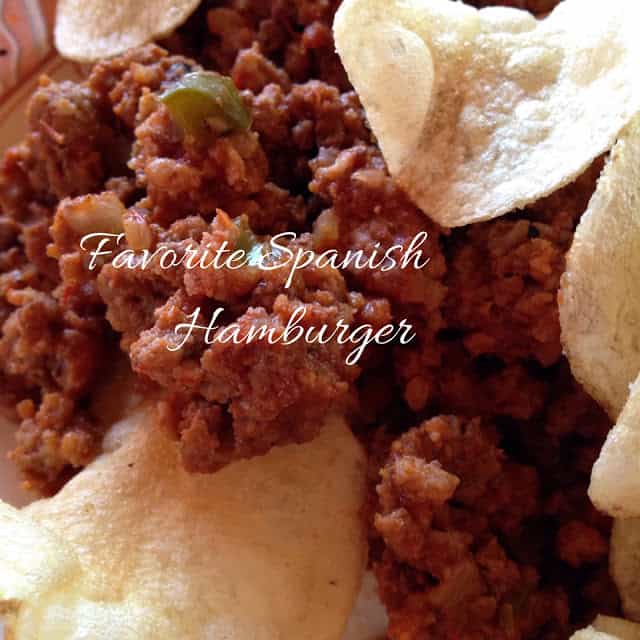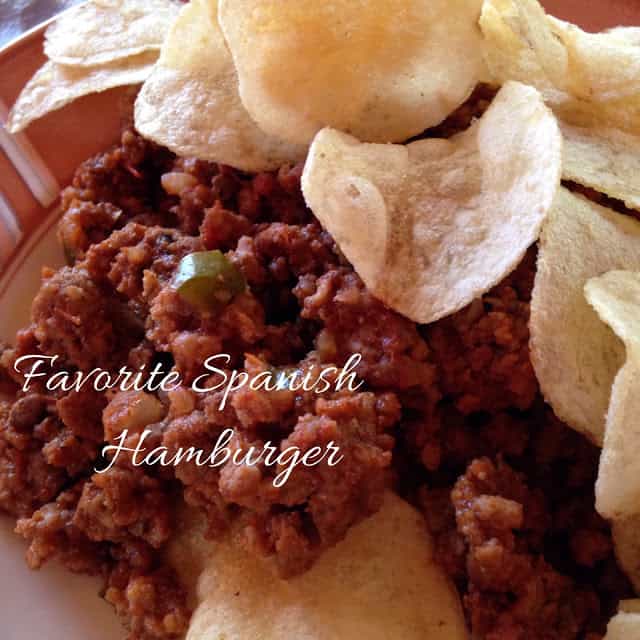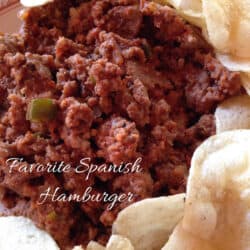 Favorite Sloppy Joes
Favorite of mine with potato chips!
Ingredients
2

pounds

ground beef

1/2

cup

chopped onion

1/2

cup

chopped green pepper

1

12 oz jar

chili sauce

1

12 oz jar

water

1/2

cup

ketchup

1/4

cup

prepared yellow mustard

1 to 2

tablespoons

chili powder

salt and pepper, to taste
Instructions
In a large skillet, cook beef, onion and green pepper over medium high heat until meat is no longer pink; drain. Stir in chili sauce, water, mustard, ketchup, chili powder, salt and pepper. Simmer on low for 30 minutes to 1 hour or until heated through. Or transfer meat mixture to a slow cooker.

Cover and cook on low for 4 to 6 hours or until flavors are blended.

Serve on hamburger buns or with potato chips.