Farm Stand Produce Has Arrived
We may earn money or products from the companies mentioned in this post.
Fresh Farm Stand Produce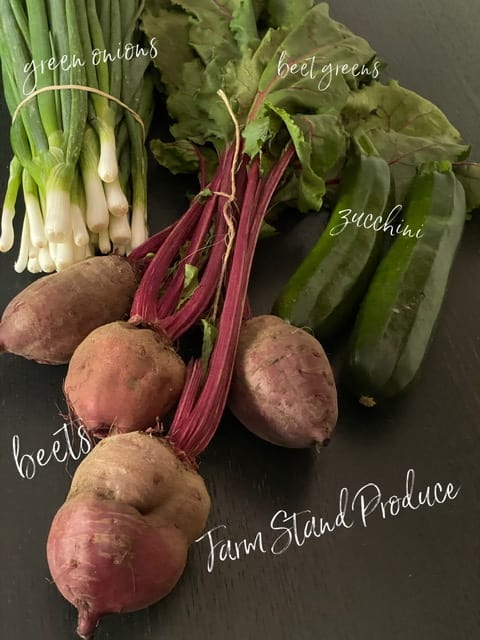 Farm Stand Produce Has Arrived!
It's that time of year again! Time to hit the farm stands and farmer's markets. This past week was my first trip back to my favorite farm stand since last October. Living in Wisconsin where local and fresh produce is limited due to our long winter's, I really look forward to this time of year. On my first trip to the farm stand this year resulted in a huge bundle of green onions, a large bunch of beets and two zucchini. The zucchini was shredded, bagged up and put in the freezer. Later on I'll bake bread, cake and make zucchini fritters. The green onions were set aside to be used in a variety of recipes. My hubby likes to eat green onions raw dipped into salt. Now, what about those beets.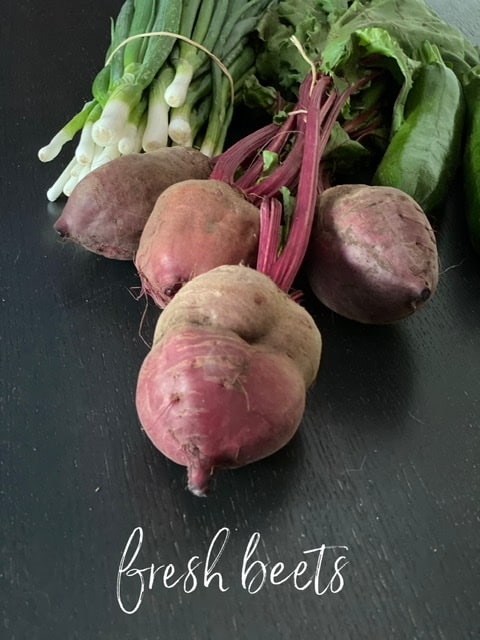 Beet Info
Beets are commonly known as the garden beet. This firm, round, root vegetable has lefty green tops. The green tops or beet greens are also edible, highly delicious and very nutritious. The most common color for beets, referred to as "beetroots" in the British Isles, is a deep, garnet red. (Some of my favorite colors are inspired by vegetables, for instance beets and eggplant but that's a different post altogether.) However, beets can range in color from deep red to white. The most unusual color being the Chioggia, which is also called "candy cane." It has concentric rings of red and white.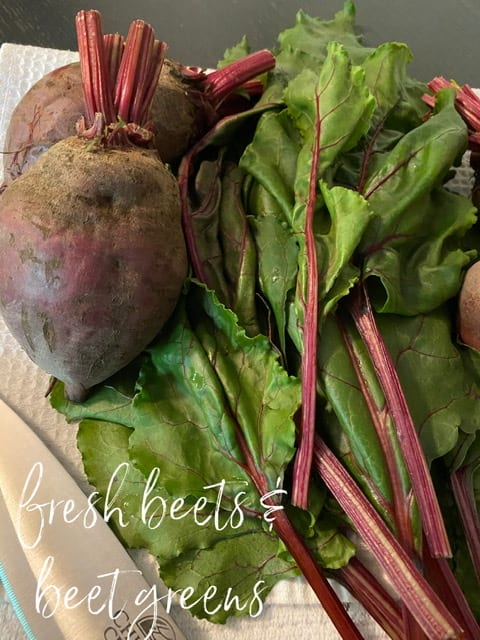 Availability
Beets are available year-round and should be chosen by their firmness and smooth skins. Here in Wisconsin, farm fresh beets are available from mid July through October. Small or medium beets are generally more tender than the larger ones. If beet greens are attached they should be crisp and bright. Beet greens should be removed as soon as you get them home because they leach moisture from the bulb. Leave about 1 inch of the stem attached to the beet end to prevent loss of nutrients and color during cooking.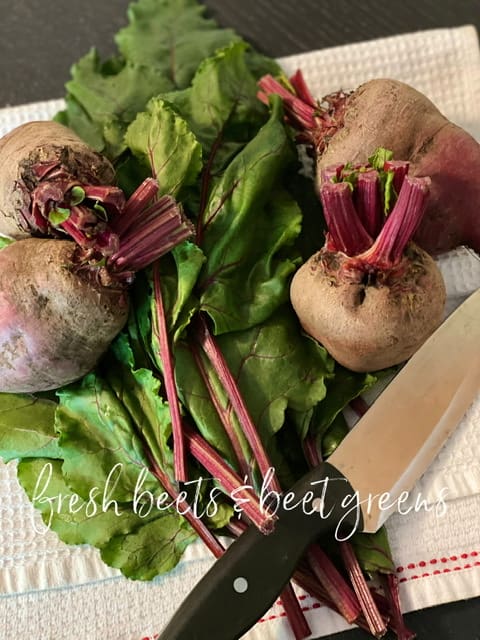 Storage
Store beets in a plastic bag in the refrigerator for up to 3 weeks. Just before cooking, wash beets gently so as not to pierce the thin skin, which will cause nutrient and color loss. Peel beets after they've been cooked by gently "rubbing" the skin off. In addition to the garden beet there is the leaf beet better known as Swiss chard and the sugar beet, which is a major source of sugar. To store beet greens, first remove greens from the beet root. Wash and allow to dry or shake off excess water. Wrap greens in dry paper toweling and place in a ziplock baggie. Place in vegetable drawer and store up to two weeks. However, for the best possible flavor, use beets and beet greens within the first 2 to 5 days of purchase.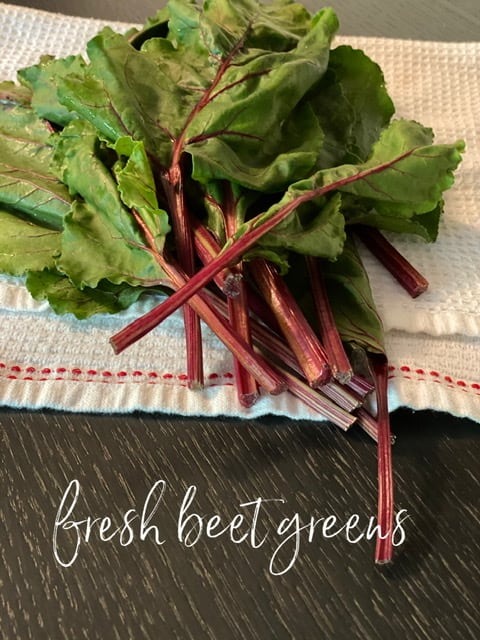 Nutrition
Both beets and beet greens are very nutritious. In fact you could say they're nutritional powerhouses. Beets are packed with essential nutrients and vitamins. They're low in fat, cholesterol and calories. Beetroots are a great source of fiber, vitamin B9, manganese, potassium, iron, and vitamin C. Beets and beet juice have been associated with numerous health benefits, including improved blood flow and lower blood pressure.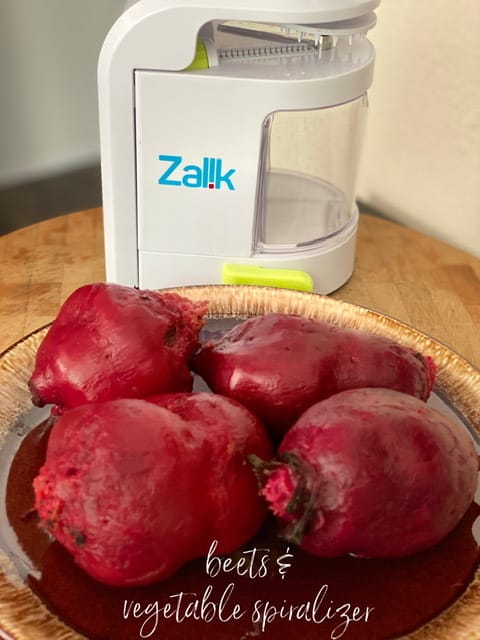 Eat the Greens
Don't throw out those beet greens! Beets are more popular than their leaves but the beet leaves contain a much higher proportion of nutrients and vitamins than the beet itself. Beet greens have purple veins and are a type of leafy green vegetable, much like spinach, kale and collard greens. Beet greens are highly nutritious and are not only low in calories but contain zero saturated fat and zero cholesterol. Did I mention that they're high in fiber too. Beet greens are rich in copper, manganese, iron and calcium. They contain vitamins K, C, A and B6.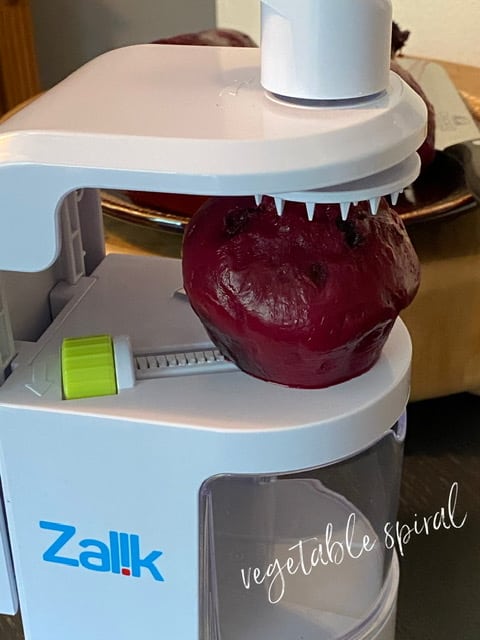 Beet Greens
This was my first time preparing and eating beet greens. I have to admit, they're pretty darn good! Far better than I had anticipated, that's for sure. Of course the hubby turned up his nose but that was to be expected. Some, if not all vegetables are best prepared as simply as possible, at least in my humble culinary opinion. That's why I went with this recipe from the Food Network website. Fast, easy and super delicious. Beet greens are sautéed with minced garlic in a small amount of olive oil until wilted. The juice and zest from one orange adds a nice light, citrusy pop of flavor. Red pepper flakes add just a snap of heat. Super good!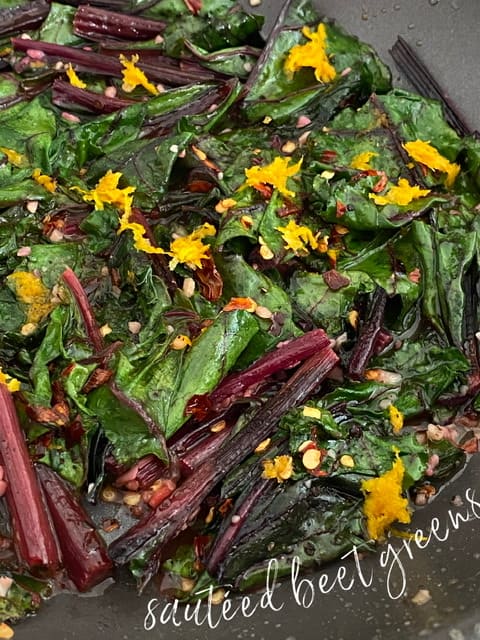 Spiralizer
Last summer I purchased a vegetable spiralizer. Per usual, it sat in the back of my kitchen cabinet until just recently. That's when I decided to dig it out and give it a try. As I've stated before, I'm the last one to jump on the newfangled bandwagon and that can be said once again. "A Day Late and A Dollar Short" is one old saying that applies here. Another would be, "First One to the Party and Last One to Leave." Anyway, I purchased a small vegetable spiralizer on Amazon by Zalik. Not knowing anything about spiralizers or how often I would use it, I decided to go with the one that I felt was the best bang for my buck. I wasn't disappointed with this 4 in 1 Zalik vegetable spiralizer for around $32.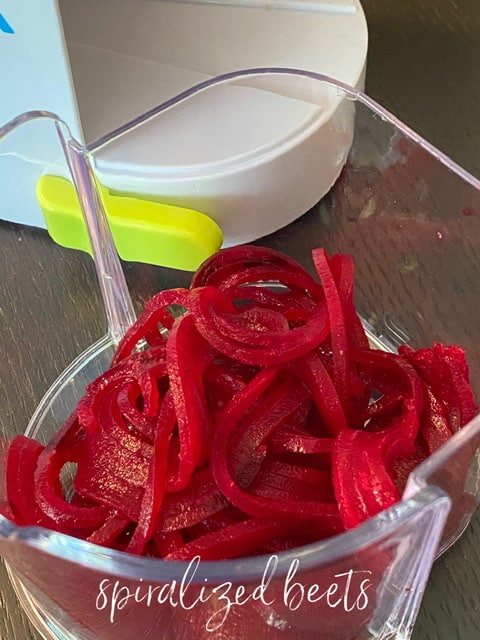 Zalik
Before purchasing this easy to use, light-weight spiralizer, I had considered purchasing a spiralizer attachment for my KitchenAid stand mixer. The attachment was a little too rich for my blood, coming in at a whopping $120. Since I wasn't sure how much spiralizing I would be doing in the near future, I went with the Zalik. Which I might add worked super for what I needed it for. Personally, I'd much rather put my money towards the purchase of a pasta attachment….that I know will pay for itself in the long run.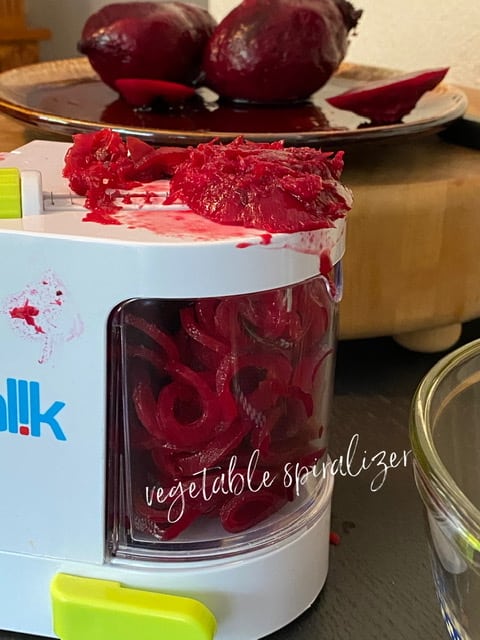 Homemade Pie Filling
Rhubarb and asparagus are first to arrive but then there is a small wait until the produce stands are overflowing with fresh produce. The strawberry season was short lived this year, at least where I go, and the blueberry, raspberry and blackberry season wasn't much better. We did get a small amount of mulberries at Bob and Kim's house, but haven't gotten around to making jelly as of yet. The juice was frozen in ice cube trays so it will be ready when I am. I had wanted to make a mixed berry pie filling but no such luck, maybe next year. My fingers are crossed that my favorite apple orchard, Everflow will have a good apple and pear year season because then we'll make Apple pie filling and Pear Cranberry  pie filling.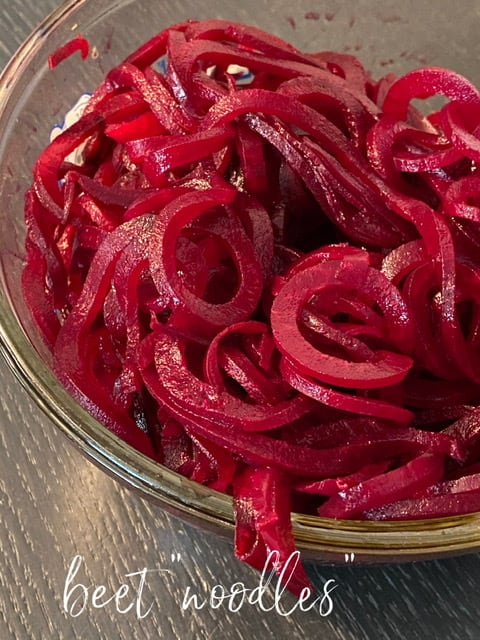 Recipe Note:
Chard also referred to as Swiss Chard, is a member of the beet family. Grown for its crinkly green leaves and silvery, celerylike stalks. Many varieties are available, the variety with dark green leaves and reddish stalks, is sometimes referred to as rhubarb chard. This variety has a stronger flavor than that with lighter leaves and stalks. There is also a ruby chard, which has bright red stalks and deep red veins. Rainbow chard, has stalks that come in a 'rainbow' of colors, including pink, orange, red, and purple.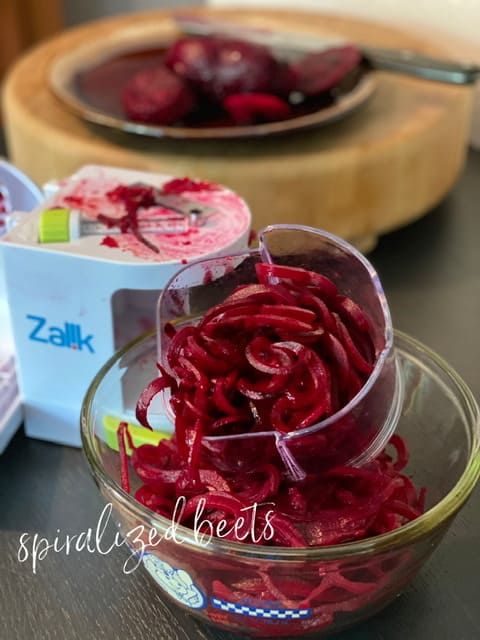 Chard is available year-round but is best during the summer. Choose chard that has tender green leaves and crisp stalks. Store, wrapped in a plastic bag in the refrigerator for up to 3 days. The greens can be prepared like spinach and the stalks like asparagus. Chard, a cruciferous vegetable, is a good source of vitamins A and C, as well as iron.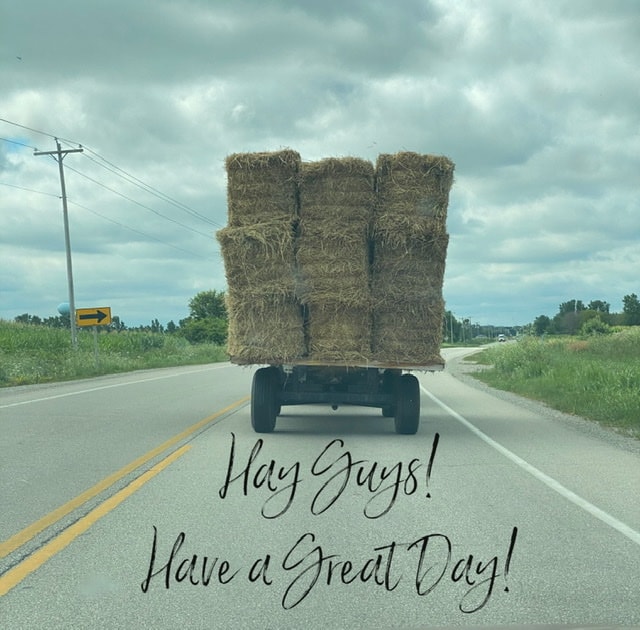 Sauteed Beet Greens
Ingredients
Olive oil, to coat pan

2

bunches

beet greens, washed and cut into 2-inch pieces

2

cloves

garlic, minced

1

teaspoon

crushed red pepper flakes

Zest and juice

from 1 orange

Kosher salt and freshly ground pepper
Instructions
Coat bottom of skillet with oil. Heat over medium heat until the oil shimmers. Add the beet greens and garlic, toss until the greens are wilted and tender, 5 to 8 minutes. Add the red pepper flakes, orange zest and juice, toss. Season with salt and pepper. Serve
More Beet Recipes to Try