Fall Has Arrived On Green Lake
We may earn money or products from the companies mentioned in this post.
Fall Has Arrived on Green Lake
Fall Has Arrived on Green Lake. I love this time of year. It's so beautiful here in Northern WI.  With fall colors all around….reds, golds, lime greens and burnt orange. Fall flowers such as purple and rust colored chrysanthemums and yellow gold and orange marigolds. Canadian geese gathering on the lake, honking and flapping their wings, getting ready for their migration flight back home.
Fresh Fall Air
The smell of burning leaves in the air. People heading out to the farmers' markets, gathering pumpkins at the pumpkin patch and picking apples at the local orchard. Going for peaceful walks with only the sound of crunching leaves beneath our feet. A time for wearing warm sweaters and tartan scarves. Life is peaceful here in Northern WI.
Comfort Foods Are Back
Comfort foods are back on the menu…Stews and Soups…Pies and Pumpkin Bread. Apples, pears, squash and cabbage. So many good things to eat. Time to put away the lawn furniture, rakes and lawn mower. The air is crisp, fresh and clean. Caramel Apples are back and they are a favorite fall treat. Apple pie and Pumpkin pie. Cranberries and Pears.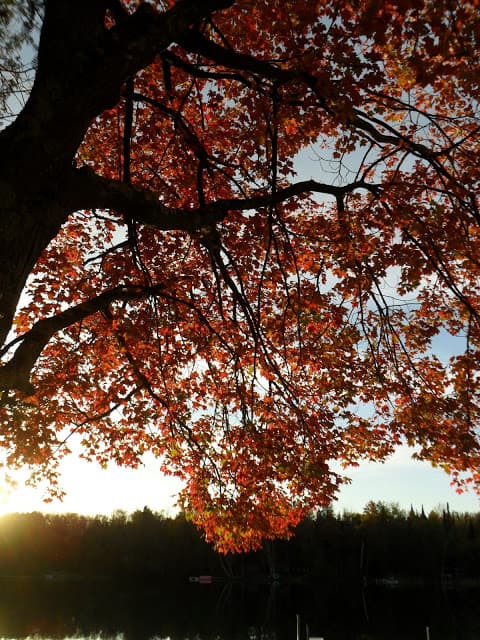 Fall Festivals
If your looking for a fun way to celebrate the vibrant fall colors and to breathe in the crisp fall air, consider attending one of the many fall festivals taking place during the months of September, October and November in my glorious state of Wisconsin. This year, we will be attending the Bayfield Apple Festival and Warrens Cranberry Festival 
Travel Wisconsin
Both are truly unique experiences. Bayfield Apple Festival screams apples and Warrens Cranberry Festival shouts cranberries. If your looking for more festivals, such as downtown Appleton's Octoberfest and Door County's Pumpkin Patch Festival and fun things to do this fall, check out: Travel Wisconsin