Fall Colored Krispie Leaves
We may earn money or products from the companies mentioned in this post.
Fall Colored Krispie Leaves
Fall Colored Krispie Leaves is a Pinterest recipe. Who could resist these cute and festive fall colored rice krispie "leaves"? I recently saw these fall colored leaves on Pinterest. The minute I saw them, I knew I had to make them. This recipe is from a wonderful food/craft blog called Two Sisters Crafting Many of their ideas are on Pinterest and with good reason. They come up with some of the craftiest ideas. Two Sisters Crafting, have a ton of fun recipes, popcorn ideas and craft projects. Go on…check them out…you know you want too:)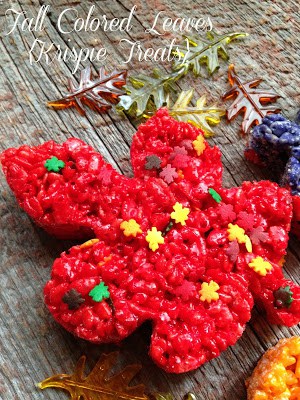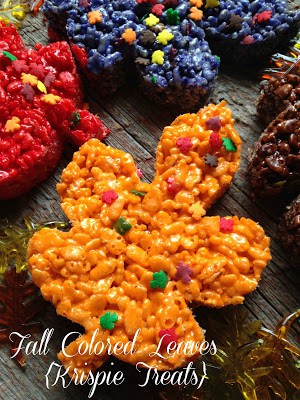 Pinterest
Since there are so many wonderful recipes on Pinterest, we'll feature a new and different recipe from time to time, that we have found on Pinterest. A recipe that we fell in love with and just had to make. (like these marshmallow krispie leaves) In the first paragraph, after the name of the recipe we'll write a "Pinterest Recipe."  This way (you) our readers will know that the recipe was found on Pinterest.
Who knows maybe you've even seen a recipe on Pinterest and have always wanted to make it yourself or maybe you have already made the recipe.
In that case, you can leave us a comment telling us all about it. Of course we will give full recipe credit with a link (and permission if necessary) to the blog/blogs or "owner" of the recipe that was given/found on pinterest. (I hope that makes sense..)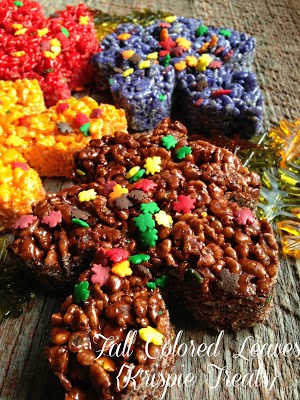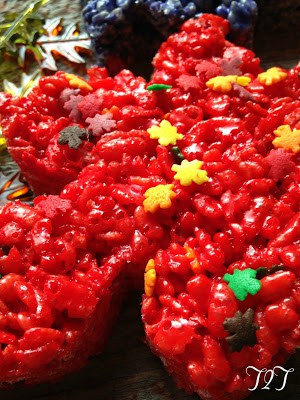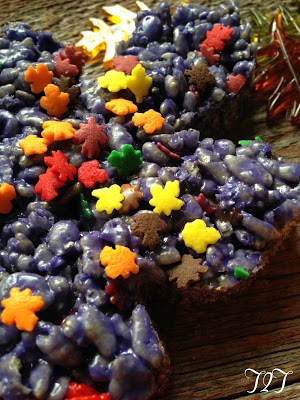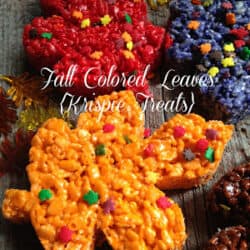 Fall Colored Rice Krispie Treat Leaves
Rice Krispie Treats never tasted or looked so good!
Ingredients
12

tablespoons

butter, divided

12

cups

mini marshmallows, divided

12

cups

rice krispie cereal, divided

few drops

red gel food coloring

few drops

orange gel food coloring

few drops

purple gel food coloring

few drops

brown gel food coloring

fall colored sprinkles
Instructions
Lightly butter a large baking sheet. (12 x 17) Set aside.

For each color use: 3 tablespoons butter, 3 cups mini marshmallows, and 3 cups rice krispie cereal.

For each color: Melt 3 tablespoons butter in a medium saucepan. Add 3 cups mini marshmallows, stirring until completely melted. Remove from heat, add a few drops of gel food coloring, until you reach desired color, stirring constantly. Stir in 3 cups rice krispie cereal, stirring until cereal is completely coated.

Pour mixture into prepared pan. Press mixture firmly into pan, in a row, with a buttered spatula, using only a quarter of the pan. (All four colors of krispie treats will fill the pan.)

Repeat until all colors are used and pan has 4 rows of colored rice krispie mixture.

Set aside for 15 minutes. Using a leaf shaped cookie cutter, cut out as many leaves as possible.

(I got 3 leaves of each color, 12 leaves total.)

You can easily combine the remaining rice krispie scraps and cut out several multi-colored leaves.
More Marshmallow Treats; Baseball Themed Krispies Treats, Neapolitan Marshmallow Treats and Crispy Marshmallow Pumpkin Treats.