Extra Fancy Pumpkin Bread
We may earn money or products from the companies mentioned in this post.
Extra Fancy Pumpkin Bread
It's that time of year again! Time to make pumpkin bread. Extra Fancy Pumpkin Bread will definitely become your go to pumpkin bread recipe. It's fantastic:) Fall is also that time of year to dig out your favorite apple recipes, squash recipes and of course, pumpkin recipes. I've seen the infamous "pumpkin spice" flavor popping up everywhere once again. I have to admit, I'm over it. The pumpkin spice flavor thingy, I mean. I love anything pumpkin and I love pumpkin spice but to a point. C'mon now, enough is enough already. As my son would say, "Mom, tell us how you really feel!"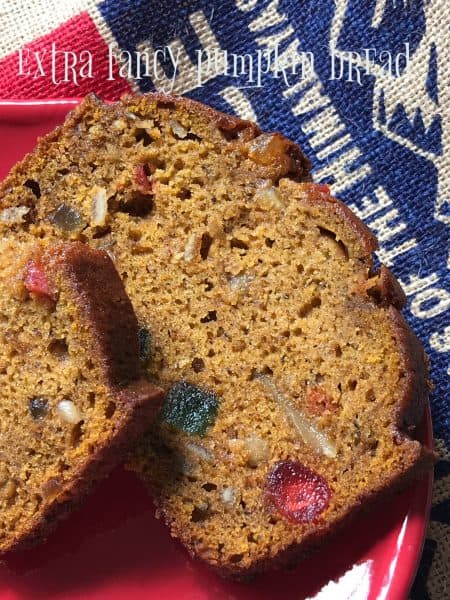 And then I saw a can of pumpkin spice Spam. At first I thought it was a joke! Then I realized, nope, this was no joke! It's the real deal. Like I said, enough is enough already.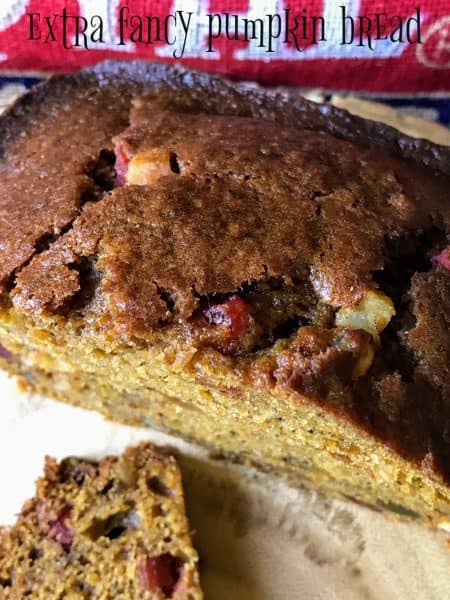 Advertising
Let me make it perfectly clear here, I don't have anything against Spam, to all of you Spam lovers out there, my hubby being one of them. Nor do I have anything against the makers of Spam but I can't imagine this stuff tastes good. From a advertising standpoint, I'll say one thing, it's genius on the part of the makers of Spam. Let's face it, everyone is talking about it and out of curiosity people are going to buy a can, just to find out what it tastes like. Alrighty then enough about that, let's move on to the recipe at hand, shall we:)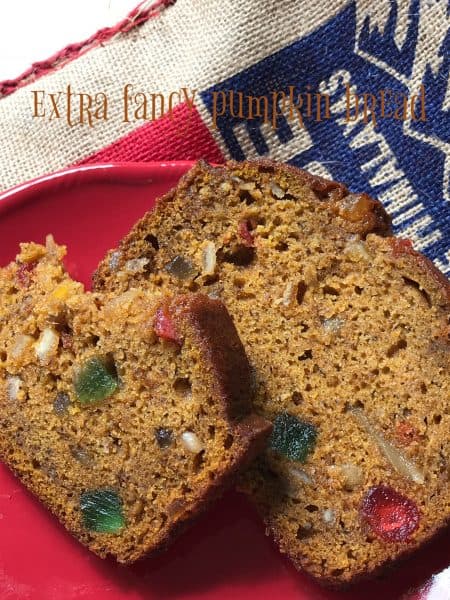 But first, let me take a big bite of my pumpkin spice waffles topped with pumpkin spice syrup. Then I'll take a sip of my pumpkin spice coffee with pumpkin spice creamer;) Ahh, I do love 💕 this time of year:)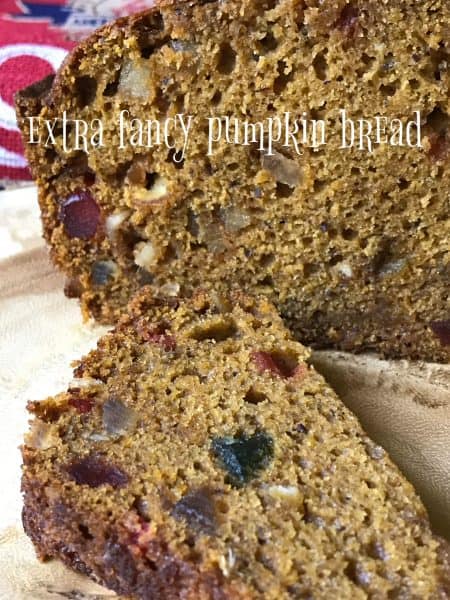 Paradise Fruit Cake Mix
This recipe is made with Paradise Fruit. The Paradise Fruit Co has been achieving baking excellence for over 50 years. Since 1961, Paradise Brands has been America's favorite brand for candied fruit products. They have been making glace' or candied fruit of all kinds. This list includes candied cherries, pineapple, ingredients for fruit cake recipes and so much more. You can purchase Paradise Fruit online at Paradise Fruit Co, through Amazon and at many retail outlets throughout the country. I'm happy to be given this opportunity to create and share recipes using Paradise Fruit.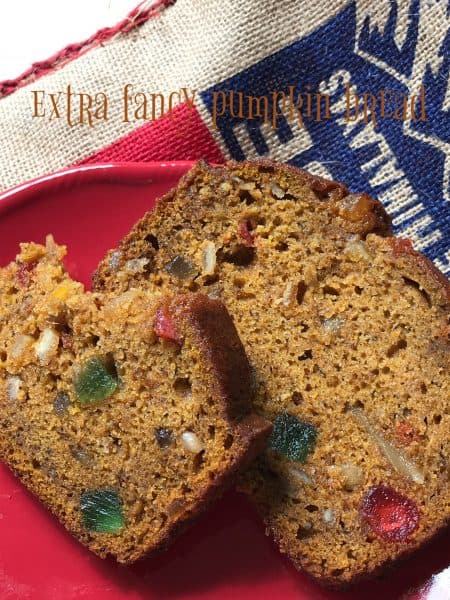 Here are more recipes you'll want to make using Paradise Fruit from Paradise Fruit Co. Paradise Ginger Peach Hand Pies, Old English Caramel Puffcorn and Giddy Up Cowboy Cookies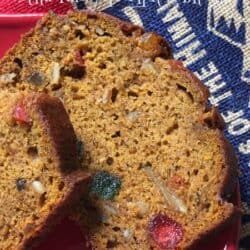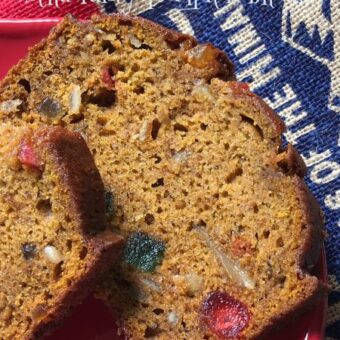 Pumpkin Fruit Cake Bread
Ingredients
1 3/4

cup

all-purpose flour

1

teaspoon

baking soda

1/2

teaspoon

kosher salt

1

teaspoon

ground cinnamon

1/2

teaspoon

ground nutmeg

1/2

teaspoon

ground ginger

1/4

teaspoon

ground cloves

2

tablespoons

ground flax seeds

1

cup

pumpkin not pumpkin pie filling

3/4

cup

packed light brown sugar

1/4

cup

granulated sugar

2

large eggs at room temperature

1/4

cup

melted butter slightly cooled

1/4

cup

canola or vegetable oil

1/4

cup

water

1 1/2

teaspoons

pure vanilla extract

1/4

cup

chopped crystallize ginger

1

cup

Paradise extra fancy fruit cake mix
Instructions
Preheat oven to 350 degrees Grease a 8 x 4 x 3 -inch loaf pan generously with nonstick cooking spray or butter. Set aside.

In a medium bowl, whisk together the flour, baking soda, salt, cinnamon, nutmeg, ginger, and cloves. Set aside.

In a large bowl, whisk together the pumpkin, brown sugar, sugar, eggs, melted butter, oil, water, and vanilla extract.

Add the dry ingredients and stir until just combined. Fold in ginger and fruit cake mix. Don't over mix the batter.

Pour the pumpkin batter into the prepared loaf pan and smooth with a spatula.

Place the loaf pan in the oven and bake for 45 to 60 minutes, depending on your oven. The loaf is done when a toothpick inserted into the center comes out clean.
Products used to make this recipe delicious: Paradise Fruit and Libby's Pumpkin. Recent Recipe:Farro with Cheese Stuffed Peppers