Eggplant Lasagna
We may earn money or products from the companies mentioned in this post.
Eggplant Lasagna
Eggplant Lasagna was a real hit in my family. When my hubby was advised by his Doctor to shed a few pounds and to cut his carb intake, he was devastated. My hubby is what I would consider a carb-a-holic. He loves pasta, bread, potatoes and rice. When I told him we were going to have eggplant lasagna for dinner, he groaned. His exact words,"Lasagna isn't lasagna without noodles."  I think I changed his mind with this recipe!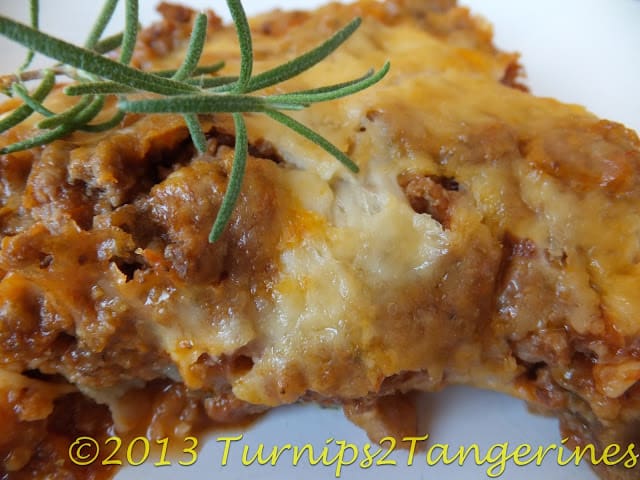 Eggplant Lasagna, So Easy!
This recipe for Eggplant Lasagna is great for people on a diet, watching their carbohydrate intake, or if you want to prepare a 'meatless' meal, omit the ground turkey. Eggplant slices replace the traditional lasagna noodles called for in most if not all lasagna recipes. Eggplant Lasagna is a great way to add veggies to your diet. You can also use reduce calorie or low-fat ricotta cheese and shredded Italian cheese blend to skim even more calories off this dish. 
Let's Face It
Let's face it guys, my hubby is right, "Lasagna isn't lasagna without noodles" but there is an exception to every rule. Pasta isn't a necessarily a thing. Everyone needs some carbs in their diet because everyone knows that carbs provide energy etc. etc. The key to eating carbs in my opinion, as with eating anything 'bad' for you, is moderation. Moderation is the key word. Everything and anything can be eaten in moderation.
Moderation=Self-Control
That being said, moderation also means self-control. Maybe that should be the key "phrase."  Here's a plan that I have adapted, that seems to be working well for myself and my hubby. I have set aside a certain day each week that are "meatless" and "pasta/carb free." Friday's are still "pizza night" Tuesday's are "Taco Tuesdays" and so on and so forth. This may not work for all families but it seems to be working for mine….so far.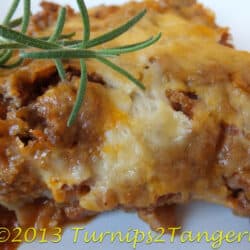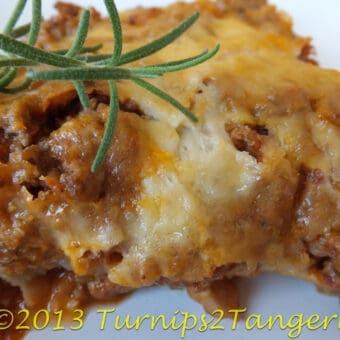 Eggplant Lasagna
A delicious meal made without pasta.
Ingredients
2

tablespoons

milk

2

beaten eggs

3/4

cup

Italian-style bread crumbs

1/2

cup

Parmesan cheese

1 1/2

pounds

eggplant, peeled and sliced into 1/2 inch thick slices

3 to 4

tablespoons

olive oil

1

pound

ground turkey

1/2

teaspoon

salt

1/4

teaspoon

pepper

1/2

cup

chopped onion

2

cloves

garlic, minced

1

15 oz can tomato sauce

1 1/2

teaspoons

dried Italian seasoning, crushed

1

16 oz container ricotta cheese

2

cups

shredded Italian blend cheese

Additional Parmesan cheese
Instructions
Lightly grease a 3 quart rectangular baking dish; set aside.

In a shallow dish, combine milk and eggs. In a second shallow dish combine Italian style bread crumbs and Parmesan cheese.

Dip eggplant slices in egg mixture, then coat with bread crumb mixture. In a 12-inch skillet cook eggplant slices, several at a time, in hot oil for 2 minutes on each side. Repeat with remaining eggplant slices, adding more oil if necessary. Drain slices on paper towels.

In a large skillet, cook ground turkey, onion, minced garlic, salt and pepper. Cook until ground turkey is brown. Drain off fat. Stir in tomato sauce and Italian seasoning.

Layer half of the eggplant slices in the prepared baking dish, cutting slices to fit if necessary. Spread with half of the meat mixture. Drop spoonfuls of ricotta cheese over meat mixture. Sprinkle with half of the cheese, sprinkle with Parmesan cheese. Repeat layers, ending with cheese.

Bake, covered in a 350º oven for 30 minutes. Uncover and bake for 30 minutes more or until heated through. Let stand 10 mins before serving.
Notes
In this recipe you can substitute low calorie cheese, ricotta cheese and tomato products with the same great results.