Egg White and Pesto Omelette
We may earn money or products from the companies mentioned in this post.
Egg White and Pesto Omelette
Looking for a quick, easy and healthy lunch idea? Look no further, Egg White Pesto Omelette is what you're looking for. Made with egg whites, basil pesto shredded mozzarella cheese, grated Parmesan and topped with warmed spaghetti sauce. Serve this delicious omelette with fresh fruit for a super and light lunch or dinner meal option. One thing about enjoying an omelette for dinner is the ease of preparation. Dinner can be ready in under 15 minutes.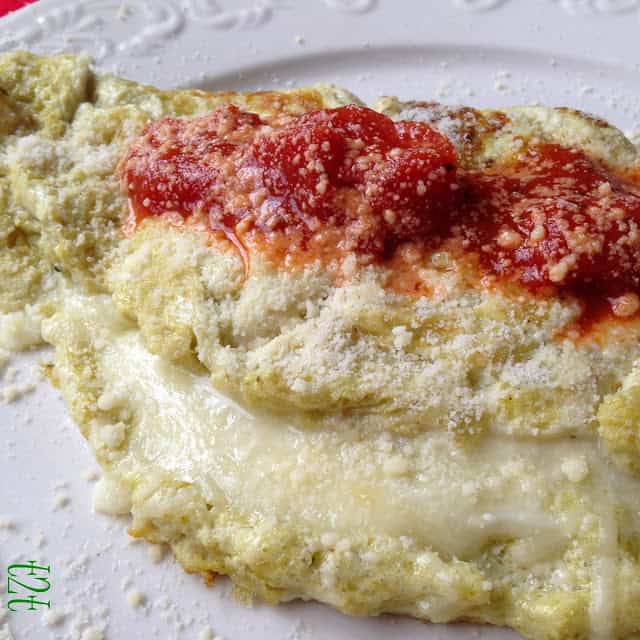 What is an Omelette?
Omelet; Omelette [AHM-leht] is a mixture of eggs, seasonings and sometimes water or milk, then cooked in butter until firm. An omelette can be filled or topped with various fillings such as cheese, ham, mushrooms, onions, peppers, sausages and herbs. Sweet omelets can be filled with jelly, custard or fruit and then sprinkled with powdered sugar or flamed with various Liquors or Liqueurs. I've yet to experience an inflamed omelette.
Omelet Pan
An omelet pan has shallow sloping sides, a flat bottom and a long handle. It's designed for easy movement, turning and removal of the finished omelet. Omelet pans range from 6 to 10 inches in diameter and can be made of aluminum, plain or enameled cast iron or stainless steel. For fluffy omelets, the whites and yolks can be beaten separately and folded together. They can also be served flat or folded.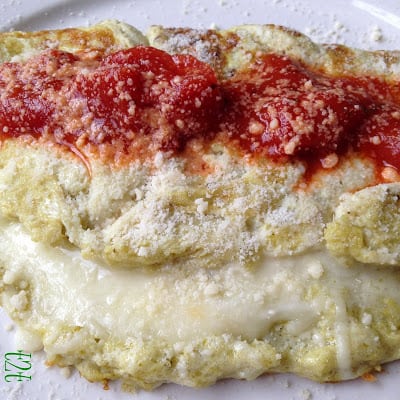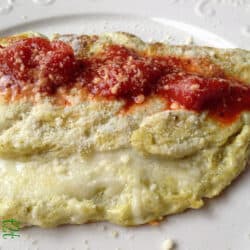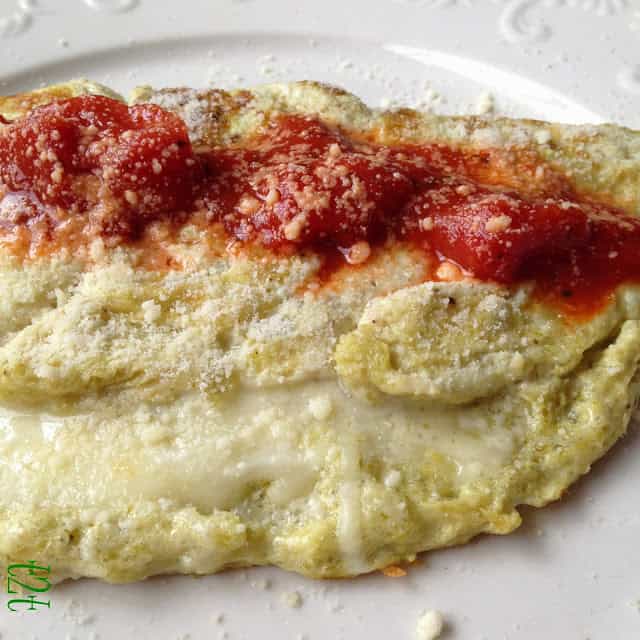 Egg White Pesto Omelette
Ingredients
1

teaspoon

butter or olive oil

4

large

egg whites

1/4

teaspoon

each salt and pepper

1/4

cup

pesto

1/2

cup

shredded mozzarella cheese

2

tablespoons

Parmesan cheese

1/2

cup

marinara sauce
Instructions
Heat butter or olive oil in a small non-stick skillet over medium low heat.

Whisk together egg whites, salt, pepper and pesto, whisking in a lot of air.

Pour whisked egg mixture into the heated skillet. Shake skillet back and forth over heat for less than one minute. Run a spatula around the outside of the skillet, tilting skillet to allow excess egg whites to flow into the open space. Sprinkle the cheese over one half of the egg whites. With spatula, flip the other half over cheese Cook until cheese is melted.

Pour marinara sauce into a small glass container, microwave for a few seconds to warm sauce.

Slide omelette onto a serving plate. Spoon a small amount of warm sauce over omelette.

Sprinkle with Parmesan cheese.
Recipe Note:
For this recipe we used a jar basil pesto made by Barilla Pesto Sauce You can certainly make your own basil pesto is you so choose to do so. I like to keep pre-made basil pesto on hand for recipes like this one. The omelette will take on a light green hue from the pesto, so don't be alarmed. Many recipes benefit from the addition of a spoonful or two of basil. Pesto and Goat Cheese Polenta Bites and Light Creamy Pesto Chicken.